Founded in 1814, Loch Lomond is a brand with a full history, spanning the biggest events in Scotch history.
It is independently owned and was a family business until is was acquired by a management team backed by a private equity fund in 2014.
Today they are thriving and, not content to sit back and let the future of Scotch pass them by they are at the forefront of innovation in the industry.
Where did they come from?
With three distilleries to their name, Loch Lomond finds their spiritual home in the Loch Lomond Distillery.
Situated in the gorgeous Highlands, this distillery goes back to 1814. It is one of the few malt and grain combination distilleries with its own cooperage as well as 26 maturation warehouses.
Another jewel in the Loch Lomond crown is the Glen Scotia Distillery in Campbeltown.
One of only three remaining distilleries in the region that was once the "Victorian Capital of Whisky", Glen Scotia has been in operation since 1832.
They also own the Littlemill distillery, which is the oldest of the three, dating back to the 1770s.
One of the most important features of Loch Lomond are the stills they use.
They have a range of stills across their sites, including continuous stills, traditional pot stills and straight neck stills, which are not very commonly used in the Scotch industry.
To create their blends, they mix different malts from different stills in a certain ratio, as each type of still will create a different flavour of malt.
For example, their Inchmoan 12 Year Old is created with malt from both the traditional pot stills and the straight neck stills, whereas their Inchmurrin 12 Year Old is made using only the straight neck stills.
The straight neck stills create malt with a fruity flavour profile that especially focuses on peach and pear at 85% ABV collection strength, and apple and lemon at 65% ABV collection strength. It also allows for a faster maturation time.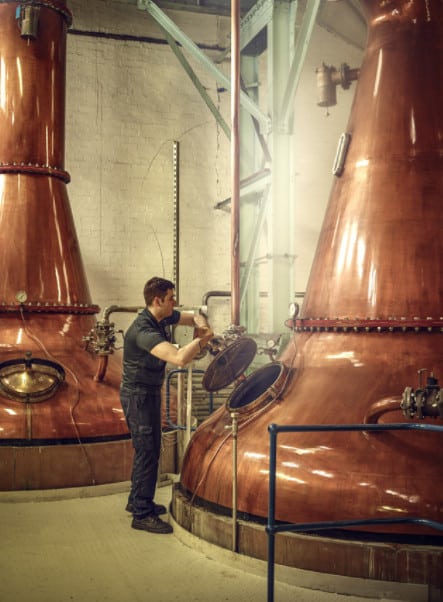 Loch Lomond are renowned for their innovation and forward thinking, and that is exactly where they are headed next.
There is more planned investment in their straight neck stills, which allow them to create truly unique malt.
As an independent distiller, they have more scope to be creative and are not constricted. They have control at every point in the Whisky making process – from fermentation to bottling.
This is definitely a brand to have an eye on, as their current range is showing to be very successful and any future releases are sure to be equally exciting.