Islay based distillery Bruichladdich have recently released the Bruichladdich Rare Cask Series that every whisky enthusiast will be rushing to get their hands on.
Bruichladdich is famous for its heavily peated malts as well as its focus on all things providential. They pride themselves on sourcing ingredients locally and experimenting with different Whisky making processes.
This leads them to some very intriguing discoveries and has set them up as one of the most innovative distilleries in Scotland.
Their new range however, is a hark back to a few decades ago, but it still reflects the brilliance of what they do.
Head Distiller Adam Hannett says, "These rare, old single malts are a direct link to our past, to the men who made truly special spirit here while facing very different circumstances to those which we enjoy today. Testament to their skill and hard work it was laid down to mature by the shores of Loch Indaal, unaware of what the future might bring."
The Bruichladdich Rare Cask Series is made up of three bottlings made from malt that was distilled in 1984, 1985 and 1986.
The bottlings are varied in flavour profile and present a great showcase for the brilliant malts produced at Bruichladdich.
Again, Hannett reflects, "These whiskies when tasted leave me speechless. They are in their prime, the last of their kind and can never be repeated, never recreated. Nothing quite like them will ever be seen again."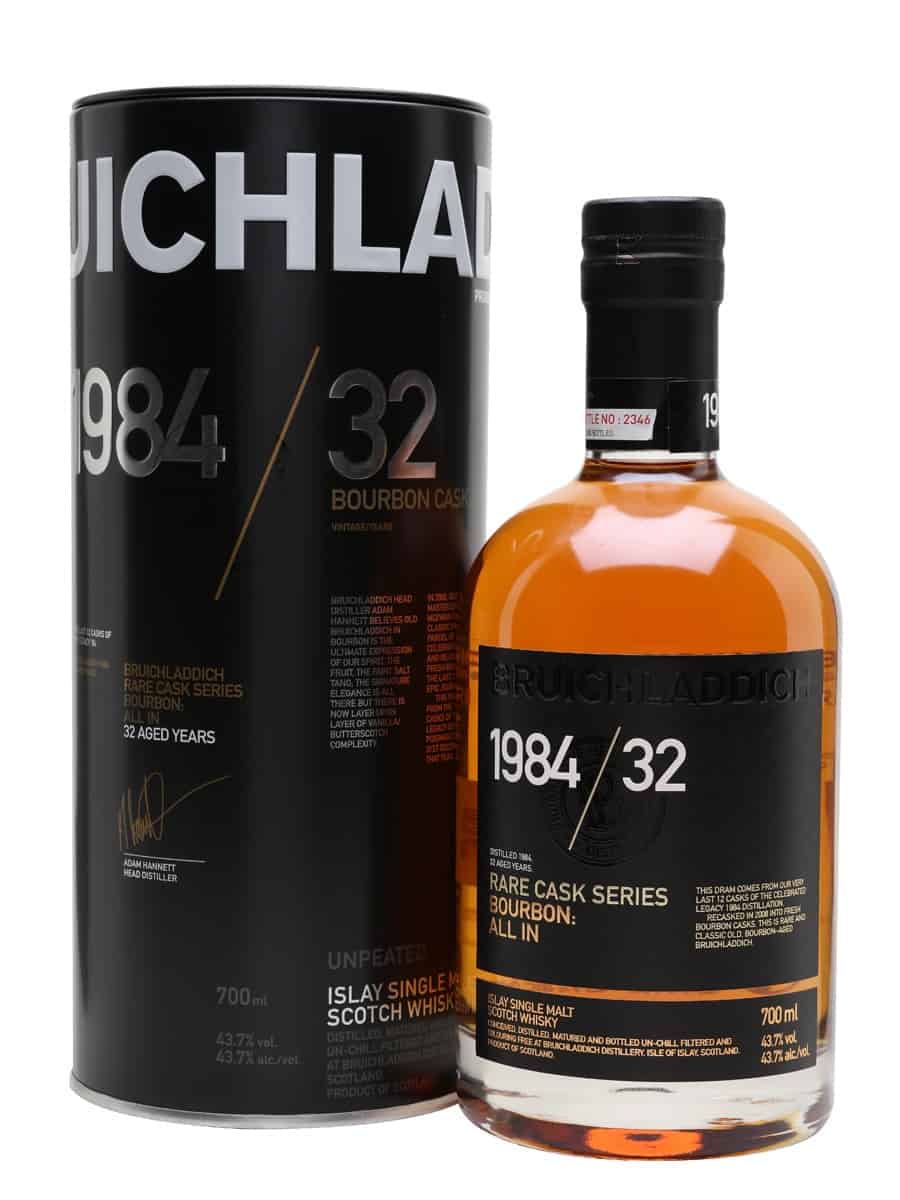 The first expression, a 32-Year-Old distilled in 1984, is what Hannett calls "the ultimate expression of our spirit". It has been bottled from 12 casks that remain from the original batch.
It begins with a nose that is full of sugary sweetness. This bottling explodes with vanilla, marzipan, caramel and a delicate hint of exotic fruits.
There is an underlying note of salt and sea air that acts as a wonderful backdrop for the sweetness to really show itself.
The palate is deep and strong, with lots more caramel and vanilla coming through.
Fruits like mango and pineapple add a zesty tang to the softer flavours and go perfectly with the seaside notes.
The body of the dram is smooth and soft, which mixes well with the sweet notes.
The barrel can really be detected in the caramel and adds a fantastic depth and refinement to the finished product.
The finish itself is packed with citrus fruits and zest, really bringing the ending of the dram to life.
The next in line in the Bruichladdich Rare Cask Series is the 32-Year-Old 1985 expression. This malt has been through quite a journey, having first been matured in third fill ex-Bourbon casks, before being re-casked in 2012 into first fill ex-Bourbon casks, and then finished in French oak casks.
The nose is packed with lots of different fruits flavours. Banana, mango, pineapple, oranges and apples all make an appearance.
They are coated in a thick caramel and vanilla custard, which is sweet and rich with flavour.
There is also a delicate nuttiness to the overall dram, with almonds and pecans especially coming through. these are sweet and go perfectly with the caramel notes.
On the palate the nuts and vanilla notes become oakier and slightly spicy, which gives off a lovely warmth.
Citrus fruits and coconut make this dram slightly more exotic and blend well with the oak wood.
The fruits from the nose certainly blossom here and become fully formed and juicy. There is a lot going on with this malt and every drop is bursting with flavour.
The finish is strong and well rounded. It brings a little bit of heat and a lot more fruit flavours.
The final bottling in the series is a 1986 30 Year Old that has been matured in oloroso sherry casks before being re-casked in 2012 into Pedro Ximinez butts from the Fernando de Castilla bodega.
This is an incredibly rich and interesting dram. The nose opens with lots of dried fruit and leathery notes.
These are complimented by a dark brown sugar flavour and wonderfully spicy sherry notes.
The palate is where it really comes alive. There is a rich sherry soaked Christmas cake feel, brimming with dried fruits and a soft hint of marzipan.
Raisons, prunes, dates and apricots add a chewy mouth feel that you can really get stuck into.
The leather is joined by tobacco and mahogany notes that add depth and complexity.
To top it all off, there is a gentle salty sea breeze throughout it all.
The finish is as equally packed with flavour, with lots of smoke and caramel appearing.
This Bruichladdich Rare Cask Series is not to be messed with. These three expressions represent all the hard work and dedication put in by generations of workers at Bruichladdich and that has created something to be reckoned with.
What are your thoughts? Leave a comment below and let's have a chat!