ABERFELDY has announced the release of the ABERFELDY Madeira Casks, exclusively available in global travel retail.
Expertly hand crafted by ABERFELDY'S Malt Master, Stephanie Macleod, the distillery known for its Golden Dram has launched a 16-year-old and 21-year-old ABERFELDY, finished in the finest Madeira casks. Spending up to 12 months in the ex-wine casks before bottling, the extra maturation period in this combination of casks creates the perfect balance of flavour between ABERFELDY'S honeyed richness with the sweet notes of Madeira wine.
ABERFELDY is the fastest growing Single Malt in the top 15 for the last 5 years and is now the ninth-highest selling Single Malt in Asia Pacific. They has moved from 20th largest Single Malt in 2012 to being the 12th largest in 2017 (IWSR 2017). In a world where aged stock is increasingly rare and many age statements are disappearing from labels, ABERFELDY remains committed to proudly displaying age statements as a sign of craftsmanship and quality.
Two types of Madeira casks were sourced to finish both the 16 and 21-year-old expressions; ex-Malvasia Malmsey – the most famous and also the richest, sweetest style and ex-Bual – dark in colour, with medium-rich texture. These flavourful casks impart classic Madeira notes of caramel, peaches, orange peel and burnt sugar.Maturing ABERFELDY in this combination of Madeira wine casks elevates the maturing malt, heightening the level of complexity and adding the typical honeyed richness of distillery's house style.
Stephanie comments: "Aberfeldy is a both an approachable yet complex dram, it has those similar sweet rich notes that Madeira wine is famously known for. By using Madeira casks I'm able to further develop the layers of flavour present in Aberfeldy's honeyed-rich characters, resulting in a whisky with extra spiciness – the perfect complement to the Golden Dram."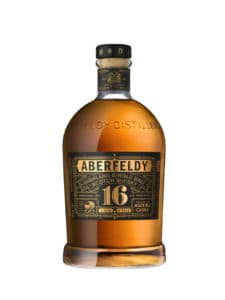 Tasting notes for ABERFELDY Madeira Cask 16 Years Old
Bottle cost: £60.75
"The soft notes of honey are freshened with citrus and delicate tones of baked apples, rich spiced with cinnamon and creamy vanilla"
"Richly textured and complex whisky with notes of ripe fig baked in honey. There is a hint of walnut oil and a snap of dark chocolate"
The newly released ABERFELDY Madeira Casks, bottled at 40% ABV, join the existing portfolio of single malts as global travel retail exclusives. They will launch in airports globally, priced at $110 for the 16-year-old and $195 for the 21-year-old, available from August.
Are you fan of the Aberfeldy Madeira cask? Let us know in the comments!