It is no secret that I get very excited by a lot of Douglas Laing releases. They are amongst my favourite bottlings, brands and people within the whisky industry and I'm honoured to be one of their honorary brand ambassadors (I even have my name up on the wall in their headquarters for being a Fellow of the brand, yep).
One of the lovely perks about being a Fellow is that every quarter I get to try a selection of their rarest and newest drams, what a treat. And this month's happened to include 197 years of matured whisky from their XOP range – wow! When your youngest whisky in a flight is a Springbank 21 Year Old, you just cannot help buy smile. So, here goes…
Littlemill 25 1991, 50.9%
Solid sherry wine character, thick, treacle, molasses almost… sultanas, raisins, sugar coated apple segments, cloves, Demerara sugar top note, slight fresh honey note too.
Palate is refined, sweet sherry notes show through, almonds and liquorice dominate ahead of a spicy finish. Treacle note evolves into molten caramel, those dried fruits are sumptuous. Juicy. Honeyed. Marvellous. So nicely integrated, very refined.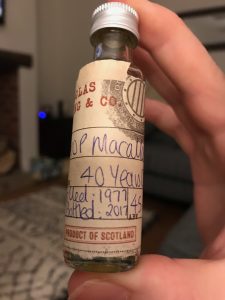 The Macallan 40 1977, 45.2%
All the fruits in the nose. Like a cheap 80s fruit salad, in a good way; fruity, treacle, juicy and sharp. Lovely vanilla oak note, hints of bay leaves, toffee and tropical fruits including pineapple and lychee.
The palate is full of tropical fruit notes wrapped in a zesty lemon and lime citrus note. Lovely sweet and sharp duality. Juicy, sweet and spicy notes follow, underlined with a creamy vanilla pang. Luxurious.
North British 55 1962, 41%
All the butter. Like nosing a solid Mary Berry cake laden with sumptuous buttercream. Soft lemon zest top note. Smooth vanilla.
Palate is unexpectedly smoky, proper old school whisky making at its best. Tannic and fruity. Powdery and lovely. My god this is a fascinating dram. Orange zest replaces the earlier lemon, hints of sulphur. Outstanding.
Springbank 21 douglas laing 1995, 51.3%
Sweet, vanilla nose packed with cloves and smooth spices. A pang if white pepper too. Wasabi notes too with time in glass.
Thick, toffee, wasabi still, the odd fresh ginger note and packed full of vanilla and oak char. Subtle spices and orange zest, almost like The Dalmore in its marmalade notes. One to warm yourself up with this winter.
Glen Garioch 26 1991, 55.6%
Thick toffee, like a freshly snapped Crunchie's crumbling 
Friday
 Feeling honeycomb. Milk chocolate notes too. Fresh pine and fresh char. Lovely.
Palate is dry, thick, luxurious and toffee-laden. Fantastic. Tonnes of sharp, fiery slice including white pepper, turmeric and cinnamon with some star anise subtleties. Super-interesting.
Soft, subtle smoke, aged and very refined. Pineapple, toffee, red apples, pears and soft cinnamon spices. Vanilla notes. Ashy bonfire wafts.
Palate is quite smoky – more than expected, juicy, UmBongo, caramel, vanilla and soft soft cayenne and cinnamon slices. That bonfire note is amplified and incredible. Medium finish. Want… to… buy… now…
Big Peat Christmas 2017, 54.1%
Such a light colour but do not mistake that for depth of flavour and brilliance. Nose is smoky, toffee, pine needles and caramel. Old school peated Islay Whiskies, stunning nose.
Palate is sweet, smoky, packed with salty seaweed notes as well as those toffee, light spice and sticky toffee pudding caramel and fig notes.
Oh well done Douglas Laing. Well done. The whisky for Christmas 2017.
All will be available via specialist retailers and of course DouglasLaing.com