… and it sold out in ten minutes!
The whisky is produced with 100% net zero direct emissions – and it's charitable *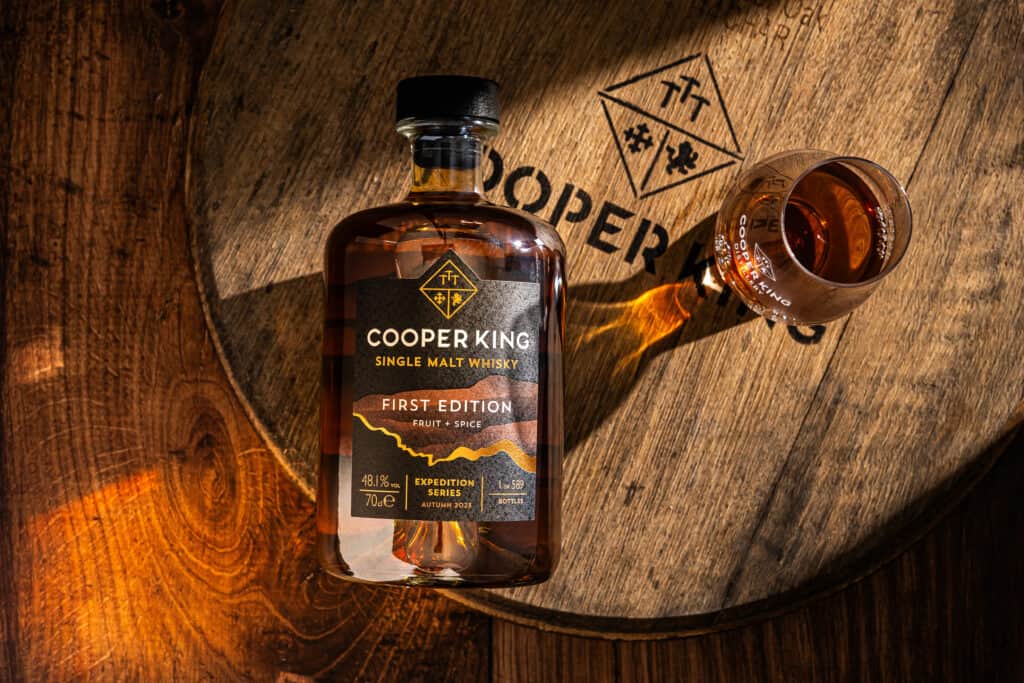 Yorkshire's Cooper King Distillery has produced the first whisky in England distilled using net zero energy. The trailblazing distillery's inaugural whisky, First Edition – Fruit + Spice, is the first release in its Expedition Series and every energy-related greenhouse gas emission from its production has been removed from the atmosphere[1]. Released to the general public this morning, all bottles were sold within ten minutes.
The exceptional whisky is the result of six years' dedication to sustainability, including carbon footprint reduction, and is 27 years ahead of the UK Government's 2050 net-zero target.
Just 589 bottles were produced from a vatting of whisky from six small oak casks. Cooper King's First Edition (48.1% ABV), dubbed 'a journey of discovery through the finest casks in the warehouse', benefits from hand-mashed, floor-malted heritage grains, which were copper pot distilled, matured and bottled at the distillery. The handcrafted whisky offers notes of dried citrus and golden syrup, with soft malt and warming spice.
Reinforcing the sustainability credentials of this exceptional single malt are its lightweight bottles made from 55% recycled glass, biodegradable cellulose tampers, innovative stoppers derived from renewable sugar cane and labels printed on FSC certified paper, designed by Yorkshire-based designer, James Everitt.
Cooper King Distillery has been powered by 100% renewable energy since distillation began in 2018, as well as investment in energy efficiency, including a pioneering insulating paint, developed for NASA, which coats the custom-built 900-litre Tasmanian copper pot still, achieving a 21% reduction in energy use.
The self-built, award-winning distillery will donate £5 from every bottle of the First Edition (and future releases) to Yorkshire Dales Millennium Trust (YDMT) to fund life-changing apprenticeships for young people in rural areas, to help protect vital UK habitats.  Work undertaken by apprentices includes restoring and protecting precious habitats, including Yorkshire peatlands, to safeguard natural carbon storage. Cooper King aims to raise £17,250 for YDMT in the next 12 months.
The distillery's second whisky release is due in spring 2024 and whisky-lovers not wanting to miss out, can be notified when it's available first, by signing up to the newsletter here.
Dr Abbie Jaume, Co-Founder, Cooper King Distillery said: "Releasing our first ever whisky, especially one that has net zero energy status, is a huge milestone for us. The entire Cooper King team is committed to producing sustainable spirits distilled with craftsmanship, honesty and adventure. We hope our First Edition whisky release inspires other distilleries to invest in their own journey to net zero, so we can all play our part in decarbonising the spirits industry."
First Edition follows the release of an exclusive whisky bottling from Cask No. 1, which was rewarded to Cooper King's Founders' Club members, who were instrumental in the distillery's crowdfunding journey.
To discover more about Cooper King Distillery and its products and to view its Net Zero Report visit cooperkingdistillery.co.uk. 
Instagram: @cooperkingdistillery
X: @CKdistillery
Facebook: @CooperKingDistillery.