Mixology is an art that has been blossoming in recent years. People are more attracted than ever to the cocktail industry and the interesting and intriguing things that can be made from your favourite drinks.
Of course, cocktail mixing has been around for centuries. Legend has it that the first cocktail was created in 1586, when Sir Francis Bacon's troops were in need of a cure to get them sailing again.
Drake himself created a medicinal concoction that soon had them up and rearing to go.  It was served on spoons with a cock tail handle, and as such, the first cocktail was born.
The tradition of mixing drinks has obviously moved on since then and today we have the great tradition of creating exciting beverages that might cause a hangover rather than cure it!
In this list we celebrate five of the biggest names in mixology and take a look at just what makes a great bartender.
Hailing from Horsens in Denmark, Kundsen is now one of the most well respected and best mixologists around.  Now an advisor for ShakenCocktails, amongst other projects, he formerly worked at MASH London, where I spent many an evening being wowed by his talents. He prides himself on treating his punters to exciting new cocktails and gives a modern twist to old favourites.  In fact he was recently a finalist in the Bombay Saphhire World's Most Imaginative Bartender competition.  This was in part due to his creation of a High G&Tea.  This is an incredible twist on the traditional G&T that is not only hot but also adds camomile to give the flavour a great boost.  Knudsen was also hand selected to take part in the semi-finals Diageo's World Class Bartender of the Year.
Reynolds began his bartending career in Nottingham in 2002 and has swiftly risen through the ranks of bartending royalty. He is known for his exciting concoctions and for exploring new flavours and spirits.  He was first based in the city of Bristol and then moved to help open Pollen Street Social for the world-renowned chef Jason Atherton.  Since 2011 he has been working for Hawksmoor and now manages their Spitalfields branch.  Reynolds has a wealth of awards behind him, including winning both the accolade of Diageo's World Class UK Bartender of the Year 2015 and The Chivas Masters in 2014.
Based in the astounding Gong restaurant in the Shard, the highest bar in Western Europe, Maspes is one of the best bartenders in Britain.  The Italian loves what he does and before working for Gong he worked in one of the most premier bars in London, the famous American Bar at the Savoy.  He enjoys using Sake in his cocktails and is well known for his Seishu cocktail, which is designed as a palate cleanser to go with Japanese cuisine.  Maspes was rewarded for his dedication to the art of mixology by being chosen to represent Gong at the Diageo World Class semi-finals earlier this year.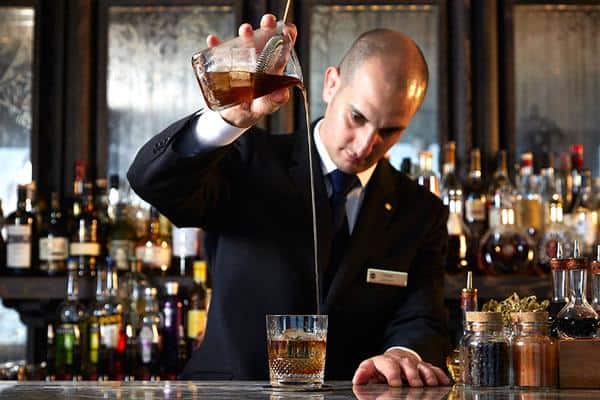 Another mixologist based in the great city of Bristol, Cadwell began her career as a bartender at the tender age of 15.  She soon discovered a passion for serving drinks and felt she had found her calling.  Considering how far she has come and how well she done, it is safe to say she made the right choice.  In 2014 Cadwell was runner up to Ali Reynolds in the Chivas Masterscompetition.  She is also a judge and brand ambassador for Rhubarb liqueur Rhuby and previous to this was bartender at Flipside in Bristol.
Crowned World's Most Imaginative Bartender earlier this year Ehm comes from Austria, where she is based at The Hammond Bar in Vienna.  She is the first woman to win competition, which is organised and hosted by Bombay Sapphire Gin.  Ehm's winning cocktail, titled El Diamante, is made from Bombay Sapphire Gin, homemade earth and salt syrup and lemon and cherry infused NoillyPrat.  You can see why she was crowned the winner!  The use of interesting flavours to bring out the flavours of the Gin are what clenched it for Ehm and with such incredible concoctions under her belt, her talents as a mixologist have definitely been proven!