It is an incredibly rare thing for myself and my wife to get a true break from 'reality', to switch off (for the most part) and just relax with not a care in the world but this is exactly what we experienced at Conti di San Bonifacio wine resort - the ultimate honeymoon destination.
Having had some insanely crazy weeks, if not months, leading up to our wedding full of spreadsheets, planning, calling suppliers, ensuring family knew what they were doing, advising friends on flights and accommodation and ensuring that all the little details were thought through and delivered perfectly, this was to be our time.
Seriously, Kirsty had effectively had to not only do her day job, which is intense enough at the best of times, but take on an additional role of wedding planner and organiser extraordinaire.
I had booked the honeymoon a few months previous after perusing the BA website for ideas, I only really enjoy flying with BA when we travel short haul, and as soon as I saw that it was a wine resort and only had seven rooms, all of which were suites, I knew we were on to a winner.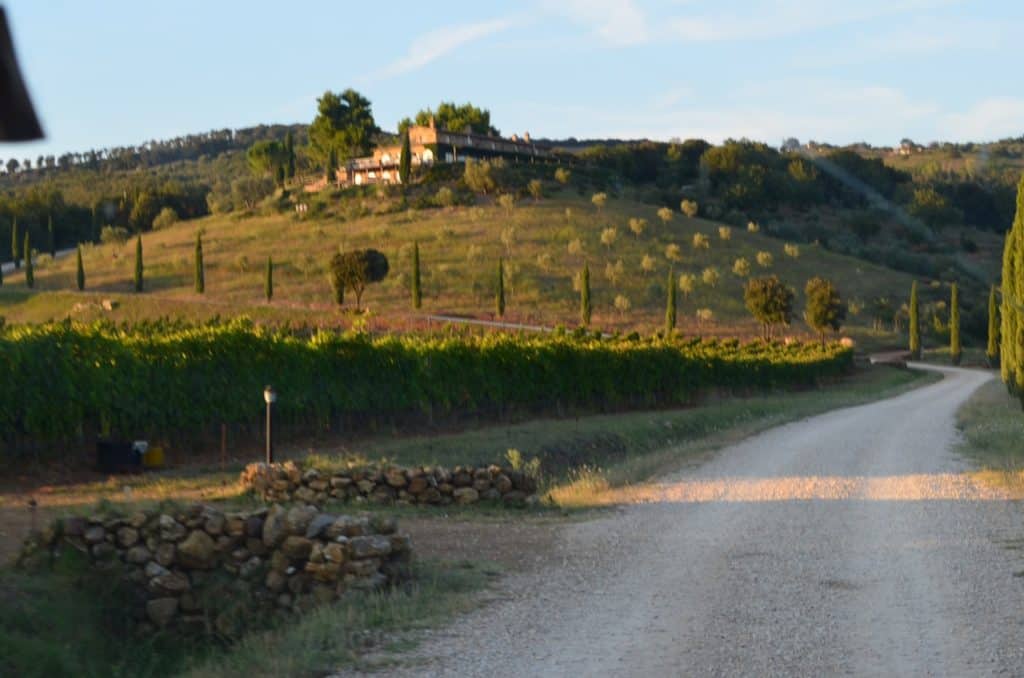 I'm not one to spend hours looking at reviews or what people are saying; if it looks amazing, has a high enough star level and is listed on BA that seemed fine to me.
We had the resort's vehicle pick us up from the train station and drive us and our cases up to the main entrance.
The vista was incredible, and I said that a lot during our time there.
Immediately upon arrival you know that you have made the right choice, the staff, particularly Claudia, are so easy to get on with and are only there to make your stay perfect, nothing is too much for them. Honestly, I've never staff to care more about crafting the right experience for their guests than at the Conti di San Bonifacio wine resort. Hence why I am happy to call it the ultimate honeymoon destination.
We were given a chilled glass of prosecco on arrival and subsequently shown to our room, complete with a complementary bottle of bubbles to welcome us to our honeymoon.
With each room being a suite, you will not be disappointed.
We actually stayed in our booked room for the first five nights then moved to the honeymoon suite for our final two, as gutted as I was at the time that we did not have the honeymoon suite the whole time, it weirdly served to restart our stay with a change of scenery and new surroundings.
All the decor is very rustic and interesting. There are hoofs being used as coat hooks and ashtrays, animal skins ornately decorate the floors and chairs and wine barrels adorn communal areas and bottles of wine everywhere. Heaven.
We spent our days sitting by the pool, enjoying no phone reception, lots of red wine from the vineyard – loving the provenance stories here – and the evenings spent eating fine Italian food.
It is no exaggeration to say that in total we left the vineyard just once the entire time we were there which was just to see one local town, do some walking and try some of the other local wines.
Whilst there I booked us on to a couples cookery course where we made pasta three ways which was then cooked by the resident chef for our lunch and dinner that day.
We also did a tour of the vineyard to get a better understanding of the wine making process which was where my whisky blogger-ness started geeking out and taking frantic notes whilst sampling ageing wine from a few different casks.
There were interesting comparisons between the terroir we talk about in whisky and the terroir spoken about in wine.
This included the story of how the resort came into being (from the BA website).
Let's start with the owners: a real life Italian count (that's his name on the resort, and yes, he's unreasonably gorgeous) and his statuesque satin-skinned English wife. The house itself is a 100 years old and when the San Bonifacios first stumbled on it 10 years ago, it was a wreck. A lot of restoration work, patience, sheer willpower and money later, the place has been transformed into a bijoux resort that feels less like a hotel than a very tastefully decorated, cosy, intimate home that just happens to have a few house guests in for the weekend.
What is also worth noting is that all the wines made on site are organic and, having stress tested it a few times, can testify that this resulted in virtually no hangover symptoms at all, even after quite a few bottles between the two of us each evening.
Another thing we would recommend is the cured meat and cheese boards, paired with the Docet 2010 vintage from the vineyard. We enjoyed these as we watched the magical sunset each night and loved it.
There were loads of other details that I could tell you about such as the epic steak for two (get it cooked rare, incredible) or the fresh tomato and buffalo mozzarella lunch plate or the Monteregio 2006 (ask for it to be decanted and let it breathe) or even the fact that no one is there to make friends, in a nice way, they are there to enjoy quality time together on honeymoon or they are about to be asked for their hand in marriage.
The photos should show you how amazing this place is and why I will forever call this the ultimate honeymoon destination.