Situated on the gorgeous Yorkshire coast, Filey Bay Whisky is a relatively new and brilliant English whisky company. Their malts are introducing news flavour profiles to areas that have never had distilleries.
As alluded to in my write up of the London Whisky Weekender last year, I was fortunate to take part in something so special that I'm already saddened by the knowledge I am not likely to be able to do it again. That is of course; a Pre-War Whisky Workshop. I just cannot believe it has taken this long to get this piece live on GreatDrams, apologies!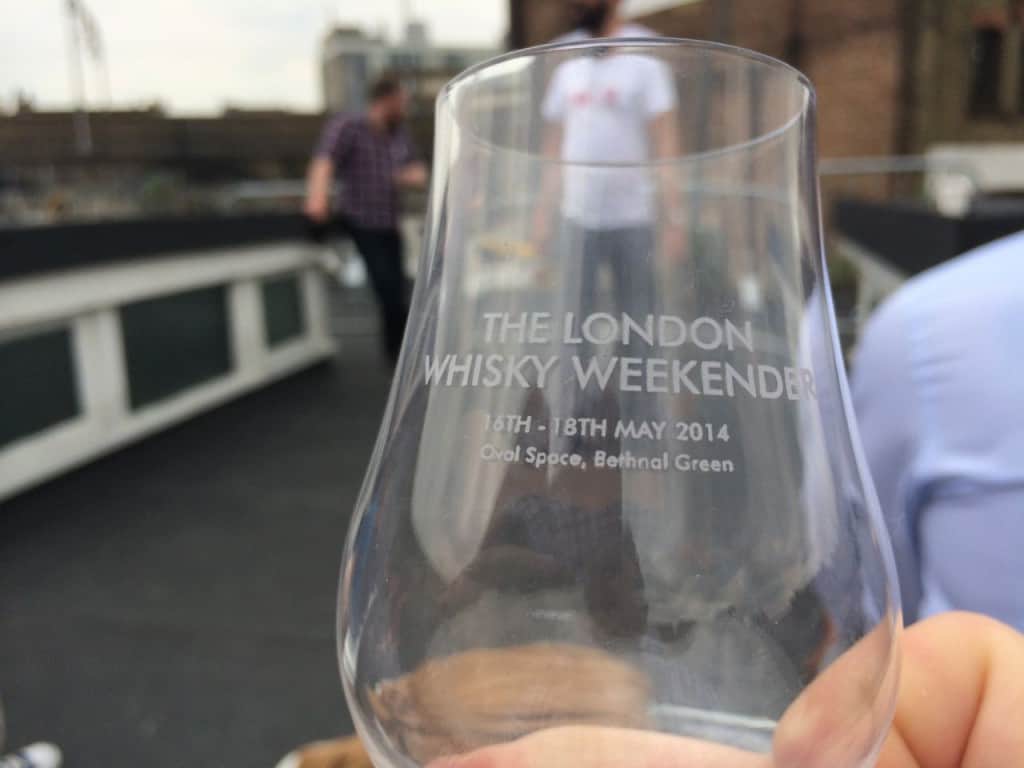 It all started brilliantly, I had had my breakfast dram and completed a circuit of the main Whisky Weekender event by the time attendees of the Pre-War Whisky Workshop were informed to go to the main entrance so we could get proceedings underway.
Once we had all gathered and been ticked off the list, you could tell there was an air of anticipation growing. None of us knew what we were about to taste but we all knew we would be be trying some of the oldest whiskies still in existence as well as having a pretty fantastic story to tell afterwards.
We were then ushered into a building over the road and upstairs to the roof to take our seats and admire one of the last surviving semi-destroyed buildings from the Blitz.
After a few minutes we were welcomed by Eddie of The Whisky Lounge and Angus of Whisky Online Auctions to what was promised to be an event to remember.
Angus took the lead by explaining that none of these whiskies were commercially available anymore and that not even he, a specialist in incredibly old whisky was likely to try again either as there were so few bottles left.
He went on to explain how, despite the romance and marketing around it, that whisky is an industry, effectively made up of a hundred factories of varying size that nowadays are built for efficiency.
Now the part we were all waiting for, the reveal. A wry smile formed across the faces of those I could see as we were informed that every whisky we were about to try was from the 1940s, 1930s or, in the case of the final dram, the 1920s and that all used quite Victorian processes in their manufacturing.
Angus informed us that the methods of distillation back then involved floor malted barley that was peat dry, common across the whole industry, meaning that most whiskies of this era were peated to some degree.
Some distilleries would use old beer yeast or even baker's yeast that was left to ferment for up to a week, for reference, nowadays fermentation lasts only a few hours.
Even more interesting was the 1940s spring cap, known as a nail breaker, used as a closure. Apparently it was great at protecting the liquid but the metal inlay often reacted with the liquid, adding a metallic dimension to the taste.
Dram one - A Black & White blend from the early 1940s
This bottle was likely distilled in the 1920s as you could see the Federal embossing, denoting a bottling for the US market only just post-prohibition.
The nose was pretty rough in truth, lots of vegetable notes, quite potent with the taste being a little rum-y and bitter. Didn't really like this one sadly, but gladly embraced Angus' sage words of better things to come.
Dram two - Haig's Gold Label, also from the 1940s
Now this was more like it. The nose was a lot more upfront with heavy peat influences, quote strong on the grain with a smoky undertone.
The palette exuded elegance and silliness, a real pleasure to drink with a lightness of aftertaste. The bottle itself had the Royal Warrant of King George the Fifth, and we were gently reminded that these were extinct styles of whisky, unheard of today.
Dram three - A bespoke bottling for Bellows Partners, NYC blended in London by Portal Dingle & Morris, 46%
Was relatively common in the 1930s for US companies to get in touch with distillers or bottlers and have unique blends created for events, corporate gifts or to sell.
This one was almost minty but with that now-familiar peatiness to it that seemed to typify this era of whiskies.
At the half way point we took a little break to reflect on what we had sampled so far and were given more informative nuggets of information to accompany our liquid discovery.
Apparently quote a few bottles of this vintage make to to auction, mostly when people die and their widow looks to offload possessions or finds long-forgotten stashes in the attic. Around a decade ago, these bottles traded for only £50 but now, with the plethora of online auction sites, an increased uptake in whisky consumption and increased accessibility of the liquid, they trade at around £750.
Dram four - Crown Vat Old Scotch Reserve, 1930s, 40%
Now the brand geek in me kicked into gear as I surveyed the bottle, as I had with all the others, and took photos of the detail. This one seemed to have a Johnnie Walker style Striding Man embossed in the glass, was it a fake? Hard to tell, subsequent research suggests it was a legacy character that occurred in various guises across the wider whisky industry.
This was a vatted malt, what we know as blended Scotch whisky today but with no grain, just malt and would have been distilled in the 1920s (wow).
The nose, remarkably, was full of fresh peat, any other flavours that had been there had subsided. Sadly the palette was quite soft, the alcohol content tŷhhyhad not held up as much as others so had oxidised slightly.
Dram five - St. James Blended Scotch, a Berry Brothers bottling for the NYC market again, 1930s distillate
Brand geek evolved to design geek as I admired the nineteenth century label design in all it's primitive, yet very detailed glory. This was a 1940s bottling of 1930s distillate at 45% worth a cork closure.
Berry Brothers, we were told, took and take high pride in their blends and would have been at the upper end of the cost spectrum for the time.
The higher ABV, compared to Dram Four, had helped it keep it's punchiness. This was the first one you could easily mistake for a whisky of the modern era.
We paused for an aside on how nowadays whisky production is all about efficiency and consistency, whereas pre-war it was quite hit and miss.
In recent times, in the quest for revenues and growth, a lot of the soul has been beaten out of whisky through these efficiencies whereas you could get so,e incredible wins in the 40s but you'd have a hellovalot of frighteningly bad fails along the way. It kept it interesting. The Springbank distillery is probably closest to this old style of production and taste.
We chatted as a group for a while and came to a rough concensus, led by Angus and Eddie, that at its core whisky should be evocative of a sense of place, people and a moment in time. Especially as in the early days the taste was most affected by the actions of people, it is not unfair to say that a lot of the flavour was down to how drunk the floor malted was, he could have had half a litre of new make spirit that morning and may not have been as motivated to do a great job as on other days. Folklore suggests that this was frequently the case at Ardbeg, but that's purely conjecture.
Dram six - Bells 20 year old Royal Reserve, bottled early 1930s, likely distilled around 1910!
An all malt blend, this whisky was simply incredibly. So smooth, near perfect. As you can see, aside from superlatives my nose and palette notes ironically ran dry at this point.
I did not expect to be so impressed, so excited and so entrapped with this experience but it really did have a profound affect on my understanding of whisky's journey, not just mine, and gave me an unrepeatable understanding of the production methods and successes of a bygone era.
Bonus dram seven - Triac Cognac, roughly a century old as a thank you from Eddie
Lovely liquid but I will politely stick to my whiskies.
Eddie finished the session by discussing how people often buy into perceptions of quality, and how packaging is a distraction from the incredible time, effort and passion that goes into the creation of the liquid, quirks and all. For example, people buying online only have the packaging to really go on whereas events and in store you get a better understanding of the back story, as well as your next consumption story.
Thanks to Angus for his great discussions and thoroughly enjoyable narrative, and to Eddie of The Whisky Lounge for making it all happen.