A remarkable Single Malt from the Connacht Distillery in County Mayo, matured in Sweet Marsala Wine and ex-Bourbon casks to produce a well finessed whiskey.
Irish Single Malt at its finest
Set against the dramatic backdrop of the northwest of Ireland, the Connacht Distillery has been operating since 2016. There is no better place to distill some of Ireland's finest malt, with every part of the process, including bottling, taking place on site. There is even a visitors' centre where customers can experience every aspect of Connacht Distillery and sample their best drams in the Mullarkey Bar.
They have an exciting range with several brands coming under their main title. As well as Spade & Bushel Single Malts, they also have Straw Boys Poitin and Vodka, Ballyhoo Single Grain Whiskey, Connacht Single Malt and Conncullin Irish Gin.
Their Spade & Bushel Single Malts are not distilled at the distillery itself but are made using casks bought from other irish distillers, a common practice in whisky making. It is a testament to the skill of the creators at Connacht that they have expertly selected which casks to bottle.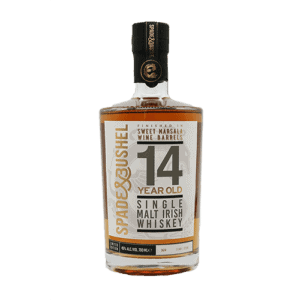 TASTING NOTES FOR CONNACHT DISTILLERY SPADE & BUSHEL 14 YEAR OLD SWEET MARSALA FINISHED SINGLE MALT IRISH WHISKEY
Bottle cost: £58.68
This particular Irish whiskey has been matured in both ex-Bourbon, for 12 years and Sweet Marsala Wine casks, for two years, from Sicily. It is limited to only 1600 bottles
The nose begins with big notes of sweet grapes, nutmeg spice and vanilla. It is sweet and spicy, with a gentle oak wood flavour throughout.
The palate is warming and incredibly smooth. There is a slightly tart note of summer berries, which goes perfectly with the oak wood and nutmeg spice. Citrus fruits, particularly oranges, come through and add a lovely zest.
The finish is soft and mellow, with hints of oak wood, berries and vanilla.
This is a spectacular malt from Connacht Distillery with the perfect combination of Bourbon and Marsala Wine notes. It is smooth and almost comforting in its flavour profile.
Are you a fan of Connacht Distillery and their Spade & Bushel 4 Year Old Sweet Marsala Finished Single Malt Irish Whiskey? Tell us what you think in the comments!