Many moons ago, there appeared to be some silly form of discrepancy, which was based along the lines of blended whisky being considered "impure" and playing second fiddle to the typical single malts you find up and down the rugged Scottish landscapes.
Thankfully, those days now appear to be behind us, as people are finally seeing the true value in a premium quality blended Scotch. Need proof? Look no further than the House of Hazelwood's prestigious 33-year-old blended Scotch whisky, which they have called 'The Accelerator and The Brake' in honour of the legendary Gordon brothers, who innovated the whisky distilling industry and took it to heights never imagined before.
This limited-edition whisky released in autumn of 2023 is already making waves in the spirit world and if Hazelwood's previous releases are anything to go by, it should be a roaring success.
The House of Hazelwood may be a new brand in the highly competitive world of whisky, but be under no illusions, they know whisky and they are already responsible for some of the finest blended scotch whiskies currently available.
Launched back in May of 2022 and owned by the legendary Gordon family, who own William Grant & Sons, House of Hazelwood specialises in aged, blended Scotch whisky produced with spirit from the Gordon family's very own private collection.
The name itself pays homage to the Gordon family as it is taken from the Gordon family's ancestral home 'Hazelwood House', which was the dower house of Kininvie Castle.
With both a Charles Gordon collection, and a Legacy Collection, some of the brand's most popular releases include 'The Long Marriage' along with 'The First Drop' and the hugely popular 'Sunshine of Speyside'.
Blended Gold
One of the most unique things about the expressions from House of Hazelwood, is the fact that the majority of them are made up of miscellaneous whisky stock from the inventory of William Grant & Sons.
In the past, after bottling, there would inevitably be some whisky remaining inside. Whisky producers typically didn't know what to do with them so they would either sell them off to independent bottlers, leave them to age further (and often forget about them entirely) or, shock horror, some would even pour them away.
Thankfully, times have changed, and whisky producers quickly figured out that the remnants of a full batch of whisky inside a cask could potentially be a liquid gold mine.
As old whisky inventory values increased, blended Scotch became more popular. By combining the remaining whisky from one cask with the remaining whisky of another, whisky producers were able to produce blended gold.
Each cask of whisky provided different notes, flavours, tastes, and aromas. By combining different ones together, you can produce all manner of amazing whiskies. One batch for example, could be heavy on the peat and smoke, but light on the sweetness. Another batch could be the exact opposite. By blending the two together, you could balance out the flavours and enjoy what is known as the 'Goldilocks Effect' in that you get a whisky that is 'Just Right'.
Make no mistake, blending Scotch whisky is an art. You don't just dump the dregs of one cask into another, give it a shake and hope for the best. It's all about ratios, tasting, smelling, analysing, and experimenting.
With access to a private inventory of whisky from one family, The House of Hazelwood were able to experiment with all manner of different whiskies until they created what they believe to be their finest blend yet – The Accelerator and The Brake.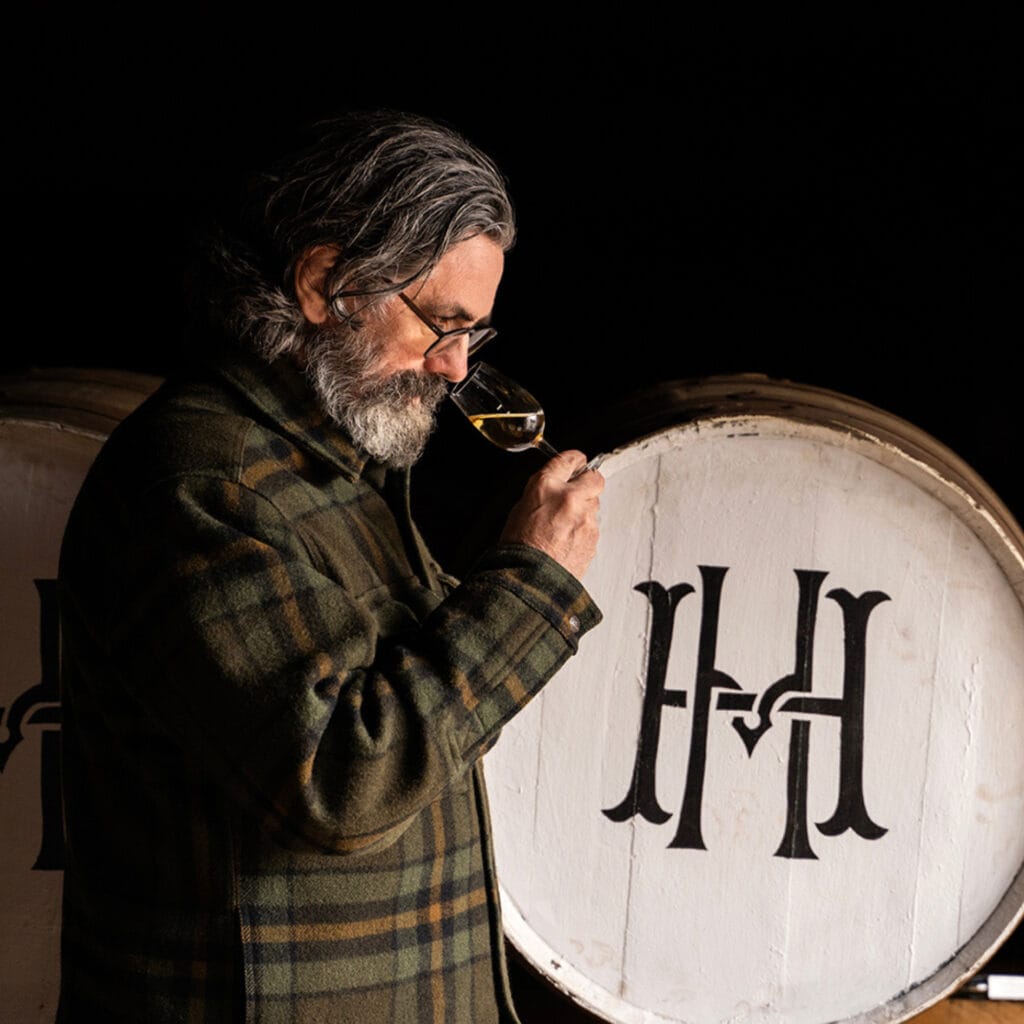 'The Accelerator and The Brake'
Produced in partnership with renowned whisky writer and expert Dave Broom, The House of Hazelwood is proud to release its most innovative and daring expression yet – The Accelerator and The Brake.
This truly special 33-year-old blended Scotch whisky celebrates the hugely successful partnership of Charles (The Accelerator) and Sandy (The Brake) Gordon, who, throughout the second half of the 20th century, were instrumental in revolutionising the whisky industry as we know it today.
The reason why Charles and Sandy worked so well together was because each of them brought different characteristics, different traits, and different abilities to the whisky industry. By combining them together, they changed the world of whisky forever.
The same principle applies to this expression. By combining contrasting notes, flavours, and aromas together, House of Hazelwood have created a whisky of truly remarkable character and the very highest of specs.
What's unique about this release is the fact that the whisky obtains much of its flavour from the actual grain itself, as opposed to the malt. For those of you who know your Scotch, you'll know just how unique this is.
To celebrate this release, The House of Hazelwood even produced a feature-length whisky film featuring Dave Broom, aptly named The Accelerator and The Brake: A Whisky Film. The film features Dave travelling across the majestic countryside of Speyside as he visits the ancestral home of the Gordon Family, Hazelwood House, and learns all about the delight that is Scotch whisky.
Tasting Notes
Okay, okay, that's enough history for one day, let's get to the good stuff and find out just how delicious this great dram really tastes.
Limited to just 209 bottles worldwide, and with a throat burning ABV of 57.6% Scotch whisky purists are going to be in absolute heaven when they sample this amazing tipple.
A mature whisky offering fruity notes, a silky-smooth oily texture, and a gorgeous amber chestnut colour, this naturally coloured, non-chill filtered, cask strength dram is a truly opulent whisky best reserved for the most special of occasions.
On the nose that first sniff should present damp autumn leaves, sticky winter berries, freshly stewed Oolong tea, and a touch of new leather. Inhale again, and you should detect notes of bonfires smouldering away in the distance.
On the palate is where drinkers are really rewarded as you should immediately detect sweet notes of maple syrup, pecan pie, and dark cocoa nibs. These sweet notes give way to tart fruity notes with dark berries and cherries shining through. There is also a hint of allspice, nutmeg, and molasses, making this very pleasurable for rum lovers as well. See? Everybody wins!
Despite its cask strength, the finish is silky smooth thanks to the linseed-like oiliness of this dram. Ripe orchard fruits, red berries, and winter spices shine through. Finally, your palate should be rewarded with the lingering aftertaste of After Eight mints, making this the perfect after supper delight.
If you're looking for unique, award-winning, limited-edition, and just downright delicious Scotch, you've come to the right place. Here at GreatDrams.com we offer a wide range of delicious whiskies, primarily Scotch, which cater for all palates, all preferences, all budgets, and ones which you won't find at your local supermarket.
Whether you're looking for a sweet and fruity tipple, a lightly smoked dram, a heavily peated whisky that really warms on the way down, or a blended Scotch just like this one, we've got something for everybody.
Don't take our word for it, though, take a look around our site and see for yourself. You won't be disappointed.