Born in 1927, Charles Grant Gordon was the great-grandson of Whisky legend William Grant.
Charles Grant Gordon is recognised for having changed the prospect of the Grant family as well as the entire Scotch Whisky industry.
From an early age Charlie knew he wanted to be a distiller.  The Whisky was in his blood (not literally of course) and he had a passion for the art of distilling.
It would be easy to fall in love with the craft when your whole life is surrounded by it!
But before he could really get stuck into his role in the family business, he was called up to fight in the Second World War for the Royal Navy at the age of 18.
When Charles Grant Gordon returned, he attended Glasgow University to become a chartered accountant.  He then took his skills and became an integral part of the running of Glenfiddich Distillery.
He was affectionately called Charlie around the distillery and alongside his brother Sandy, has been credited with turning a local family business into a global Whisky powerhouse.
When his father died in 1953 the responsibility of the company was thrust upon Charlie and his younger brother Sandy.  They took to like ducks to water, or perhaps more aptly, like a Scotsman to Whisky!
Over the next few decades things really began to change for both the Grant family and the Glenfiddich Distillery.
It was under the ever-watchful eye of Charlie and his brother that in 1956 the now iconic triangular bottle ad packaging was introduced, creating a recognisable brand image.
It was also under the command of Charlie that the Glenfiddich visitor centre was opened, the first of its kind!  He was innovative and fresh; creating ideas that would change the world of Scotch forever.
From there the company soared, with profits rising and new international shipping routes opening all the time.
But Charlie remained humble.  Workmen building the new Girvan Distillery in 1963 remember him insisting on being called Charlie and living on the site in a caravan.  He would cycle round all day, just to make everything was going well.
Even when his products were being sold on global markets, he remained the same passionate man he always had been.
He introduced his Scotch to almost every continent, including the US.  This was a major game changer for the industry as demand grew and it became more popular than ever.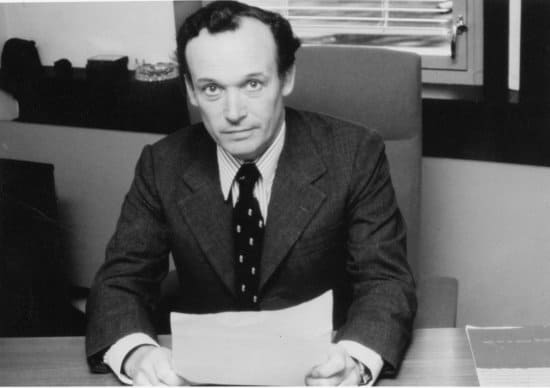 Aside from a deep passion for Whisky and distilling, he also loved to sail.  His love started when he and his then wife Louise began sailing on their yacht, Yala.
For Charlie this was a family affair, and the couple's children would often accompany them on trips.
Proof of Charlie's determination to live life to its fullest is perhaps best illustrated by the fact that he made his last transatlantic voyage at the grand old age of 85.
This was a mere year before his death on December 21st 2013.
The loss of such a great man was felt not only by the entire Grant family, but also by everyone in the Scotch Whisky world, who owe a lot of their success to the pioneering work of Charlie Grant Gordon.
Who is your whisky hero? Let us know in the comments