I was invited up to The Dalmore distillery a couple of weeks ago to get immersed into the brand, the place and attend a private whisky tasting with Richard Paterson, who this year celebrates his half century in the industry. Can you guess how excited I was?
As loyal GreatDrammers I'm sure you all know how much I love my job and how grateful I am to be in a position where I get to experience the best of the whisky industry. This whisky tasting was no exception, and in reality was catapulted right up to the top three experiences I've had in the whisky industry; two days of his time, his conversation, his wit, his knowledge, his passion, his undeniable likability and of course, his whisky.
One of just a couple of times I have actually felt like a bit of a groupie in the industry, I was excited. It would be tough for anyone not to be, and if they said they were not, they had just lied to you.
Aside from his rather enviable and impressive encyclopaedia-like knowledge of history, dates and the rainy weather that appears as part of most anecdotes, he is a genuinely lovely man who has the Twitter handle: The Nose (https://twitter.com/the_nose). Brilliant.
Of course, I was there to learn about more than how charming Richard is but he embodies what it means to be not only a Master Distiller but a Master of Ceremonies and Brand Ambassador; the charisma, the agonising over getting things right and ensuring people all over the world enjoy great whisky in interesting and respectful ways is amazing. Only a few others in the industry have that prowess and stature when they walk into a room, but many more should.
He even posed for a selfie during my tourist moment before our tasting. 
We had just done a distillery tour, walked around taking photos and sampled a beautiful new expression from The Dalmore in Warehouse Four. Then the seven of us were ushered upstairs to whisky tasting room. This place is the epicentre of the brand, the pinnacle of The Dalmore experience, akin to how much the brand is integrated into the tasting rooms of Glenturret, no detail is left to chance.
We sat, we waited, we eyed up the bottles at one end of the room and the seven copita glasses in front of us, each with a hearty measure in for us to nose, sample and enjoy.
After an introduction and recap of various discussion points we had been over through the day around casks, the distillery, spirit style and whatnot we got started.
Dram one - The Dalmore new make - 68% ABV
"Now, none of this pussy shit," Richard proclaimed, "roll the glass from one nostril to the other and back again as you nose, get stuck in but if your eyes go weird you are nosing too aggressively."
I had never heard of aggressive nosing, but dutifully complied and got stuck in. A really nice new make, cotton notes, a bit of baby sick (ugh) but it was deep, thick and heavy.
"Chocolate orange notes are our house style, the base spirit should evoke this along with a soft, fruity, vanilla undertone," said Richard as he introduced the liquid."
He told us how he loved international guests as it meant he got to understand more global opinions and the differences between peoples' perceptions of the same thing, as well as how others describe certain thing. The caveat with that not being completely the case for the English opinion… as I looked at him in disbelief he gave my beard a little rub and all was well again.
The nose gave me dark fruit, orange, Christmas cake and old English marmalade, sweet but with depth.
The palate opened up to reveal spices, more orange and a medium length finish.
All in all a nice whisky, one I could spend a lot of time with, but probably not my favourite in the range… that would come a little later.
A very nice whisky giving off a very nutty, marzipan-like nose that was distinctly lighter than the 12 Year Old despite its advancing years. The palate was creamy, light again, nutty again with hints of citrus and a medium finish.
I would probably choose Th Dalmore 12 Year Old over the 15 Year Old, was a bit light for my palate.
Now we're talking.
"This one is all about marmalade, that is what you should and will be getting," proclaimed Richard, "this has spent fourteen years in American white oak and four years, YEARS in sherry casks as an elongated finish".
The nose was thick, so thick, incredible sherry notes and that orange character he spoke about.
The palate was a masterclass in flavours, one of the most flavoursome whiskies I've enjoyed in a long while. There was mint, marmalade, rich fruits, chocolate, hints of balsamic, liquorice, all wrapped in an earthy surround.
The finish was spicy and warm with sherry notes kicking in again.
Holy wow that was incredible, truly amazing and great value at around £85 in my opinion when you put it side by side against other 18 Year Old whiskies.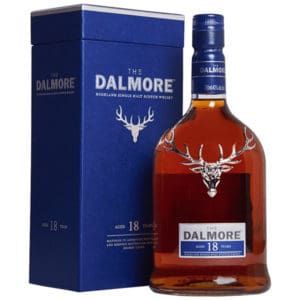 "This was matured in 70% Olorosso sherry casks, 20% American white oak and 10% Cabernet Sauvignon. This is not going to be an easy one."
And he was right, the nose was complex yet luscious, the palate grew thicker.
We did not linger over this one as we had gotten through a bottle of it the night before… nose, sip, enjoy.
The only six-finish single malt in the world and it is an absolute belter of a dram.
What are the six casks used? I hear you cry… Madeira, Sherry, wine, Marsala, small batch bourbon and Port pipes – an epic 'assemblage' of flavour and skill to weave these notes together.
The nose was all about marzipan and plums, orange hints here and there but the palate is where it all kicked off; tannins, salt, apples, chocolate, fresh oranges and many more. A true cacophony of flavours.
The finish lingers. This is a highly sippable dram, and one Richard refers to as "a highly conversational whisky"… it also happens to be his favourite recreational whisky whilst travelling.
"Now the thing to understand here is that only 1%, yes 1% of this whisky is 25 years old. 70% of it is 28 years old and 29% of it is 33 years old, that's just how we do things around here."
This dram had a strong influence from cubism and Paul Cezanne in particular in how to bring a subject to life and give it depth to elude to 3D structures.
The whisky itself was mostly matured in American white oak, then Palomino Fino sherry for two years and finally Tawny Port casks for 18 months. Only 3,000 bottles are released every year.
The nose was, as you might expect by now, exceptional; fresh apples, soft caramels. The palate gave off such a silky yet rich flavour you could be forgiven for falling in love with it instantly. It was elegant, luxurious, immense.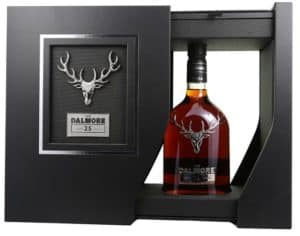 All in all the 25 Year Old and the 18 Year Old were definitely my favourites, but I was impressed at how consistent The Dalmore style is across the range and every single expression conforms to base notes that Richard looks for, no compromising, no rogue elements, just a great family of whiskies.
With that we ended the tasting and had a few more of the 25 Year Old…