It probably will not come as a shock to many that I enjoy using hip flasks a great deal. They always raise a smile when whipped out from both myself and those around me and is one of those accessories that elevate perceptions, and this is why I'm reviewing the SWIG Hip Flasks.
SWIG has a very interesting back story from relatively recent beginnings, this fast growing London based start-up produce high-quality hip flasks and pouches.
Their story, in their own words;
"9 months ago, David Galbraith sold everything he owned and moved across the country to pursue his vision of making the world's best hip flask brand."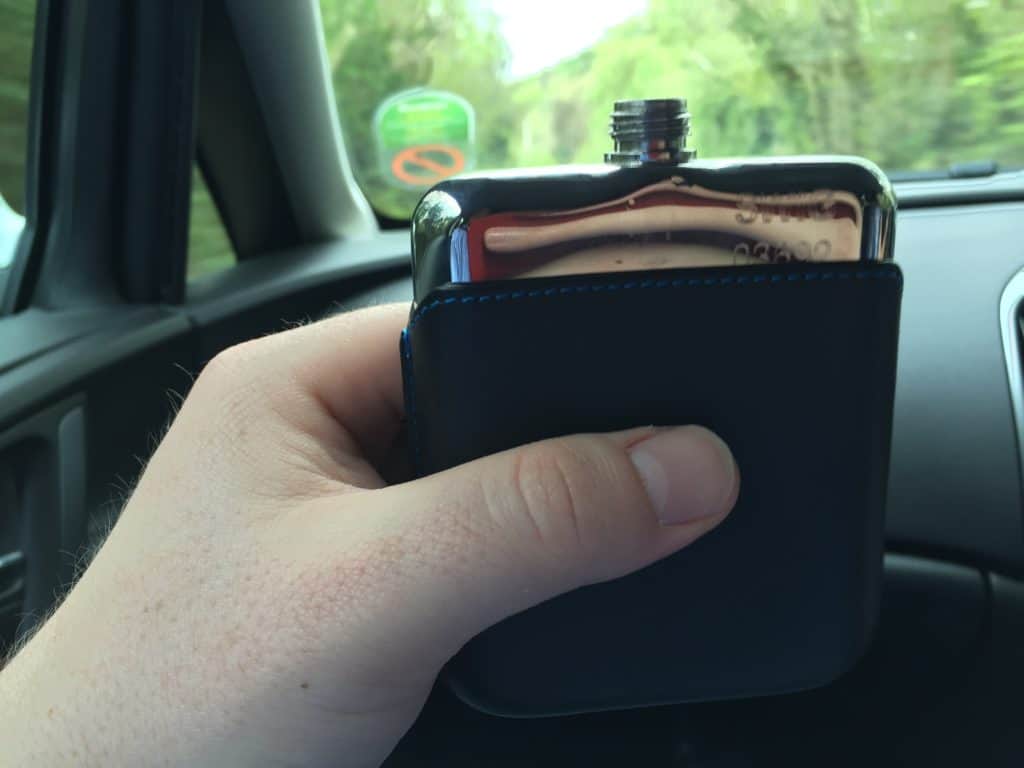 SWIG® is a seamless stainless-steel Hip Flask which can be supplied with a wide range of
personalised genuine leather pouches.
The flasks arrive gift boxed, ribbon tied and engraved with a unique serial number that permits lifetime membership to the 'SWIG Society' (the global membership club for flask owners – members include the Prime Minister!
I was lucky enough to be sent one of their products as part of this review and made the most of it at a wedding I recently attended over in Ireland.
The first thing you notice about SWIG is the high quality packaging; rigid box with gorgeous patterned, cushioned interior that houses the hip flask in all its glory.
The product itself feels weighty, a true marquee of quality and sturdiness.
Mine was the premium option so comes in a leather outer with light blue stitching that instantly draws the eye, and probably inspired my choice of top when using SWIG back at the hotel between wedding activities.
Capable of holding around 200ml, I filled mine with the ever punchy Ardbeg 10 Year Old, knowing that I would need a swig or two (see what I did there,) as my wife drove us from the church back to the reception venue.
You can read about my day in Ardbeg heaven at the Islay Festival 2015, here.
The flask was also incredibly useful later on when 'getting some air' outside between festivities.
In summary I have to say I was impressed with SWIG Hip Flasks; it felt solid, premium, I liked that it has the member number stamped into it (although it is a bit big in my opinion and almost too noticeable on a premium, slick designed product) and wish them all the success.
I'm off to refill mine and head to another wedding… *gulp* or rather… *swig*.