I must admit, I got really excited when I first heard that Scapa are releasing a new expression. It seems that the distillery has been quiet for too long, perhaps being victims of their own success,with the undoubtedly successful Scapa 16. I have always enjoyed the latter, even if I generally prefer my island whiskies to be rougher and smokier.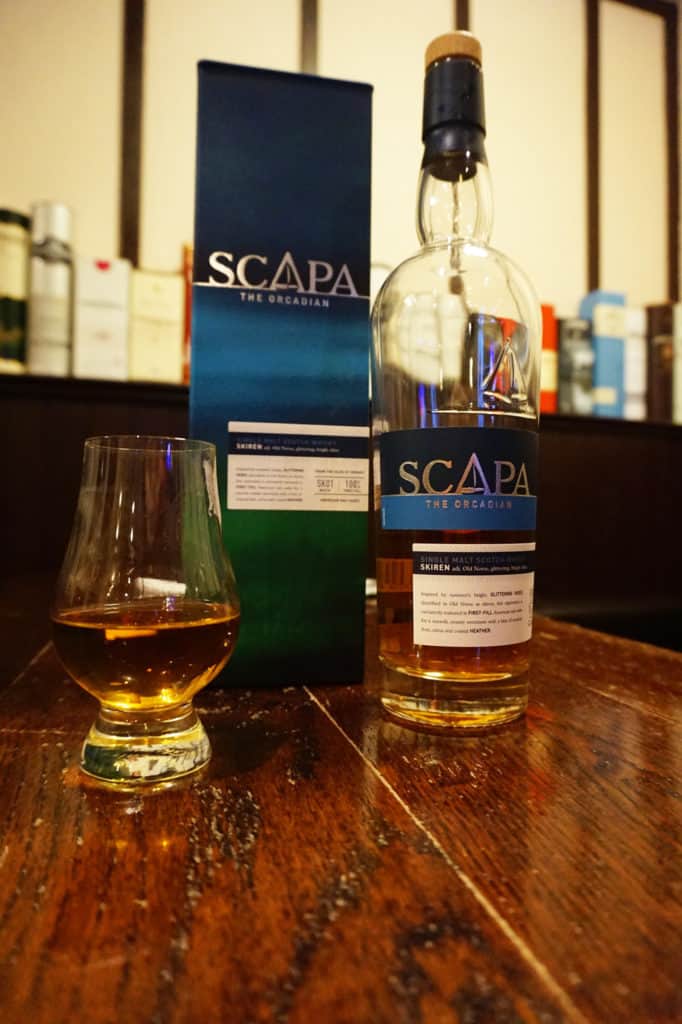 Scapa has always been special. There is something about the Scapa whisky that you cannot really find in other island,or mainland whiskies. It's got a rich smoothness and a subtle maritime character. Not as smooth as a Speyside, and not as aggressive as an Islay. It is greatly balanced and able to please most palates, both hard and soft, unlike most whiskies out there,that tend to be too smooth for some, or too harsh.
That is probably why the 16 year old has been so successful ,over the years. It can target a really big group of whisky lovers, being a rich whisky,that has plenty of flavors to reveal,while still being quite mellow.
The Scapa distillery is located on Kirkwall, Orkney and it is only half a mile south of Highland Park, which makes it the second northernmost distillery in Scotland. One would expect such a distillery, to produce a pungent, rough and probably heavily peated whisky. That's not the case.
What's also unique about Scapa,is that they operate a Lomond wash still (they have done so since 1959), the only distillery left, to have such a still. The Lomond still contributes to the smooth oiliness  of the spirit,and is probably one of the main factors that make Scapa such a unique whisky.
Skiren means bright skies in Old Norse and ,apparently, that was the inspiration behind the production of this particular Scapa expression.
It is matured in 100% first fill american oak casks, and bottled at 40% abv. This is the first batch, named  "SK01". The bar had indeed been set quite high by the 16 year old, so let's see what this, non-age statement (and obviously younger) Scapa has to offer.
By the time the whisky makes its way into the glass, the room is already filled with honeyed, sweet, floral aromas.
Taking a sip, I experience something quite different.Lots of oak and a quiet sweetness.
The finish is what you would expect from a Scapa. Quite smooth, but not dull at all. Lots of flowers, that stay with you for a considerable amount of time.
NOSE: Sweet sea breeze! Fresh! quite mellow with vanilla,fruit, heather & honey.Maybe a hint of salt in the background. Fills the room like perfume.
PALATE: Soft and silky,slighlty spicy with toffee and oak! Quite sweet with baked apples ,honey, citrus and more oak!
FINISH: Medium/Long, more toffee, spicy ,oaky and dry. Really mellow with honey and layers of oak and fruit.
Overall, SKIREN is a very enjoyable whisky. I must say that, I do feel the 16 year old was more balanced and flavorful, but that is not the point here.SKIREN is a different whisky that, even though keeps the Scapa character, has nothing to do with the 16 year old. It has not more things to offer, but it has different things to offer.A well produced whisky that I'm sure will be enjoyed by many.I would definitely try it again.
What about you?
Slainte,
Plato