Similar to a blended whisky, blended malt is made only from single malts, rather than including grains malts. It can contain any number from at least two different distilleries and used to be known as a vatted malt.
This is Sherry finished Irish whiskey is a celebration of the Peaky Blinders and the whiskey made by the Sadler's family in the Black Country.
The Sadler family has been in the brewing business since 1861 when the brewery was first opened by Nathaniel Sadler. The brewery halted production in the early 1900s but it was reopened in 2004 by Nathaniel's Great-Grandson John, with the help of his own son Chris.
The brand recently underwent an expansion, moving to a new site closer to where the original brewery was based. They have now also opened a visitor centre and bar.
Having been based in the west midlands for over 150 years now, it makes sense that Sadler's would embrace the nation's obsession with Birmingham hard lads the Peaky Blinders. To fully take advantage of our love of the BBC show, Sadlers have created a range of spirits under the Peaky Blinders brand.
The gangsters themselves run a gin and whiskey distillery. Sadlers makes these alongside rum, Bourbon and an Irish whiskey. The brand has been quite successful and they have received a lot of attention for the products. They do go to some effort to make them unique products in their own right. The gin for instance is spiced, adding a nice little twist on a typical London dry.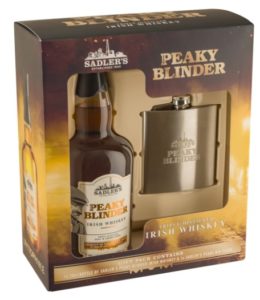 A blend of grain and malt whiskies, the Peaky Blinders Irish Whiskey from Sadler's has been finished in Sherry casks. It is full bodied and very smooth, owing to the traditional Irish whiskey making process of triple distillation.
The nose begins with notes of caramel, summer berries and marzipan. It is sweet and smooth. Apples, pears and white grapes add a nice fruity note. There are lots of orchard notes and a hint of warming sherry.
The palate is full of fruit and chocolate, and cinnamon and nutmeg bring in a nice spice. The body is mellow and easy going. Dried fruits give it a chewy texture but never take away from the smoothness.
The finish is full of cinnamon and sherry spice. it lingers of apples and citrus fruits.
While it might be easy to say that producing a Peaky Blinders whisky is a bit of a gimmick, Sadler's have actually put their money where their mouth is and created a rather impressive dram. We recommend checking it out whether you're a fan of the show or not.