It is located in Dufftown, one of the best known areas for Whisky production in the region, which is also home to big names such as Glenfiddich and Kininvie.
It was first founded all the way back in 1892 by William Grant and is still part of the Grant family today.
The distillery has a well loved core expression, of which the Balvenie Double Wood 17 Year Old is part.
This bottling has been matured in American oak casks before being placed into European oak sherry casks to finish.
The result is incredible and definitely makes this dram worth Gold medal it won in the Scotch Whisky Masters in 2015.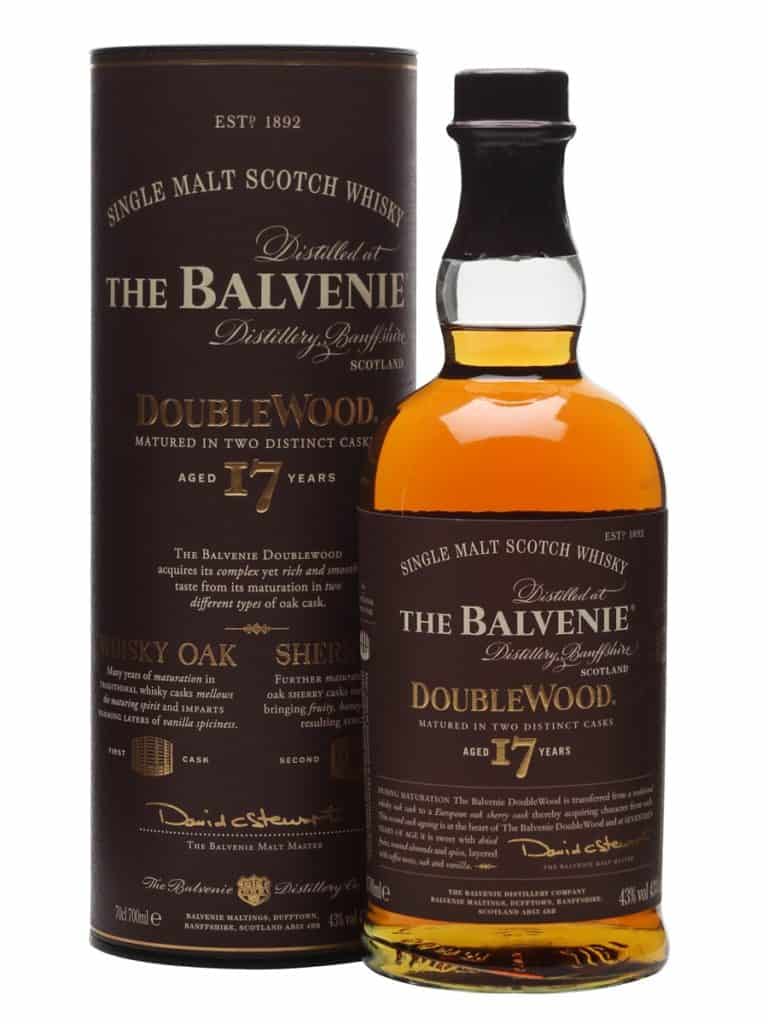 Tasting notes for the Balvenie Double Wood 17 Year Old
Bottle cost: £88.95
The nose is full of sweet vanilla notes with a crisp, ripe green apple bite to it. There is also a slight banana note coming through that gives a great depth to it.
The vanilla is full of soft oak tones that are rich and refined. There is also a little hint of spice, with the vanilla become slightly cinnamon in tone.
This goes wonderfully with the oak and fruit flavours that appear.
On the palette this dram is filled with raisin, apricots, sultanas and dates. These are chewy and filling, with a big body and wonderful texture.
The mouth feel is also helped by honey notes that come out. This gives the palette a smooth, easy-going texture that just drips with sweetness.
The vanilla and honey come together and offer up a sweet, caramel-like flavour. This is carefully drizzled over the fruits and is masterfully blended with the spicy cinnamon and nutmeg notes that appear.
The finish is strong and sweet. The oak and vanilla become one again and are all wrapped together with one final kick of cinnamon warmth.
What are your thoughts? Leave a comment below and let's have a chat!