The Glenlivet Captain's Reserve is a new single malt Scotch whisky which has been finished in cognac casks. This whisky has been crafted by Alan Winchester, Master distiller at The Glenlivet amongst many other things.
It is not every day that a ridiculously big delivery arrives from The Glenlivet at GreatDrams HQ but on a changeable Monday morning my regular Parcel Force guy put a massive parcel through the window which turned out to be the press pack for The Glenlivet Captain's Reserve. In it was a full bottle of the whisky (thanks guys!), a chocolate bar that had all the flavour notes of the whisky made into it, a lovely whisky glass and a notebook. A really nice touch… although god knows where I'm going to be putting that box now… may use it for samples or something in my office.
I digress.
Dressed in the classic attire that most releases from The Glenlivet wear, but with a luxurious purple base and next label this bottle is quite striking in its own right. The secondary packaging – the box to non-design geeks – is a beautiful purple colour too and really stands out, even from the main range of The Glenlivet.
The Glenlivet Captain's Reserve press release states:
The Glenlivet is exploring how the finish can create impactful new journeys of discovery. This brand-new expression pays homage to the importance of the finish, much like many craftsmen, whose finishing touches add a wholly new perspective. The Glenlivet Captain's Reserve is a beautiful new Single Malt whisky selectively finished in high-quality cognac casks, offering an adventurous new taste exploration.
Captain's Reserve maintains the distillery's long tradition of pushing boundaries through innovation and is the result of a long period of flavour and cask experimentation. Much like an artist's finishing touches to their work that can result in an entirely different creative journey, here, The Glenlivet has created a rich new expression that provides an innovative journey of taste – an industry first for any major Single Malt brand. The introduction of cognac in the finishing process, results in a stunning Single Malt that borrows cognac's luxurious flavour and marries it perfectly with the distinctly Speyside style that is The Glenlivet's trademark.
That's a lot to live up to, so lets see if The Glenlivet Captain's Reserve did…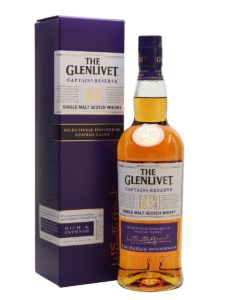 Bottle cost: £46.95
On the nose it was thick, raisiny and grapey as I'd expect from a cognac-influenced cask… the signature rich nose from The Glenlivet was present too, with sweet, citrus fruit notes cutting through too that added an interesting freshness to the dram for me. I'm not usually a cognac drinker in truth, but I must say I enjoyed the cognac influence of the nose here as it really did come through.
The palate was again rich, filled with deep, dark fruits, stewed berries, dried raisins, a lovely cognac character as well as those sweet citrus notes came through even more, but this time with a muted yet detectable nutmeg and cinnamon spice to proceedings. A peach note developed with time, as did a milk chocolate note that I absolutely loved, all wrapped in a creamy smooth mouthfeel and with a medium to long spicy finish. Wonderful.
Overall I think this is one of the best new releases from The Glenlivet for a while, they are all usually pretty good, but this one for a non-age statement whisky took it up a notch for me with its depth of flavour and simply wonderful nose. It is nice to see, well taste, a whisky that's finished in something a little bit unusual be truly influenced by that finish, not just a cursory nod towards something exotic to shift bottles.
Nicely done Mr. Winchester and his team at Chivas Brothers. Aye aye Captain.
You can watch my YouTube review below:
What are your thoughts? Leave a comment below and let's have a chat!