The Teeling family find their Whiskey roots all the way back in 1782 when Walter Teeling started the Teeling Distillery in the Liberties are of Dublin. Now there is a resurgence and a second celebratory release in the Teeling Whiskey Revival range.
At this time Dublin was will renowned for it Whiskey industry and had plenty of distilleries to boast about.
The success of Dublin Whiskey continued for decades, until the 1970s, when it was hit with a downturn in sales.
Many distilleries closed in this time and the Irish Whiskey industry as a whole was badly depleted.
The Teeling Distillery itself did not survive. However, luckily for us, it has been given a new lease of life, when Walter's descendants, Jack and Stephen, took up the torch and re-opened Teeling Distillery, right where it used to be.
This is the first new distillery in the city of Dublin for 125 years.  with this accolade, the family is charging forward and crafting some amazing drams that Dublin, and Ireland, can definitely be proud of.
One of those drams is a 15 Year Old called The Revival, released in 2015 to celebrate the return of Teeling Distillery and the tradition of distilling in the city of Dublin in general.
This is a very successful malt, and has been swiftly followed up with the release of Revival Volume 2.
This is a 13 Year Old that has been matured for 12 years in ex-Bourbon casks, before being finished for 12 months in 250 litre ex-Calvados French apple Brandy casks.
It has been bottled at 46% ABV and has not been chill filtered.
This is an Irish Whiskey instilled with the spirit of the Irish themselves.  It is bold and exciting, with a delicate freshness and a lot of vitality on the nose.
It opens with lots of sweet and juicy fruits that have a crisp edge, giving it a wonderfully refreshing quality.
There are apricots, pears, grapes, melon, peaches, and of course a delicious bite of apple that obviously takes it cues from the French Brandy casks.
Apple is not the only taste imparted from the casks, as there is a sweet and crean honey and vanilla note.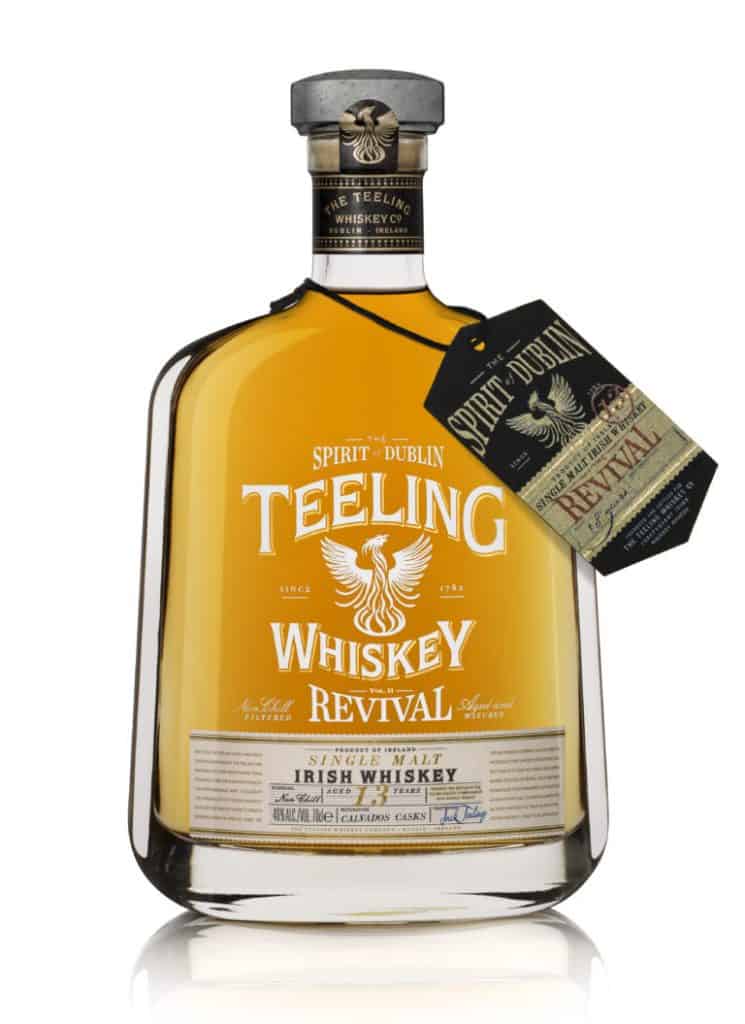 These go hand in hand and act as a wonderful back drop for the ripe fruits to bounce off.
On the palate these flavours become even bolder and brighter.
The honey and vanilla become thick and rich, with a smooth and easy going mouthfeel that is fairly typical of Irish malts.  But don't get me wrong; this mouth feel is expertly carried out in this expression.
The fruits are all there to be enjoyed and they become fuller bodied and more rounded as the dram goes on.
There is a slight hint of grassy, orchard flavours that go along perfectly with these.  This is bolstered and enlivened by the honey and vanilla.
As the dram comes to a close there is a definite hint of spice and oak, giving the fruit a light dusting of cinnamon.
The finish is long and smooth and the fruits and spices come together perfectly in the close.