Heralding a whole new range of whiskies, Redbreast PX Edition is a wonderfully exciting new dram from the legendary Irish distillers.
Redbreast Pedro Ximenez Edition is the first in a line of limited edition Single Pot Still Whiskies created to celebrate the Iberian Peninsula. For decades, Redbreast has held a close relationship with bodegas and wine producers in the Iberian region of Spain and Portugal. This new collection celebrates that and promises to bring some truly amazing Single Pot Still Whiskies to fans.
Everything about this series is focused on flavour and capturing the spirit of Iberia. Sherry casks are very commonly used to mature whiskey and Redbreast will be exploring different casks within the Iberian Series.
The distillery's Redbreast Lustau, a permanent is their main bottling in the Iberian Series and Redbreast PX is the first limited edition, with more to follow. There is a lot more to come from this series and if this expression is anything to go by, there is a lot to look forward to.
In a toast to Redbreast PX, the distillery has partnered with Omar Allibhoy, renowned Spanish Chef, to create a series of food pairings to go with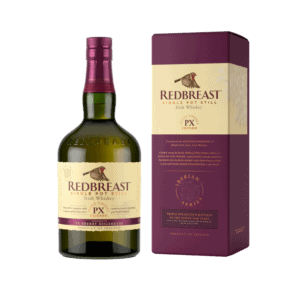 Tasting Notes for Redbreast Pedro Ximenez PX Edition Single Pot Still Irish Whiskey
Bottle cost: £59.96
Before being finished in the finest Pedro Ximenez hogsheads, this SIngle Pot Still Irish Whiskey has been matured in both Bourbon and Oloroso Sherry casks.
The nose begins with notes of sweet nuts, dried fruit and cinnamon spice. There is a wonderfully warming sherried note as well, all wrapped up in oak wood.
The palate is brimming with fruit flavours, toasted oak and sweet nuts. There is a hint of Christmas cake, with warming spices and lots of dried fruits and nuts. The oak wood is sweet and has hints of vanilla.
The finish is long and lingers on sherried notes and oak wood.
Redbreast have really hit the mark with this whiskey. It is full of flavour and is an exquisitely put together dram. Anything else from this series has a lot to live up to.
What are your thoughts on the first release from the Iberian Series? Are you excited for what comes next? Tell us your thoughts in the comments!