Pollen Street Social is a restaurant and bar that caters to the needs of the sophisticated diner while at the same time remaining welcoming and friendly.
It was opened in 2011 by world renowned chef James Atherton, who has previously worked for Gordon Ramsey in Maze and the centre of culinary creativity ElBulli in Spain.
It prides itself on its "deformalised fine dining" that creates an atmosphere that allows you to enjoy yourself whilst enjoying some amazing meals.
The Pollen Street Social bar itself is modern and classy but takes the patron back to the days when bars were social sites for interaction and sharing a warm smile, rather than staring at your phone in the hope someone will text you, which we all know nobody does anymore.
The atmosphere is perhaps best captured in the long line of chairs that allow customers to sit at the bar and converse with each other and their server.
It's not quite as romanticised as Cheers was, but still gives the opportunity to strike a conversation with the person sitting next to you, stranger or not.
And when you're not sitting at the bar there are plenty of deep leather seats to plant yourself in and enjoy the pleasant surroundings.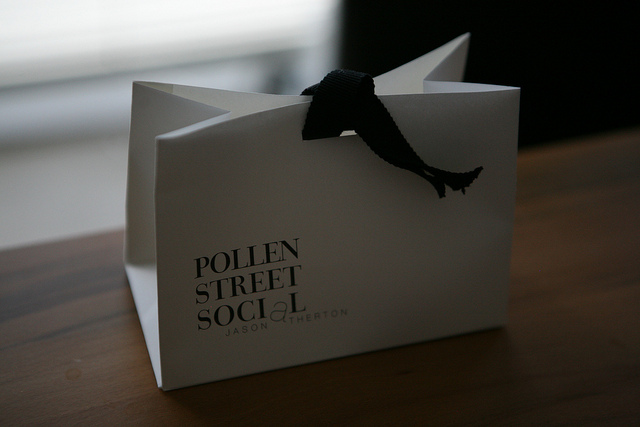 The décor is minimalist and not overwhelming but also not cold. The abundance of wood and leather textures gives a certain sophisticated warmth that is refined and welcoming at the same time.
This makes for a modern twist on the classic bar look. It is bright, without being brash and light without being shallow. Pollen Street Social has an atmosphere that allows you to really appreciate and savour the time you spend there.
The bar is famed for its informal atmosphere, making for a great place to enjoy fine dine (VERY fine dining) and a great selection of drinks while at the same being able to relax and not have to worry who's judging which hand you hold your fork in.
The bar itself offers some refreshing and exciting cocktails as well as fantastic tapas food.
Not only do they have their own amazing selection of house cocktails, but they also offer classics made with the finest ingredients. You can't go far wrong with a classic cocktail, and when they're created with the best of the best they are even better.
One of their signatures includes a particularly satisfying Negroni that is almost too good to be missed. So make sure you don't! 
All in all, the Pollen Street Social bar has everything you could ever ask for; good food, good drinks and most importantly good atmosphere.
It will fulfill everything you're looking for in fine dining and tops it all off with a great cocktail.
And once you nestle yourself in to one of their comfy leather chairs, you'll never want to leave!