The first Midleton Very Rare crafted by Midleton's new Master Distiller Kevin O'Gorman. With a 36 year legacy to live up to, O'Gorman has shown he has the skills necessary to do his predecessors proud.
Crown Jewels of Irish Whiskey
The Midleton Very Rare collection is one of the most highly prized Irish whiskey series around. It was first started in 1984 by Barry Crocket, who has become something of a legend in the Irish whiskey making world.
His vision was to hand pick select casks to blend together to create a rare and exclusive whiskey. He succeeded in creating one of the finest Irish blends out there, one that is very much sought after by whiskey lovers.
When Crocket retired as Master Distiller, Brian Nation came on board and took on the legacy of Midleton Very Rare. In the same way, when Nation retired last year, O'Gorman took up the baton and is continuing with one of Midleton's greatest achievements.
Midleton Very Rare is a big mantle to take on and with the 2021 release, Kevin has proved that he has the skills to do, and to do it well.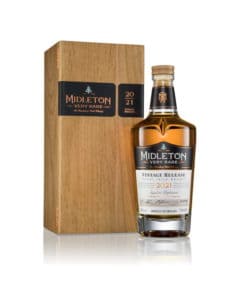 Tasting notes for Midleton Very Rare 2021 Blended Irish Malt Whiskey
The latest edition of Midleton Very Rare includes whiskies that have been aged between 15 and 36 years in lightly charred American oak, ex-Bourbon casks. This combination with the exceptionally smooth Midleton whiskey makes for an incredible blend.
The nose begins with notes of florals, vanilla and oak wood. There is a lovely spicy note in the background, with ginger and nutmeg coming through. It has a gentle sweet edge, full of caramel and treacle, which mixes brilliantly with the sweet notes.
The palate is complex and rich. The spices complement with the oak wood perfectly and combine well with the sweetness of the caramel. Orchard fruit, citrus peels and darker notes of coffee and mahogany also appear.
The finish lingers on oak wood and coffee.
Midleton Very Rare 2021 is full of character and a great start to O'Gorman's own Midlteon Very Rare legacy.
What are your thoughts on Midleton Very Rare 2021 Blended Irish Whiskey? Let us know in the comments!