Scotland is known for both its fantastic Whisky and astounding surroundings. Not many places have such amazing scenes, but it now has a serious challenger to both of these titles and that is Wales.
With the opening of the Penderyn Distillery on St David's Day in 2004, in the presence of the Prince of Wales himself, Scotland now has a rival in Whisky and natural beauty.
The distillery is tucked away in the foothills of the Breacon Beacons and has become popular with visitors to the country.  It offers a chance to see the amazing beauty of Wales, alongside a thriving new endeavour in the country.
It also makes some pretty impressive drams that are appreciated by critics and regular customers alike.
One such dram is Penderyn Peated.  This expression has been matured in ex-Bourbon and ex-peated Scotch barrels.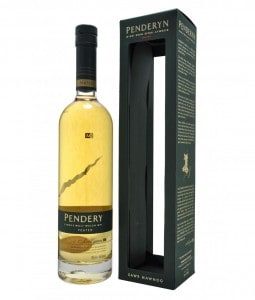 This is the only peated influence in the Whisky meaning the final results are subtle but definite.
The nose is filled with this soft smoke that is slightly aromatic.  There are hints of heather and fennel amongst the peated tones.
The core of the Whisky comes through, with ripe green apples and pears.  The smoke moves to the side and allows these to breath alongside a nice rounded citrusy tang.
There is also a sweet vanilla flavour that ties in well with the smoke and gives it a nice depth.
The palate is refined and carries the smoke well.  It is not at all overwhelming but wafts in the background, moving with the other flavours and giving them something to bounce off from.
The vanilla remains strong and sweet.  There is a sense of lemon meringue with drops of vanilla extract as the citrus and sweetness melt together.
There is a fruity note as well, that gives a nice acrid and sweet flavour to stand out against the subtle dullness of the smoke.
The finish does not last too long and the whole dram is wrapped up with the smoke and vanilla coming together in harmony.