Kamiki Whisky is a wonderfully unique blended malt that you simply won't find replicated anywhere. From the Whiskies it's made from to the maturation process, everything about this blend is different.
Kamiki Whisky – available from dekanta – are a truly Japanese brand, seeking to create harmony with their blends. This is not an uncommon goal in Japanese Whisky making, with many brands aiming to the same.
Kamiki Whisky are based in the city of Nara, where the Ōmiwa shrine sits. It is said that the priest of this Shinto shrine have blessed with Whisky produced by Kamiki. There are other Whisky producers within the area who also use the shrine and give their produce as an offering.
It is at the foot of Mount Miwa, which is also said to be quite mystical. The name itself comes from the Japanese for god,"Kam" and "iki" meaning breath.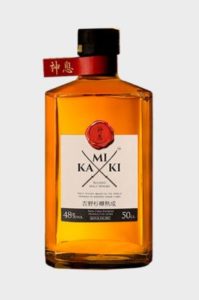 Tasting notes for the Kamiki Whisky Japanese Blended Malt
Bottle cost: £100.09
Kamiki Whisky is unique for several reasons. It is made using not only Japanese Whiskies, but also international drams. This is not unheard of in Japan.
What is perhaps the most intriguing part of the blend is that it has been matured in Yoshino Sugi, or Japanese cedar wood to you and me.
This wood gives the blend a smooth texture and creamy feel, which complements the flavour profile perfectly.
The nose opens with aromatic sandalwood and a slight hint of peat. The peat is earthy and deep and goes well with the wooded tones. Sweeter notes of caramel and toffee also appear. These have a buttery quality that carries onto the palate.
The taste is light and floral, with cherry blossom and plum trees. Fruits such as apples, pears and peaches appear. They are slightly tangy to the sweetness of the caramel. The peat smoke is really good on the palate. It does not overwhelm and goes perfectly with the fruits.
The finish is soft, with lots of mellow flavours and a lovely peated linger.
This is an exciting blend from Japan that brings in a new way to mature malt. If you're looking fo something new to try, this comes highly recommended.
What are your thoughts on the Kamiki Whisky? Leave a comment below and let's have a chat!