We recently introduced the Catawiki auction site where any passionate enthusiast who collects just about anything can find rare and interesting items, like Whisky bottles or antique Jewellery.
It's a really fascinating site that brings some hidden gems and is definitely worth keeping an eye on.
It's pretty simple to use as well, since all you do is register, bid on your item, pay once you've won (including a 9% auction fee) and then wait for your item to get to you.
Each auction is overseen by four specialist auctioneers, so you know you're getting the real thing.
We've gone through and picked out some bottles that stood out to us and might be of interest to you!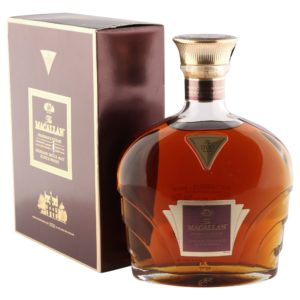 MACALLAN CHAIRMAN'S RELEASE
You can't go wrong with a Macallan, and this is a particularly good one. The Chairman's Release is part of the 1700 series, and was exclusively released in China. The decanter was crafted by Allied Glass from Gicel glass and echoes the beautiful Macallan decanters that have gone before it, with lots of luxury and curves. It holds a typical Macallan malt, which is to say, it's fantastic. It is packed with Speyside character and lots of Sherry notes.
Hibiki 21 Year Old Kacho Fugetsu
With only 2,000 bottles ever created, Hibiki's Kacho Fugetsu expression was released in 2015. This malt and its packaging is a homage to all the most beautiful parts of Japan. Mount Fuji features on the box and the bottle itself, and it is truly a work of art. I would pay plenty for the bottle alone, but the malt inside is stunning as well. It captures the Suntory essence of harmony and peace that Japanese malt is famous for.
Glendronach 1975 34 Year Old Ian Macleod Bottling
Released by independent bottlers Ian Macleod, this expression was distilled in 1975 and bottled in 2009, giving it a healthy 34 year old age statement. It was originally only released in Taiwan, and as such it is very exclusive. This expression is packed with flavour, with lots of oranges and floral notes. The palate is packed with sweet notes of caramel and burnt sugar, giving it a nice edge. You might not want to open this when it arrives due to its rarity, but we can guarantee you'll like it if you do!
Bunnahabhain 34 Year Old 1973 Celtic Heartlands
Part of the Celtic Heartlands range created by Jim McEwan, Master Distiller at Bruichladdich and an industry expert with over 40 years of experience, this is an exciting bottling. It showcases McEwan's genius and creativity. It has a 1973 vintage and has been matured for 34 years in refill Sherry casks. The nose is gentle and sweet, with lots of burnt brown sugar and dried fruits. The palate has a soft waft of peat smoke, which is delicious against the sweeter notes. There is a lovely earthy note as well. The finish has more smoke and a touch of orchard fruits.
Port Ellen 1978 34 Year Old 13th Release
Having shut down in 1983, any malt from Port Ellen is going to be rare. This is one of the rarer ones and was brought out by Diageo as part of their special releases series. The Islay malt has been matured in refill American and European Oak casks and is limited to just 2,958 bottles. The nose opens with sea salt and brine, and a lovely herbal hint of thyme and fresh mint in the background. These notes are earthy and lively, with lots of complexity to them. The palate has lots more seaside flavours and a wonderful dose of peat smoke. It is warming and gentle. The finish wraps these all up in a thick caramel and oak flavour.