Founded almost a decade ago as a way for collectors to keep a log of their items, Catawiki is now responsible for fifty thousand auction lots being sold each week across over three hundred auctions covering all manner of subject areas.
According to their site, "Catawiki's goal is to make special objects universally available. Our weekly auctions feature thousands of unusual, rare, and exceptional objects you won't find in just any store" – a nice mission, especially for the whisky auctions as, like me, whisky folk are always looking for new, random, rare and interesting bottles that are often not found in traditional stores.
Each auction is watched over by specialist auctioneers with the whisky lots being looked after by four auctioneers including a familiar face to many of us, Anne-Sophie Bigot, a.k.a. The Whisky Lady, a fantastic whisky website that I not only subscribe to but actively look out for new articles from for her quirky, amusing and knowledgeable take on the world of whisky.
I've partnered up with the Catawiki whisky auction website to highlight a couple of their current auctions that I think you'll absolutely love, as they stood out to me! Just register, place your bid, pay once you've won (plus 9% auction fee) and postage (this varies so watch out for it when ordering) then wait a few days and your seller will ship your bottle to you. Simple!
Highlighted auctions on the Catawiki whisky auction website
Glenfiddich Superior Reserve 18 years old - 23 carats Gold
A rather intriguing Glenfiddich release covered with a layer of 23 carat gold, this Glenfiddich Superior Reserve 18 Years Old Single Whisky is a rarity and I bet the liquid is banging.

The John Walker Baccarat Crystal Decanter
An exclusive bottling made in memory of the founder of Johnnie Walker, John Walker himself. The whisky, which sits in the super premium ranges of the Blue Label and the King George V, is crafted from specially selected casks to create a whisky as close to the nineteenth century style as possible. The decanter is presented in a laquered cabinet that took sixty hours to make by hand.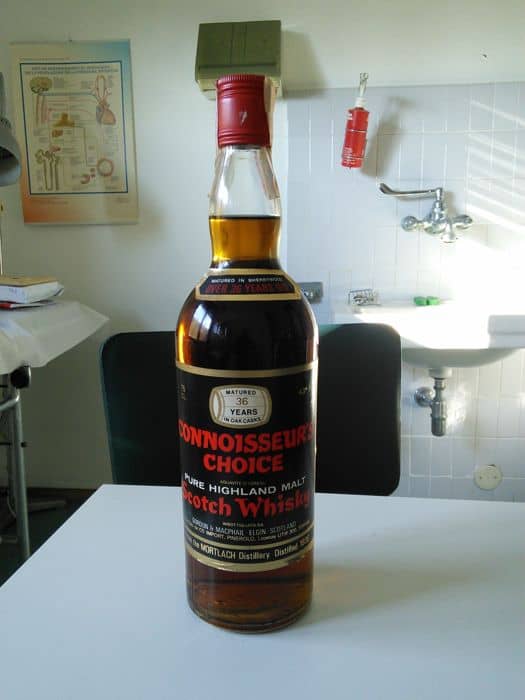 Mortlach 1938 36 years old - Connoisseur's Choice - Matured in Sherrywood
Matured in sherry wood, and distilled 1936, this looks like a fascinating whisky and one that I may well be bidding on! Who does not like an old school Mortlach?
Glenfarclas-Glenlivet 12 year old all malt unblended bottled 1974
Ah the cult of Glenfarclas is alive and well with this one, date of bottling 6/11/1974 so distillate dating back to 1962 or before… this is sure to be a beauty of a whisky, especially for all you sherry-matured Glenfarclas lovers out there.
A new release, but still not too easy to get ahold of… The press release states:
QUERCUS is the third release in The Keystones Series which explores and celebrates our five traditional keystones of production that have remained unchanged for 220 years. QUERCUS is named after the species of oak we use to make our casks and explores the impact they have on the character of our whisky.
At Highland Park, our obsession with casks starts with the selection of trees – European and American Oak – and extends to the exact way they're cut into staves with the grain running at 45°, making it hard for any spirit to escape. The staves are shipped to Jerez in the south of Spain and made into casks, filled with Oloroso Sherry and left to mature for around two years before being sent to Orkney.
With casks accounting for between 60% and 80% of a the final flavour of the bottled whisky, QUERCUS showcases both the rich flavour of fruit cake and the natural dark golden colour that these sherry seasoned oak casks bring to Highland Park.