The creators at BenRiach Distilling Co. are well known for the innovation and enthusiasm for experimenting with different processes and techniques. Their Temporis release is the perfect example of this spirit.
Dating back to 1897, BenRiach Distillery was once owned by John Duff, who also built Glenlossie and Longmorn. Unfortunately the Pattison coach of 1899 brought down Duff's whisky enterprises, like so many others in the business. BenRiach was hit hard and did not reopen for another 65 years.
Jump forward to today, and we find a thriving distillery. It was given a new lease of life in the early 2000s by Billy Walker, who was once a blender. These skills have him the know how to create some intriguing malts, and from there BenRiach flourished.
Today, it is owned by Brown-Forman, who bought it over in 2013.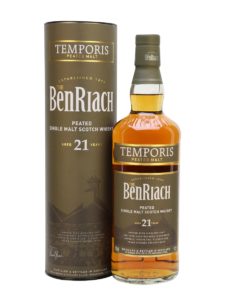 The BenRiach Temporis 21 Year Old
Bottle cost: £144
Temporis is a new release and forms part of the core range of BenRiach drama, which also includes a 10 Year Old, 21 Year Old and the peated Curiositas.
This prayed malt has been matured in four different casks, bringing together a diverse mix of flavours to create a real smooth and interesting palate.
The casks used include ex-Bourbon, virgin oak, ex-oloroso sherry and ex-Pedro Ximenez. The sherry casks add a lovely spicy ness that really picks up the sweeter, warming notes of the Bourbon.
The nose begins with elements of charred oak and soft creamy butter. Gentle spice and a slight fruitless also appear, giving it a lovely tart edge. The oak is broad and smooth, and gives the dram a lovely earthy sense. More fruits like apples, pears and grapes also add to this sensation.
The palate is deep and warming, with more tropical fruits such as pineapple and mango coming through. There is also a smooth honeyed now that gives the oak wood some depth. The orchard flavours are really bright on the palate, and the mouth feel is soft and mellow.
Some burnt white sugar flavours with cinnamon and nutmeg also come through. They add a little bit of heat and bring out the charred notes of the peat.
The smoke is quiet but plays an important part in the background of the dram.
Temporis is an excellent addition to the BenRiach range and certainly adds to the already exciting core range. Definitely worth investing in to really get to know some key elements of these different cask flavour profiles.
What do you think of the BenRiach Temporis? Start the conversation in the comments!