The new spirit offers bartenders all the depth and body of an aged spirit with the versatility of a light rum
Tuesday, July 19th 2022:  Monkey Shoulder, the made-for-mixing brand, has announced the launch of an entirely new style of spirit, Fresh Monkey. A world-first innovation from Monkey Shoulder, Fresh Monkey is a unique mix of three new make spirits – two grain spirits and one Speyside malt spirit – which have been blended unaged, fresh off the still and specifically selected to deliver fresh and balanced flavour.
Offering the freshness and versatility of a light rum but with depth and a delicate malty finish, the new Blended Grain Spirit breaks new ground by combining the richness of classic malt notes with vibrant tropical and grassy Agricole rhum flavours.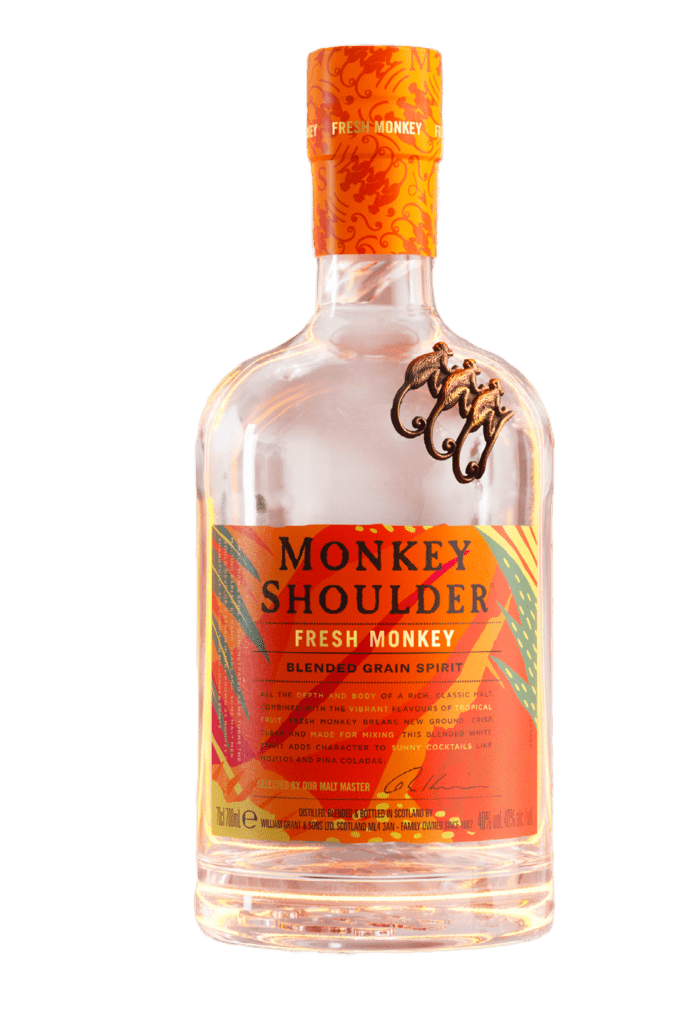 The liquid is vibrant and fruity on the nose with all the aromas of a traditional sweet shop – including pear drops and powdered hard-boiled sweets. As for taste, it is rich and fruity, with an estery bubble gum note, offering a velvety smooth, rich mouth-coating texture. A subtle hint of bonfire embers and a reminder of the mash bill finishes the liquid.
Crisp, clear and made for mixing, Fresh Monkey offers endless creative possibilities and versatility for the spirits category and bartenders for their serves. The Blended Grain Spirit adds character to sunny cocktails like mojitos and piña coladas or can alternatively be enjoyed in a classic daiquiri or with cola and an orange wedge.
Brian Kinsman, Master Blender for Monkey Shoulder comments: "We're always looking for ways to mix things up. Just like we did when we first launched our Monkey Shoulder Original, which unlike the rest of the Scotch Whisky category, was made for mixing. Now, we are breaking new ground once again with the launch of a new Blended Grain Spirit. When developing Fresh Monkey and testing it in many of the top bars around the world, our aim was always to create a unique and refreshing liquid, whilst allowing bartenders to have fun with the spirit. We've found that Monkey Shoulder Original and Smokey Monkey are perfect mixers for aged spirit cocktails, and so with the launch of Fresh Monkey, we have also added a light spirit for bartenders to play with."
Joe Petch, Global Brand Ambassador for Monkey Shoulder adds: "When discussing Monkey Shoulder's future liquid innovation, we asked ourselves 'What if the next Monkey Shoulder wasn't aged?' Things got very exciting very quickly and after discussing bartenders' favourite cocktails, the daiquiri was obviously mentioned. Here at Monkey we LOVE a great daiquiri, but we don't make rum – therefore we had to get very creative." Monkey Shoulder presents Fresh Monkey Origin Video: https://youtu.be/tauhmzzOMYQ
"Absolutely loving the new liquid from Monkey Shoulder. Having been a fan of new make daiquiris for a while now, it's exciting to see them take what has been regarded as an unfinished product and use that raw, edgy element to create a highly-versatile new weapon in the bartender's arsenal." says Dan Bovey from Hyde Group, Bristol.
Lea Longayrou from Little Red Door in Paris added: "The freshness of white rum and rich sweet notes of cereal, backed up with elegant vegetal notes, makes Fresh Monkey perfect for mixing in cocktails."
Anna Szymanska, Global Brand Manager for Monkey Shoulder comments: "Monkey Shoulder is a multi-award-winning brand honoured repeatedly by bartenders and the wider industry. Nearly two decades since it was created, it remains bartenders' favourite for cocktails. Therefore, Monkey Shoulder's innovation can be nothing less than a bold proposition that challenges category norms in true Monkey Shoulder style whilst broadening the shoulders of the brand."
To celebrate International Daiquiri Day, Fresh Monkey has launched on 19th July 2022 with parties hosted in two cities, London and Paris, attended by influential bartenders, members of the trade and media. Harry Mack, multi-talented artist and freestyle rapper will be live streaming from L.A. to perform for both parties at the same time.
For the launch events, Monkey Shoulder is collaborating with two famous cocktail bars, Trailer Happiness (UK) and Dirty Dick (France) to provide the cocktails. To mix it up, two bartenders from Dirty Dick will serve their own Fresh Monkey cocktail creations in London, whilst two bartenders from Trailer Happiness will do the same in Paris.
Fresh Monkey has an ABV of 40% and will be available to purchase in on-trade venues such as Ugly Butterfly in Cornwall, Callooh Callay in London, Panda & Sons in Edinburgh and Lab 22 in Cardiff, recently voted the best cocktail bar in the UK by The Top 50.
The introduction of Fresh Monkey extends the Monkey Shoulder brand range to three variants alongside Original and Smokey, strengthening the brand's credentials with a made-for-mixing portfolio.