An American style Rye made in the Netherlands that could definitely pass as a Tennessee native.
MillStone is a branch of the Zuidam Distillery in Baarle-Nassau and their MillStone 100 Rye is a great Whisky.
The distillery was set up in 1975, and makes some amazing malts. It is definitely worth putting on your Whisky bucket list. And if you don't have one of those, then start one and put this place at the top.
They are the one of the few Whisky producers in the Netherlands, and they will certainly be hard to beat should any newcomers appear.
Fred van Zuidam started distilling in 1975 and mostly made Gin and Jenever, which is the original spirit that Gin was created from.
Today the brand is much bigger, and they have started creating Whiskies, under the name MillStone. The distillery is still in the hands of the van Zuidam family, being ran by Fred's sons Gilbert and Patrick. Patrick is the Master Distiller there.
The MillStone 100 Rye Dutch Single Rye Whisky
Giving all other rye Whiskies a run for their money is MillStone's 100 Rye Whisky, matured in first fill American oak casks.
It is crafted around the number 100 (as you may have guessed). That means it has a 100% Rye mash bill, although that is split 49% to 51% malted to unmalted but we won't argue, is 100% pot distilled, has been matured for 100 months and is bottled at 100 proof. So coming up with a name must have been easy.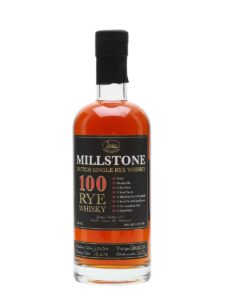 TASTING NOTES FOR ADNAMS TRIPLE MALT
Bottle cost: £78.95
The nose begins with herbs and spices, but better than when KFC do it. It has lots of earthy qualities and a really brilliant note of citrus fruits that livens it up.
It is brilliantly sweet, with hints of burnt brown sugar coming through. this develops into a more caramel like note.
The palate is sweet and elegant, with lots of cinnamon, cardamom, orange zest and vanilla.The sweet and spices mix well, and the caramel makes for a really smooth mouth feel.
Everything comes together perfectly with this rye. The sweet notes and the warmth are ideal with the succulent fruits and lively citrus flavours.
The finish is big and bold, with more heat and a lovely kick of fruit.
If you're looking for a good Rye, then look no further than the MillStone 100 Rye Dutch Single Rye Whisky. It might be hard to hear, but America could learn a thing or two about making Rye from Zuidam.
Buy the Limited Edition The Great Drams of Scotland Book by clicking here