The Irish always like to be a bit different, so it's no wonder they're turning from old traditions and forging ahead with new ones. Enter Midleton Dair Ghaelach.
Midleton Distillery in Cork, owned by Irish Whiskey giants Irish Distillers, are doing exactly that with their range of Whiskies matured in Irish Oak.
Oak is certainly one of the most important parts of the Whiskey making process and distillers typically use American or European Oak, since these are porous yet strong.
Midleton started this range in 2015, when they released Midleton Dair Ghaelach Grinsell's Wood. They are now continuing in with Midleton Dair Ghaelach Bluebell Forest.
The distillery has sourced six trees from the Castle Blunden estate in Co. Kilkenny. Once the trees were felled, they were shipped off to Maderbar sawmills in Baralla, Spain where they were shaped. They were then sent to Antonio Páez Lobato cooperage in Jerez to be made into hogshead casks and lightly toasted ahead of being used for finishing these whiskies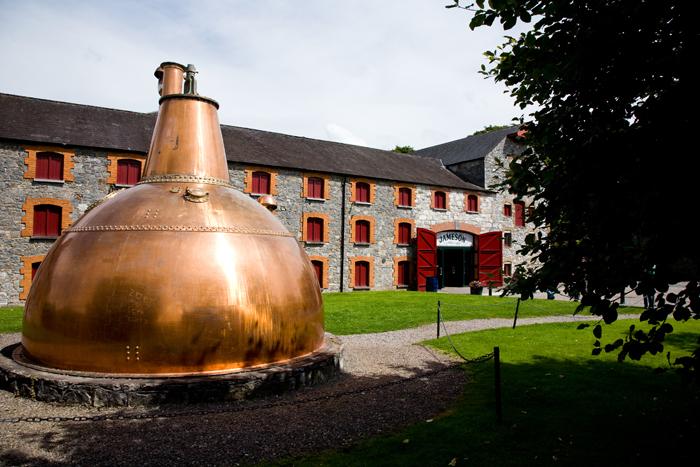 One of the most intriguing aspects of this project is the fact that each bottle is individually labelled with a tree number from 1-6.
The liquid inside is a blend of 12-22 year old Single Pot Still Irish Whiskey and each tree lends a different flavour.
Tree 1 begins with lots of vanilla wood and tannins. It is sweet and tangy with a palate that is full of citrus and oak.
It holds the flavours well and is fresh to taste, with a lovely crispness to it. The lemons and limes of the nose add a nice backdrop for the caramel and vanilla tones to bounce off.
They may seem at odds, but the tang of the citrus works beautifully with the sugary sweetness.
Tree 1 is definitely sweeter in comparison to Tree 2,which has a lot more spice to it, with cinnamon and nutmeg really shining through
Sweet nuts and more oak come about on the palate, with the wood taking over. The nuts and spices melt into one another and go hand in hand with the oak.
It is easy to feel the connection between the three notes and each works with the other to really bring out some bold flavours.
Moving onto Tree 3, which is softer and has a lot more meadow flavours.
Lilac and honey make a brief appearance on the nose, with more floral notes coming through on the palate.
Apple blossom and a crisp summer berry tang are joined by gentle caramel and white sugar notes.
This is similar to Tree 4, which is packed with sweet caramel and dark syrup notes.
This bottling is definitely a lot darker than the first selection. It has a wonderfully chewy mouth feel that stems from raisins and dried figs. There is a certain Christmas cake note to it.
Tree 5 is more similar to Tree 3. It brings back those floral notes and has a soft mouth feel. The nose is packed with dew covered grass and heather.
It also recalls with citrus zest of Tree 1, with a lovely tang to offset the gentler notes. There are oranges, lemons and limes coming through which really bring it to life.
Finally we have Tree 6. This is a brilliantly fruity dram with lots of peaches, apricots, tangerines and apples in it.
The apples add a lovely bite while the softer fruits and bursting with flavour.
There is a slightly cotton candied note in the background that really complements the fruity sweetness of the initial taste. Combine this with a light body and you have quite an impressive dram.
The Midleton Dair Ghaelach range is the type of collection that makes you wish they would and were able to make more Whiskey like this. Unfortunately that is not the case, so we'll have to make do with savouring this instead… can be bought here.