Wrapped up with lots of history, this James E. Pepper 1776 Straight Rye Whisky is an excellent example of fine Kentucky Rye.
"A Horseman of International Fame"
James E. Pepper is remembered as "A Horseman of International Fame" and highly revered by the company that now bears his name.
He was an enterprising man who actively promoted his Whiskey across the world and was known to run in high flying circles, mixing with the likes of John D. Rockefeller, Teddy Roosevelt and William Steinway.
When he wasn't to be seen at the Waldorf Astoria in New York, he could be found travelling Europe, selling thoroughbred horses and distilling some of the best Whiskey around at the time.
Whiskey was his true passion, especially since that was where his family had made their money.
The Old Pepper Distillery had been around since 1780 and James made sure that it continued to produce the same Whiskey as it did then, a hundred years later. He stuck to the same recipe that his Grandfather had created in 1776.
He was massively influential on how Whiskey was made in the late 1800s, opposing the Whiskey Trust (which was attempting to take control of the Whiskey market), encouraged change in state law to allow on-site bottling and helped implement the 1897 Bottle in Bond Act.
The Pepper brand continued to produce Whiskey until 1958, when it unfortunately had to stop production due to the lack of popularity in Whiskey at the time.
The distillery was silent for 50 years, until 2008, when it was revived by entrepreneur Amir Peay.
Together with the Lawrenceburg Distillery, Peay was able to give new life to the Pepper brand, which now continues under the 1776 range.
A lot has gone into bringing the brand back as faithfully as possible and the new owners have certainly done their research. They have also rebuilt the original distillery, which wasn't looking so good after 50 years of inaction.
1776 Straight Rye Whiskey Review
The brand's most popular Whiskey is the 1776 Straight Rye, which was awarded a Gold medal at the 2016 San Francisco World Spirits Competition. It is some of the best Rye Whiskey around.
With a mash bill that is high in rye, this Whiskey is spicy and sweet, with lots of oak notes.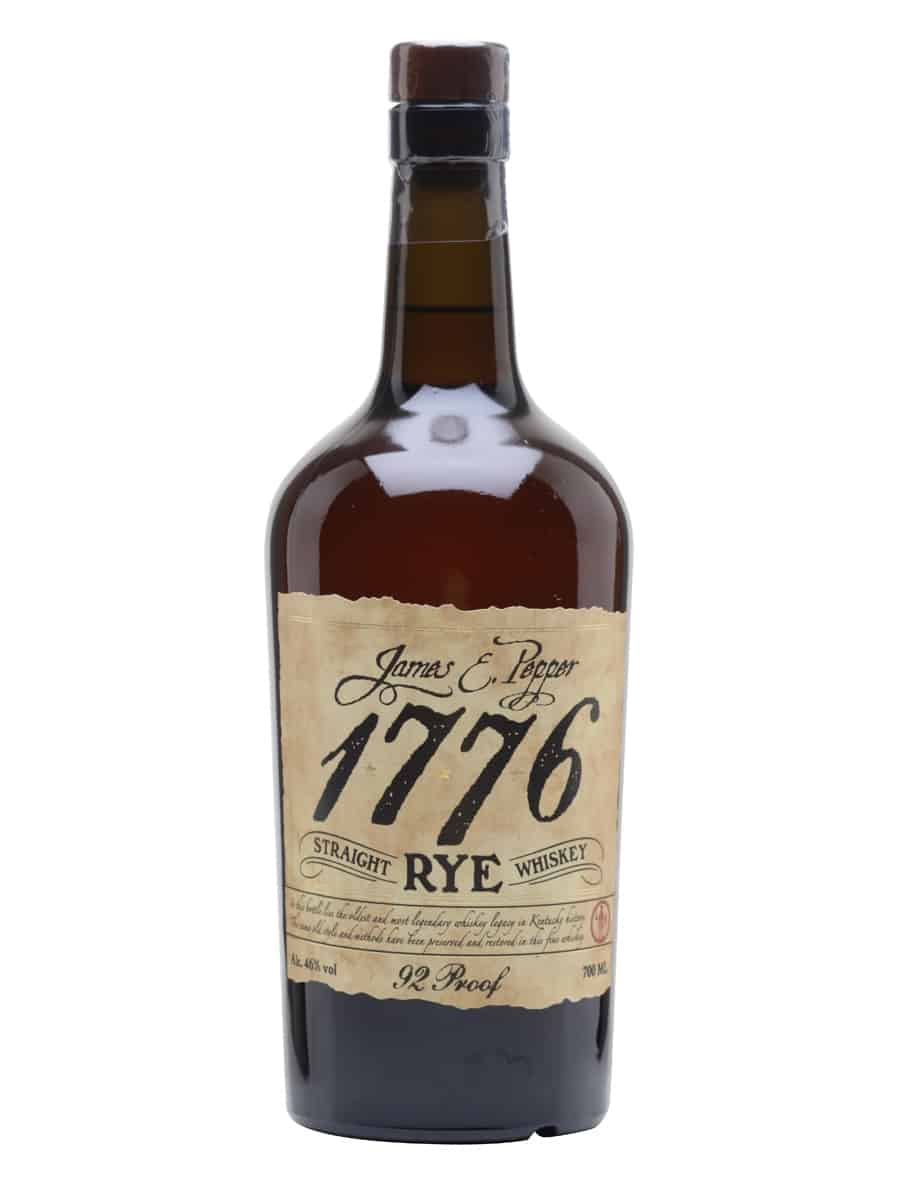 Bottle cost: £46.63
It opens with a nose full of caramel and citrus fruits. Oranges and limes give a lovely tang to the overall flavour. There is a slight medicinal quality and a hint of smoke that ties in nicely with notes of cinnamon and cloves.
The palate has more spice and heat and a lovely touch of cherries and pomegranates. There is fruit a-plenty in this Whiskey. Apples, raisins, peaches, apricots and lots of citrus notes come through. They are complemented by an oak wood flavour that is sweet and rich. This develops into caramel and vanilla, with a touch of cinnamon.
The finish is long and lingers on oak wood and spice. There is an excellent heat to this Rye that really makes it come to life. The James E. Pepper 1776 Straight Kentucky Rye is a brilliant Rye, with lots of classic notes, all played out in the right way. Not to be missed.
What are your thoughts? Leave a comment below and let's have a chat!