Perched on a hill overlooking picturesque Marion Bay, sits Dunalley Potato Farm providing fresh potatoes for Tasmania's major supermarket chains. Employing a seasonal workforce of 30 people, Gerard Daly runs a tight ship, but his daughter Ruby has bigger plans for their farm. Ruby explains:
"
We process around 10 tonnes of potatoes on any given day and most of those ends up on supermarket shelves within 24 hours of leaving the ground. But around 20% of each crop is considered second grade produce or not suitable for sale mainly due to cosmetic imperfections etc. Traditionally, these second-grade potatoes were used to feed the cows but my Mum, Susan, thought that was a terrible waste when most of those potatoes are perfectly good for human consumption. At first, we started using some of these potatoes to produce and sell our own pre-packed potato salad produced in a commercial kitchen in nearby Sorell, but there was still plenty of produce going to cattle feed. That's when we got the idea to try our hand at making potato vodka and I am very proud of our efforts and the final product."
The distillery sits right next to the Dunalley potato processing facility and you would be hard pressed to find a 'paddock to bottle' distillery where the fresh produce has to travel less distance than at Hellfire Bluff. Bins of freshly picked potatoes are deposited next door, washed, inspected and sorted by grade. The best-looking potatoes go into the plastic bags that will reach supermarkets across the state the very next day, while the crop that doesn't meet the grade gets segregated and sorted again. Vodka-grade potatoes are washed again, peeled and minced before the tricky process of distillation begins next door.
Only the worst potatoes make it into the cow's bellies now.
Ruby manages the distillery side fulltime and employs Tom Bleathman as Hellfire Bluff's head distiller. The first thing that Gerard and Ruby learnt about distilling was that making vodka from potatoes is not a straightforward process. Distilling from potatoes presents many challenges that are not an issue when distilling from grains. It took two and a half years from the initial idea and countless hours of research before Hellfire Bluff was ready to producetheirown potato vodka.
"Tom comes from a bar and restaurants background and has a great love for spirits and how they are made; so much so that he wanted to learn how to create the spirits himself."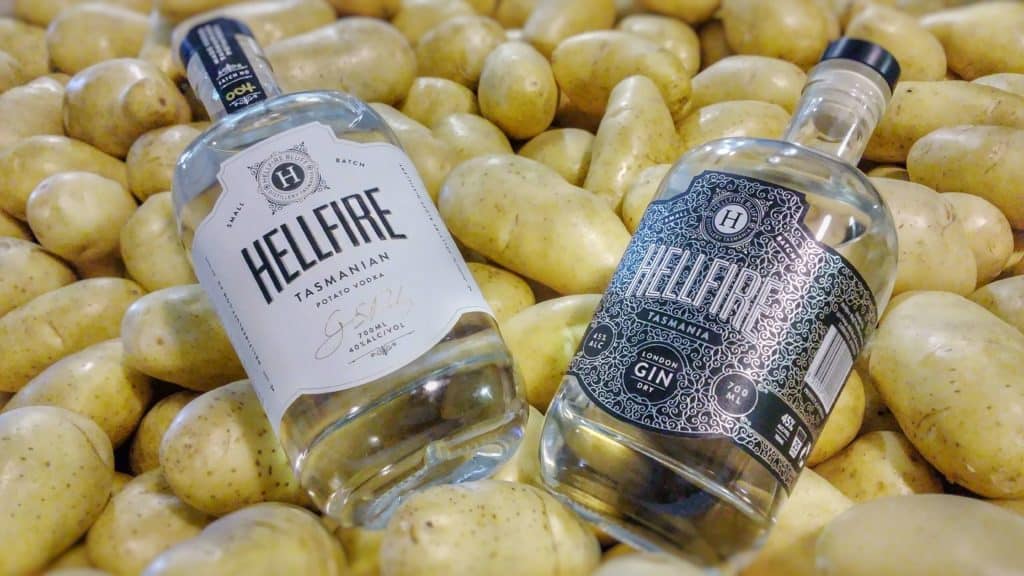 Distilling a clear spirit from potatoes is much the same as distilling a spirit from grains.
For example, barley is commonly used to make whisky because starches inside the grain kernel can be broken down into sugars to feed the yeast, which in turn produces alcohol. Potatoes are full of starches, but they lack the plant enzymes that barley produces when malted – the process oftriggering germination through contact with water. These enzymes are essential to convert starches to sugars and without sugar, producing the wash for distillation is impossible. So with potatoes, the enzymes must be added from another source.
"We had to look outside of Australia to find the expertise in producing potato vodka that we needed to develop our own distillery processes. The UK was the only place we could find a little bit of information and even that wasn't enough to help us out."
Additionally, potatoes are far denser than grains so whereas grain mash takes on the consistency of chocolate drink powder in milk within the mash tun, potato mash takes on the consistency of…well, perhaps unsurprisingly, mashed potatoes! And just like watery mashed potato, if you heat it too quickly or don't stir it enough, it will burn. But after much trial and error and a few modifications to their equipment, Gerard, Ruby and Tom were able to produce a potato wash suitable for distilling inside their glistening 500 litre six-plate column still.
Hellfire Bluff distil their potato vodka twice with the final spirit being an eye watering 94% ABV. For bottling, the concentrated spirit is diluted to a much more drinkable (and less lethal) 40% ABV.
So how does it taste? It tastes unique, that's for sure.
Most vodka is distilled multiple times to produce the purest spirit possible. But this repeated distilling also strips the spirit of any character meaning many vodkas have flavours added to help distinguish them from the competition. Hellfire Bluff have no need for extra flavouring since plenty of the potatoes' character makes it through to the final product.
I found the Hellfire Bluff Potato Vodka to have an earthy nose and equally earthy flavours like soil with white pepper. It was creamy with a fuller mouthfeel than your typical vodka but still very smooth. That may not sound all that appealing and sure, potato vodka will not be to everyone's tastes but when most vodka just tastes like vodka, it's nice to try something different. It is also worth noting that it tastes different because of the ingredients, not because of additional flavouring; that in itself raises it above any fancy flavoured vodka on the market in my opinion.
Hellfire Bluff haven't stopped at potato vodka however, they also produce a TasmanianLondon Dry Gin and a Limoncello liqueur.
The Tasmanian London Dry Gin is made from combining neutral spirit with a carefully selected range of botanical flavours, most of which are common to the surrounding farmland. Hellfire Bluff's Tasmanian London Dry Gin, contains the usual Juniper base flavour but has a strong citrus element and a quite unique undercurrent of coriander.
"The Hellfire Bluff Tasmanian London Dry Gin is not made with a potato-based spirit but rather a neutral spirit that we order in. It gets our own unique characteristics from the botanical flavours we have selected with the help of Hazel Mactavish-West."
Limoncello is an Italian liqueur made from lemonsand is often drunk as a digestif after dinner. Lemons are sourced locally from a variety of sources and then soaked in neutral spirit for three months, producing a smooth and refreshing low-alcohol (25% ABV) liqueur when bottled diluted with pristine local Tasmanian water.
All three Hellfire Bluff Distillery products are crafted with care and hand-bottled and labelled.
Hellfire Bluff have a close affinity with local Tasmanian produce and I love how the potato vodka came about from a desire to not waste the excess crop. It is very similar to how malt whisky originated in Scotland or how corn-based bourbon originated in America. An age-old tale of the ingenuity of farming communities and another example of the unique stories contained within every bottle of craft spirits, no matter where in the world it was made or what produce went into making it.
My name is Shane Kinloch and I am a dad who loves his whisky. I am not a whisky expert, professional journalist, sommelier or distiller; but I am more than just a whisky drinker. In 2016, I started WhiskyDad.net and hope my writing comes across as no-nonsense and down to earth. I grew up in Tasmania, Australia with a whisky loving Scottish dad of my own who introduced me to the world of whisky. I love writing and feeding off the energy of those in the whisky industry and the passionate people who support it. Hopefully my writing will one day legitimise my whisky habit and perhaps lead to cheaper whisky in the future. I can only dream.