Named for the founder of Buffalo Trace Distillery, George T. Stagg Bourbon certainly has a lot to live up to.
Buffalo Trace is one of the most well known distilleries in the world. Based in Kentucky, the distillery is renowned for making the best Bourbon around.
It was all started by George T. Stagg, back in 1878, although there has been distilling at the same site it is based on since the late 1700s. Stagg had originally started out in Louisville selling whisky, but eventually found the joys of distilling.
He opened the distillery as the George T. Stagg Distillery and it flourished, becoming the Buffalo trace Distillery that we know and love today. To honour their founder, the team at Buffalo Trace created the George T. Stagg Kentucky Straight Bourbon, which is released every year as part of their Antique Collection.
The Bourbon is small batch and uncut, meaning it is vary hard to come by, and when you do, you'll probably be paying through the nose for it. But with a flavour as brilliant as George T. Stagg Bourbon has, it is well worth it.
Since they release it every year, we're taking a look at the 2018 release.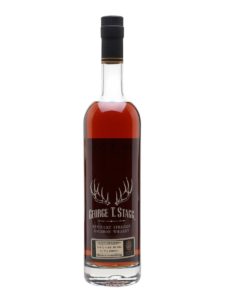 Tasting notes for George T. Stagg Kentucky Straight Bourbon 2018 Release
Bottle cost: £650
The 2018 release of George T. Stagg opens with a nose full of sweet Bourbon notes. It is full of caramel, spice and oak wood. There is a lovely waft of charred wood that billows throughout.
The palate is wonderfully complex, with dark fruits and lots of spice. Cherries, raisins, dried apricots and peaches give it a chewy texture, but with lots of flavour. Vanilla and caramel are sweet and mouth wateringly good here. They combine excellently well with the tartness of the fruit.
The finish is bold and warming, with more smoke and spice.
George T. Stagg is a brilliant Bourbon, but we wouldn't expect anything less from Buffalo Trace. Although it might be somewhat hard to come by, we definitely recommend trying it at least once.
Are you a fan of George T. Stagg Bourbon? Let us know your thoughts in the comments!