Like most brands these days, Diageo has jumped on the Game of thrones bandwagon and brought out eight select bottlings to celebrate its eighth series.
For those of you that are uninitiated, Game of Thrones is a medieval epic TV series with lots of blood and sex. So pretty standard viewing for a Saturday night. The Games of Thrones Whisky range is as equally dramatic.
It is hugely popular and it seems that everyone is talking about it, (or not, if they're trying to avoid spoilers). If you haven't watched it, now is the time. With seven series already finished, there's plenty to binge watch before April 14th when the eighth series will be released.
As with all things pop culture, there is a great opportunity for merchandising and lots of other companies getting on board to create collaborations.
One such Game of Thrones Whisky collaboration was Johnnie Walker's White Walker edition, a reference to the White Walkers in the series.
And now we have Diageo's eight bottlings released to celebrate the eighth series.
As well as White Walker, Diageo have worked with HBO (who produce Game of Thrones) to create a series of eight single malts that celebrates each of the "Houses" within the show. Let's take a closer look at the collection.
House Lannister – Lagavulin 9 Year Old Single Malt Scotch
Bottle cost: £45.95
Hailing from Islay and being matured in ex-Bourbon casks makes this dram is exceptional sweet and smoky, with a lovely spicy warmth. It represents the Lannisters.
The nose opens with lots of smoke, peat and earthy aromas of orchard fruits and oak.
Citrus fruits appear, bringing in oranges and lemons to add a nice tang to the flavour. It adds a nice richness to the sweet flavours.
The palate is bold and full of Oceanside notes; brine, seaweed and oily ropes. This, coupled with the peat, is intense and delicious.
Thick caramel and exotic fruits like mango and banana come through adding multiple layers of sweetness. Oak and sea air combine with the caramel perfectly adding a little hint of salt.
Black treacle and burnt white sugar add more notes to bounce off the earthiness of the peat.
The finish is sweet and slightly spicy, with a little hint of cinnamon.
House Greyjoy – Talisker Select Reserve
Bottle cost: £33.95
Another Island Whisky with big notes of peat and smoke, this dram has been chosen to represent the Greyjoys.
This malt has been matured in ex-Bourbon casks with a heavy char, meaning it is full of sweet, smoky notes.
The nose opens with peppery spice and bit, throbbing hues of peat and char. It is warming and homely.
Thick notes of dark chocolate and bitter coffee come through, which add a lovely edge to the smoke.
The palate is bursting with caramel, treacle and vanilla. It is exceptionally sweet and full of flavour.
The pepper of the nose adds heat and spice, with a delicate note of chilli and lime. Again, these add depth and a slight edge to the earthy qualities of the smoke and peat.
Dried fruit and marzipan bring in more flavour to the sweetness and go hand in hand with the smooth, delicious caramel.
It finishes with more fruit and caramel and a lasting impression of pepper and spice.
House Stark – Dalwhinnie Winter's Frost
Bottle cost: £33.95
Next up we have the Stark and Dalwhinnie Winter's Frost, a nod to a popular line in the series, "Winter is coming".
It has been matured in ex-Bourbon casks and has a flavour profile that is typical of Dalwhinnie.
The nose opens with lots of soft floral and honey, with big bold vanilla notes and a gentle spice.
The sweetness is crisp and refined, with a welcome bite to it.
The palate is bursting with figs, raisins and dried apricots. These add richness and texture and go perfectly with the honeyed notes.
Oak wood and malted grains appear adding a nice gentle natural quality. The flavours develop into one another and create a nice harmony. The fruity qualities really work with the grains.
The finish is strong and full of honey and oak, with a little hint of vanilla.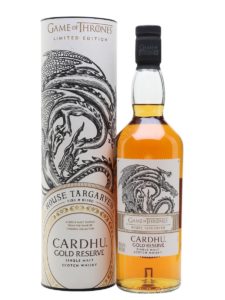 House Targaryen – Cardhu Gold Reserve
Bottle cost: £33.95
Matured in toasted oak casks, this dram has been chosen to represent the Targaryens, who have dragons.
The nose opens with lots of sweet honey and vanilla and tart summer berries.
A spicy note of ginger and clove adds some depth and a little bit of heat.
The palate is full of oak and barley grains. It has a wonderful apple crumble with custard flavour that goes really well with the spices.
More apples and some pears, with oranges and caramel come in, adding some zest to the overall flavour.
The sweetness is not overbearing and plays nicely alongside the wooded, grainy notes.
The finish is bold, with notes of caramel and grains to end.
House of Tyrell – Clynlish Reserve
Bottle cost: £33.95
A 14 Year Old Clynlish dram that represents the Tyrell family in the Game of Thrones Whisky range, who are known for their wealth and nobility.
It opens with bright, fresh notes of exotic fruit and tart berries. The flavours are lively and juicy.
Vanilla takes over and becomes the lading flavour. It is rich and elegant, with lots of oak wood and spice.
The palate on this Game of Thrones Whisky is delicious, with big, bold notes of sea salt and apple blossom. The light er floral tones add a lovely delicate sounding board for the salt and vanilla to bounce off.
The wood of the casks takes over and brings in a slightly warming note. It is full of cinnamon and nutmeg, with tannins and loads of vanilla.
The vanilla is thick and creamy, with light notes of caramel and fudge coming through.
The finish wraps everything with brine and vanilla, offering a lovely contrast and the perfect ending.
House of Tully –Glendullan Reserve
Bottle cost: £26.95
A little known distillery that lies by the Fiddich River, Glendullan, has been chosen to represent the House of Tully, based in the "Riverlands". This Game of Thrones Whisky has been matured in ex-Bourbon Casks.
The nose is full of sweet vanilla and char. The heat from the char is excellent and adds a homely warmth to the vanilla.
Cinnamon and cloves, with a hint of orange citrus appears, adding a lovely depth to the flavour.
The palate is packed with orchard fruit and spice; apple, pears, peaches, all smothered in thick caramel and cinnamon.
Gentle notes of malted grains and biscuit go perfectly with the tang of the fruit. Summer berries, more spices and thick vanilla yogurt also appear.
The flavour profile is really well developed and very fresh.
The finish rounds off with more grains and a lasting note of apple and vanilla.
House of Baratheon – Royal Lochnagar 12 Year Old
Bottle cost: £26.95
Don't read too much into the use of Royal Lochnagar for the Baratheons, it was chosen because it is based in Cairngorms National Park, which is home to a lot of deer, which is also the sigil of the Baratheons.
This 12 year old is very lively and fresh. The nose begins with malted grains and summer berries. There is a tart flavour that goes ideally with the citrus noes that follow.
Oranges, lemons and clementines are joined by cinnamon and vanilla to bring a sweet and spicy note.
The palate brims with toasted brown sugar, oak wood and ginger. It is rich and luxurious.
Orchard notes of dew covered grass and oak wood melt into one another. The ginger adds a nice earthy spice.
Vanilla and honey take over and give it a really smooth mouth feel.
The finish is strong, with more honey and vanilla and a lasting note of oak wood.
House of Baratheon – Royal Lochnagar 12 Year Old
Bottle cost: £45.95
Rather than a House, the Night's Watch are guards who protect the northern wall from the White Walkers. There's a lot more to it than that, but you'll have to watch to find out more.
Oban, which sits on the Highland coast of Scotland, has been chosen for this release and it's coastal notes are perfect for this expression.
It begins with amaretto and sea salt, with notes of brine and caramel appearing. The wetness is excellent against the salty notes.
Citrus fruits and more seaside flavours really ignite the nose.
It moves into a warming palate, with lots of oak wood and more citrus. Apple crumble and poached pear make for a very sweet profile.
Cherries and summer berries, with hints of chocolate and sea salt add complexity and richness to the overall flavour.
Smoke wafts in from the charred casks. It goes hand in hand with the oak wood and sweet caramel notes.
The finish is heavy on the char, with more caramel and notes of biscuit.
Whether you're into Game of Thrones or not, these are some really excellent releases and they look fantastic as well; each bottle is designed with the corresponding House's sigil.
Even better if you are a Game of Thrones fan; what could make your viewing better than doing so with an exceptional drop of Whisky to go with it?
What are your thoughts? Leave a comment below and let's have a chat!