To celebrate the launch of their new single malt whisky – The Whiskymakers Reserve, The Lakes Distillery are giving away a fantastic prize worth hundreds of pounds!
ENTER BELOW TO BE IN WITH A CHANCE OF GETTING ALL OF THE BELOW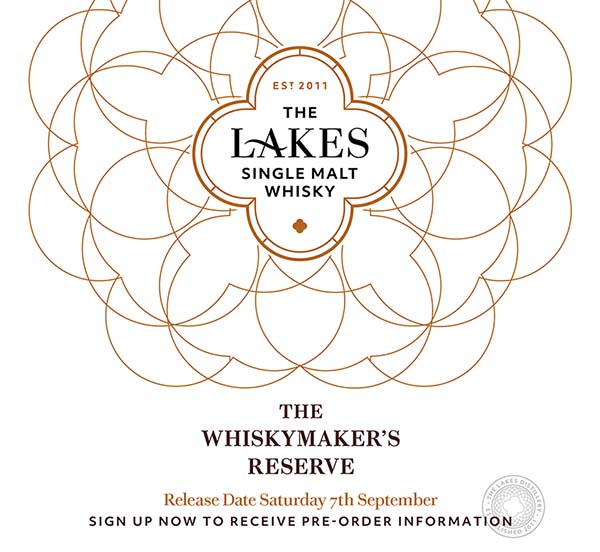 One lucky winner will receive:
An individually numbered bottle of The Whiskymaker's Reserve No.1, signed by whiskymaker Dhavall Gandhi (bottle retails at £65)
Lakes Distillery Malt Tour (£45pp x2)
One night stay at The Trout Hotel in Cockermouth (approx. £129)
Afternoon tea at Bistro at the Distillery (£19pp x2)
The Whiskymaker's Reserve is the first in a series of widely available single malt releases from The Lakes Distillery that will showcase the sherry-led house style defined by whiskymaker Dhavall Gandhi.
The Lakes Malt Tour is an in-depth whisky focused tour, taking a closer look at The Lakes Whisky; specifically the stillroom, maturation processes and blending philosophies, with the opportunity to sample The Lakes Single Malt alongside five other Lakes spirits and maturing malts. It runs at 10.30am on Saturdays and we will arrange transport to the distillery from the hotel if required.
The one night stay at The Trout is on a bed and breakfast basis and subject to availability. We will arrange an alternative, similar accommodation if dates are difficult to find.
Afternoon Tea at Bistro at The Distillery is served between 3pm and 5pm.
[RF_CONTEST contest='C23136323030′]
They can ship the bottle once the Whiskymaker's Reserve has been released to the public, or the winner can collect this when they visit the distillery. The only stipulation frogs that the winner make the visit in 2019.
Entrants must be UK based and over 18 years old to take part.