Compass Box have long been on the forefront of innovation in the Whisky industry, and with Phenomenology they are proving that once again.
Named after the psychological concept of the phenomenon, and how different people react differently to things, this blend is made from malts that on paper shouldn't really go together.
Compass has been around since 2000, when John Glaser, an American living in the UK, decided to change how Scotch was made and sold.
The company is based on the blending houses of old but is thoroughly modern in their approach.
They innovate and challenge at every turn, not only introducing some really exciting malts, but also transforming perceptions of how these are created and who they are for.
Since they were first founded in Glaser's kitchen, Compass Box have thrived and today are based in London, where they have their very own blending room.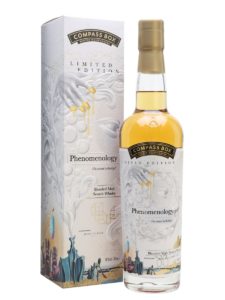 Bottle cost: £150
This malt is just one example of the weird and wonderful things they're doing at Compass Box.
Glaser and his crew decided to blend malts with different flavour profiles that don't necessarily match one another.
Here's a breakdown of what it's made up of:
72% Glenlossie malt from a re-charred hogshead
24.5% Tamdhu malt from first-fill Bourbon
2% Highland Park malt from a re-charred hogshead
1% Talisker malt from refill butt
1% Coal Ila from a hogshead barrel
That's quite a specific breakdown, and if there's one thing Compass Box do well, it's transparency (for more, check out their
campaign for greater transparency in the Scotch industry
)
It makes for a truly intriguing malt and reflects the title, in that you have a very personal experience of the flavour, with many different notes coming out.
Compass Box themselves put this as, "Rather than try to settle on whose perceptions were 'right' or 'wrong', we were inspired by the phenomenological school of thought to consider how different people experience the same phenomenon."
So with that in mind, here are some tasting notes.
The nose opens with ripe red berries, lots of fruits and a hint of peat smoke. The smoke is thick and ties in well with the berries.
There are also apples and bananas, with some iodine and sea brine coming from the coastal malts.
The palate is thick with smoke and more sea side notes. The fruits are crisp and fresh, with lots of flavour to them.
The smoke does not overwhelm but goes quite nicely with the softer fruit flavours.
The finish is strong, with more smoke and lots of sea air.
This is a really interesting malt, with lots going for it and we can only recommend that you get in on this phenomenon and make up your mind for yourself about what it tastes like.
You can watch my YouTube review below:
What are your thoughts? Leave a comment below and let's have a chat!