Another celebrity spirit? Oh it's a whisky you say? Like the Beckham one? Or the Digits American Whisky from Scotty Pippin? Or the one from Metallica? Surely not like the Casamigos tequila or Dan Ackroyd vodka?
Nope, it is like none of those; Coachbuilt Whisky is something rather interesting from someone who turned out to be the antithesis of what you'd expect an F1 driver, ex or current, to be like. Jenson Button was as much a gent, humble, excitable, amusing, disarming, a joy to spend time with vs the PR'd-to-within-an-inch-of-any-form-of-conversation you'd expect from elite sports people … and of course longtime friend of GreatDrams, whisky expert, George Koutsakis… was nice to see him too.
In this new venture, George has carefully sourced exceptional liquids from all five iconic whisky-producing regions of Scotland: Islay, Speyside, Campbeltown,  the Highlands  and the Lowlands. Each region showcases very different flavour attributes, making up a superior blend that showcases character beyond its years. The liquids have then been allowed to age in premium sherry casks for a marrying period, resulting in a beautifully balanced whisky with rich depth and complexity of flavour to rival some of the best ultra-premiums in the category. 
I was very fortunate to attend the launch of the whisky in London with the glitterati of lifestyle writers and whisky commentators… a couple of things stood out for me;
Jenson's genuine passion for the project, the fun he had creating the proposed blend by blending components in the correct proportions over Zoom with George through the various lockdowns to understand how to create a whisky but also to understand the piloting process and be able to help push towards the final product…
George's undying quest to create an awesome whisky… and I believe he delivered on this particular quest… despite the frankly terrible wifi service on the train home I personally bought two bottles of Coachbuilt Whisky
Getting to spend solid time with Jenson and George, and their kind words about GreatDrams – that was a nice touch, especially as I'm a personal fan of both George and, with the greatest respect to George, moreso Jenson given that Kirsty and I are such massive F1 fans and still remember that first interview he had on Top Gear with Clarkson just after he won his title – legend…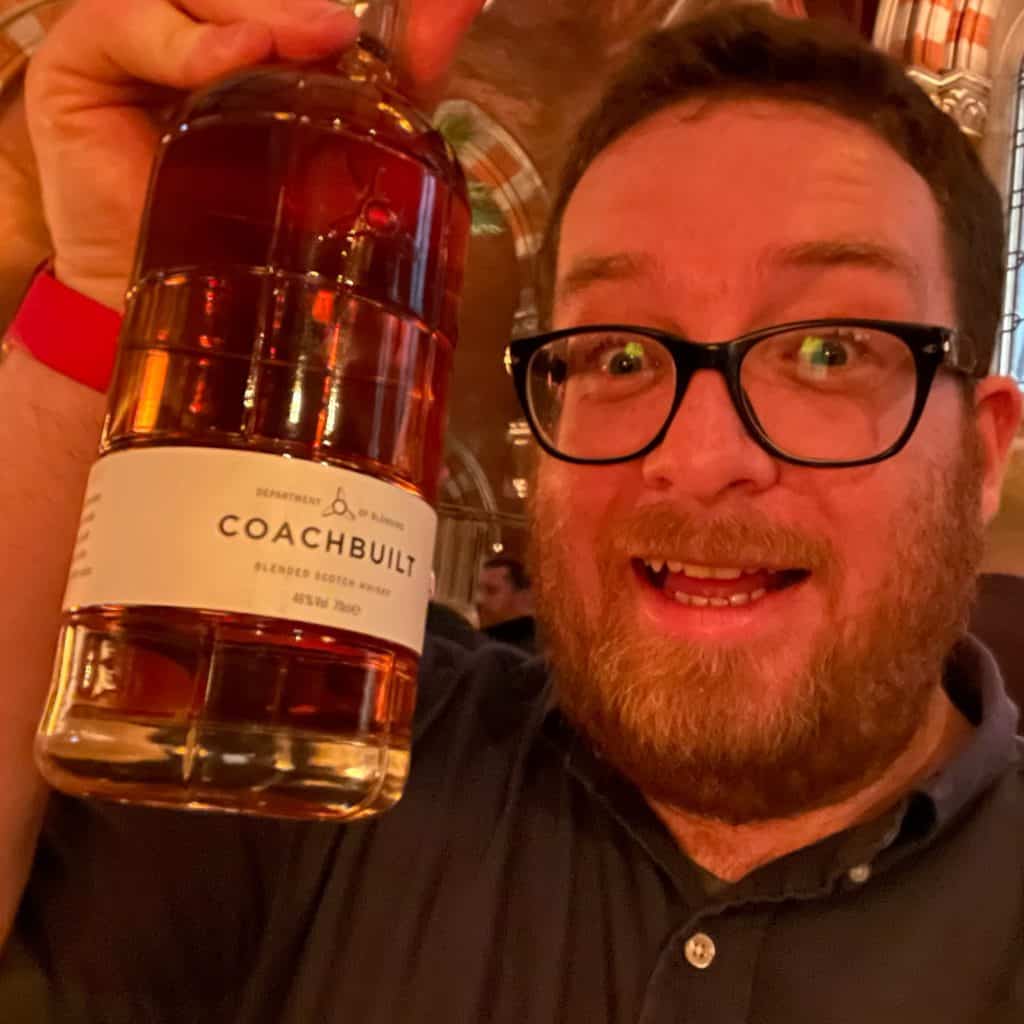 It was both lovely and daunting to be back in the room with whisky and lifestyle press… been a while thanks to Covid and man had things changed, though was happy enough to be able to hold solid conversation, and jokes around 'double fisting' (look up the American meaning of this term, definitely not the British one) with an F1 World Champion… not to mention how great the fish finger sandwiches were.
Founder, George Koutsakis, explains that "Coachbuilt began from a realisation that blended Scotch whisky does not receive the praise it deserves worldwide. With our whisky we cast the spotlight on the immense skill required to takes components from dozens of distilleries across the country, and piece them together, to create a liquid defined by balance and complexity. From sourcing liquid from each region of Scotch Whisky, to the final touch added by the sherry cask finish, craftsmanship is the core of our blend".
Speaking about his passion for coachbuilding and how this led him to be involved in the venture, Jenson Button, added, "The timing was brilliant – I was in the middle of launching our coachbuilding company Radford when I got introduced to George as he was on a mission to create the ultimate blended whisky. I've always loved my whisky but didn't know a huge amount about the blending world, however the more we talked the parallels between blending and coachbuilding became pretty apparent. He then sent me an early sample of what he was working on and that was that, I asked how I could get involved and 2 years later here we are!"
From my standpoint, I did not know what to expect when turning up to a 'celebrity spirit launch', but the detail around George Koutsakis being the founder, the chat around his blending prowess and how he managed to deliver a truly wonderful blended Scotch whisky… and it really is a great whisky with a superb old school flavour profile that belies its relative (assumed) youth, the detail around finishing it for seven months in a sherry cask because it was good, but not great so needed something doing to the blend are all the small details that equate to a very, very impressive release.
When looking at the bottle too; the minimalist design akin to the Kakubin bottle style of Japanese whisky adds even more gravitas and prowess to a new market entrant – one that I assume will be both focussed on the on trade, given the four cocktails served at the launch, and as a decent sipper too, given the quality of the liquid itself. Congrats and cannot wait to see what comes next for the range, the limited editions, the rare releases talked about in the press release and beyond…