One of the oldest distilleries still operating in Scotland, Bladnoch has a colourful history and Vinaya Single Malt is their way of celebrating that.
Having been founded in 1817 by two brothers, Bladnoch has been around for a while. But during that time it has changed hands multiple times and has even been mothballed for periods at a time. After its initial opening it changed hands multiple times and in 1993 was shut until 2000 when it was bought by Raymond and Colin Armstrong.
Bladnoch was successfully reopened but not a lot of malt was produced during this time and it again changed hands in 2015. Australian entrepreneur David Prior took it over and has transformed it into the thriving distillery that it is today.
They have a whole new range and limited editions, like Vinaya, showcasing the potential of this little distillery that just needed to find the right owners.
Of course, the distillery can't forget its founders, John and Thomas McClelland and Vinaya is a way to celebrate the enterprising pair who put the foundations into the Bladnoch we have today.
The word Vinaya is Sanskrit meaning respect and gratitude, the perfect homage to the McClellands. It is a celebration of everything that's gone before that has brough Bladnoch to where it is today.
The malt itself has been matured in first fill Bourbon and first fill Sherry casks, giving it a lovely complex flavour profile.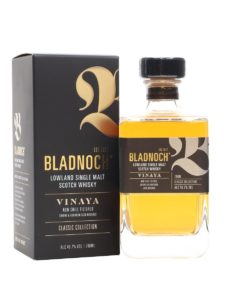 Tasting notes for Bladnoch Vinaya Lowland Single Malt Scotch Whisky
Bottle cost: £49.95
The nose opens with rich aromatic notes of cur grass, apple blossom and oak wood. It is fruity and sweet, with delicate floral flavours and a lovely cotton candy note in the background.
The palate brings in more orchard flavours, with crisp green apples and pears. Mahogany and chocolate also come through. Vanilla and oak add sweetness and depth. It is slightly spicy.
The finish is light and gentle, with apple and oak wood notes.
Vinaya is a brilliant malt that would certainly do Bladnoch's founders proud! This definitely signals a bright future for the distillery.
What are your thoughts on Bladnoch Vinaya Single Malt Lowland Scotch Whisky? Let us know in the comments!