THAILAND BARTENDER WINS THIS YEAR'S CHIVAS MASTERS GLOBAL FINAL BY SHOWCASING THE IMPORTANCE OF COMMUNITY IN BARTENDING
Chivas Regal has crowned Arron Grendon from Tropic City in Bangkok, Thailand, the 2018 Chivas Masters Global Champion. The five-day final returned to Chivas' roots at the Strathisla distillery in Speyside, the home of Chivas, before culminating at Oval Space in London, where Arron demonstrated exceptional leadership and collaboration to overcome immense competition from the world's best bartending talent and lead his team to victory.
The fifth Chivas Masters Global Final required the 21 national winners to showcase Chivas' core values of community, collaboration and generosity. Arron impressed the expert panel of judges throughout the five days and the final challenge saw him working alongside a team of 6 bartenders to establish their own sustainable pop-up cocktail bar and menu to excite the senses of their most important judge – the everyday public – with their community-inspired cocktails.
Starting off as a Food & Beverage trainee at a hotel in Phuket, Arron fell in love with hospitality and the passion showcased by the bartenders he worked alongside. This led him to do a month of training in the bar and he has been in love with bartending ever since.  His winning signature serve, The Grind, means to push oneself to work harder and to achieve one's goals. It was inspired by his mother and the stories she used to tell about how hard the farmers in Thailand would have to work to provide rice and food for people to eat – just like John and James Chivas, who grew up on a farm themselves.
Arron's team created the winning bar One Night in Bangkok at the Chivas Masters Global Final event in London, and was honoured as the 2018 Chivas Masters Collective – awarded for blending exceptional individual skill with an infectious sense of team spirit.
As the newly crowned 2018 Chivas Masters Global Champion, Arron has won an all-access trip to Tales of The Cocktail 2018 in New Orleans, the chance to travel the world with Chivas to inspire bartenders of the future and joins the exclusive, close-knit community of previous winners.
The winning Chivas Masters Collective team led by Arron comprised Angel Solorzano Chumpitaz (Peru), Martin Suaya (Argentina), Kentaro Wada (Japan), Yuta Inagaki (Hong Kong), Rick Marson (Netherlands), and Louis Marcpherson (Australia).
Upon being crowned champion, Arron commented: "We wanted to bring Bangkok to London for just one night with our bar, so One Night in Bangkok was born. I love the community in the market in Bangkok that brings together people from all around the world through food and drink – and that's what I wanted to recreate.

My team spent five days together in the run-up to the global final, so I got to know what everyone was good at and how we could work best together. When you have a good team and a good connection, you can achieve anything."

Richard Black, Global Marketing Director at Chivas Regal, comments: "It was another fantastic year for bartending talent at the Chivas Masters Global Final in London, with an unrivalled display of creativity and teamwork on a global stage. Arron demonstrated originality, skill, leadership and, most importantly, a real sense of community throughout the final week. This really shone through when he successfully blended all of the attributes of his supporting team to create a bar experience none of the attendees will forget in a hurry.

For the first time in the competition's five-year history we also made our consumers part of the competition, giving them the chance to try Chivas cocktails made by some of the world's best bartenders and then cast their vote to help crown the winner."
The 2018 Chivas Masters Global Final was hosted by Rhys Wilson, 2017 UK Chivas Masters winner. He was supported throughout by a distinguished panel of internationally acclaimed judges: Matt Whiley, pioneering London bartender and founder of award-winning bars including Worship Street Whistling Shop; Laura-May Coope, Co-founder of Social Life and social media superstar; JJ Goodman, Founder of The London Cocktail Club bar group, Craft Cocktail Co. bottled cocktails, and Keystones Cocktail Club; Bea Bradsell; storyteller and daughter of Dick Bradsell (creator of the Espresso Martini and the Bramble). Each not only scored the contestants, but also shared their insights and expertise through a series of inspirational masterclasses over the course of the week.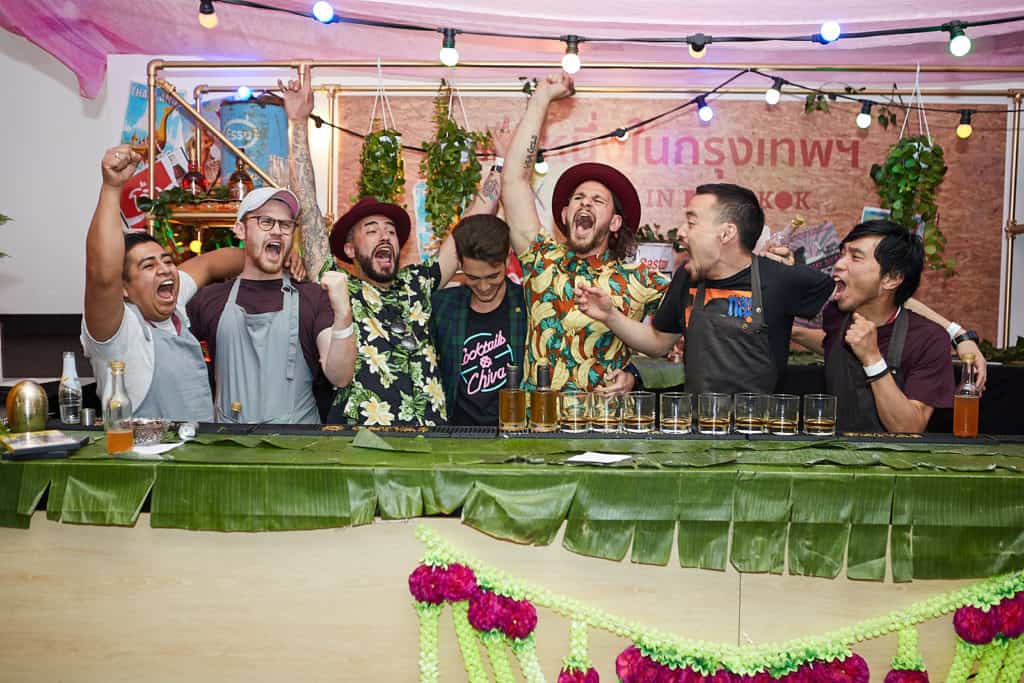 Arron's winning drinks ritual:
50ml Chivas Extra
15ml Fino Sherry
30ml Coconut & Black sticky rice cream
5ml Sugarcane shrub
10ml Banana Syrup
The Chivas Masters Collective teams:

BAR: ONE NIGHT IN BANGKOK
Leader: Arron Grendon (Thailand)
Team members:
Angel Solorzano Chumpitaz (Peru)
Martin Suaya (Argentina)
Kentaro Wada (Japan)
Yuta Inagaki (Hong Kong)
Rick Marson (Netherlands)
Louis Marcpherson (Australia)
Leader: Filip Jančárek (Czech Republic)
Team members :
Valentino Longo (USA)
Alex Godfrey (U.K)
Bartosz Konieczny (Poland)
German Gochev (Bulgaria)
Alex Sepulchro (Brazil)
Oscar Jesus Armenta Garcia (Mexico)
Leader: Louis Lebaillif (France)
Team members :
Michael Chen (China)
Stefano Ruocco (UAE)
Fabián Ramos (Cuba)
Julio Ruiz (Dominican Republic)
Houssam Bennani (Morocco)
Chloé Merz (Switzerland)