Perched in the Scottish Highlands and surrounded by the magnificent Ben Rinnes mountain scenery, Aberlour is a distillery with a rich history and a fantastic range.
It was first founded in 1826 and is in the Speyside region with the River Spey a mere stone's throw from its door.
It is currently owned by Chivas Brothers, a subsidiary of Pernod Ricard and is one the Top Ten Best Selling Scotch Single Malts.
Aberlour's 10 Year Old is an award winning single malt with depth and a typical Speyside sweetness.
This expression has been matured in both ex-Bourbon and sherry casks, giving it that rich sweetness that Speyside is so well known for.
This begins on the nose, where there is a wonderfully sweet and spicy sherry note.
This is bolstered by hints of dried fruits such as raisin and dates and a mouth wateringly sweet hard toffee.
The toffee is rich and thick and gives a subtle sugary flavour for the tang of the sherry and spice to bounce off.
There is also a slight nutty flavour in the undertone of the 10 Year Old.  This can be traced back to the barrel through a deep wooded quality that it has.
The palate is full-bodied and brimming with flavour. The dried fruits become more cake like in texture, with a nice dusting of cinnamon and a drizzle of sherry.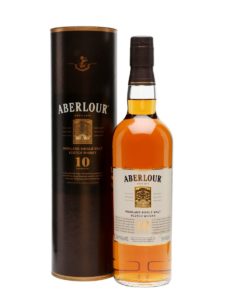 Bottle cost: £25.83
The spices become warmer and more developed.  They are joined by thick honey and vanilla notes that take cues directly from the oak.
The toffee melts away into a steady caramel stream that creates a thick and luxurious mouth feel.
Underneath it all is a rich tone of malt that provides a dullness for the sweeter flavours to harmonise with.
These flavours play a full orchestra of taste and the true Speyside qualities of this dram are constantly present.
The finish is delectable and lasts until only the slightest hint of cinnamon can be tasted.
You can watch my YouTube review below:
What are your thoughts? Leave a comment below and let's have a chat!