An excellent release from Dewar's, the Aberfeldy 18 Year Old with a Red Wine finish is an astounding malt.
Dewar's Family Distilleries
The Dewars brand has been making malt since the 1800s and it's fair to say they've gotten pretty good at it in that time. The first distillery opened by Dewars was Aberfeldy, in 1896 and since then they've added Craigellachie, Royal Brackla and Aultmore. As a subsidiary of Bacarci as well, Macduff Distillery was also added to the family.
Each of these distilleries releases their own malt as well as contributing to the Dewars Blended whisky, the most famous of which is perhaps their White Label. Each of them was also included in the Last Great Malts series, which saw rare and exclusive single malt releases from each. Macduff Distillery was represented by their Deveron brand.
Known as the spiritual home of Dewars, Aberfeldy was the only distillery that was actually built by the family. When John Dewars' sons (John and Tommy) took over after he passed away, they turned his blend into a force to be reckoned with. Part of this was down to the excellent quality of malt being made at Aberfeldy, which played a big part in the blend.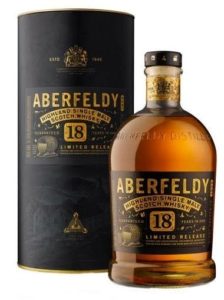 Tasting notes for Aberfeldy 18 Year Old Red Wine Finished Highland Single Malt Scotch Whisky
Bottle cost: £65.74
This is a really intriguing malt and represents some of the new finishing methods that lots of distilleries are embracing these days. The malt has been matured for 18 years in ex-bourbon casks, before being finished in red wine casks from the Pauillac region of Bordeaux.
The nose begins with big notes of tart summer berries and dark cherries. It is rich and elegant from the get go, giving off a sophistication that only Bordeaux wine can. There is an earthy quality to the flavour that is subtle but brilliant.
The palate is refined and slightly sweet. Vanilla and honey take the lead, with more almond, cherry and fruity flavours. Apples and plums play a big part here. Sweet nuts and oak wood also come out.
The finish is bold and dry, with lots of cherry and oak wood notes.
This is a brilliant malt from Aberfeldy, showcasing just how good their drams are and how well they can innovate with finishing techniques.
What do you think of red wine finished whisky? Start the conversation in the comments!