We all love a whisky, right? I mean why else would you be reading this… no really, if you're not into whisky then turn off now as I'm about to go on a conversational meander through all the summer events you may need to enjoy a whisky at this, or any year really.
Every year we have a packed summer of events, from horse racing to football to the F1 to food & drink festivals to all sorts of other things that come up… plus a bunch of miscellaneous nights (or afternoons) on the balcony.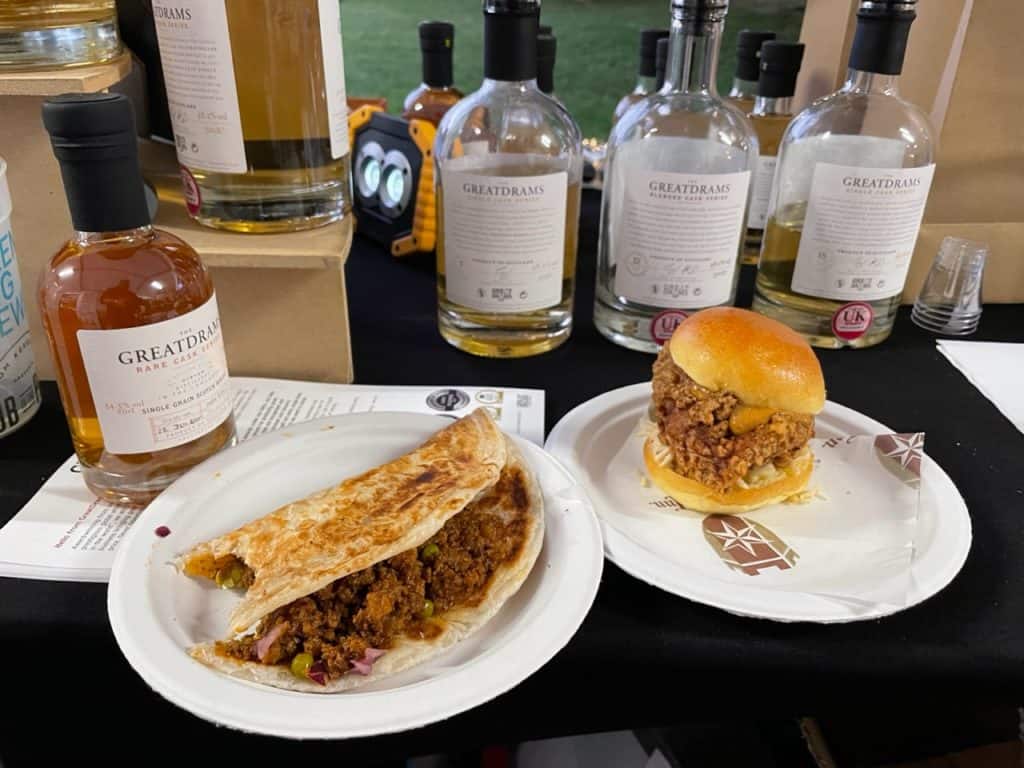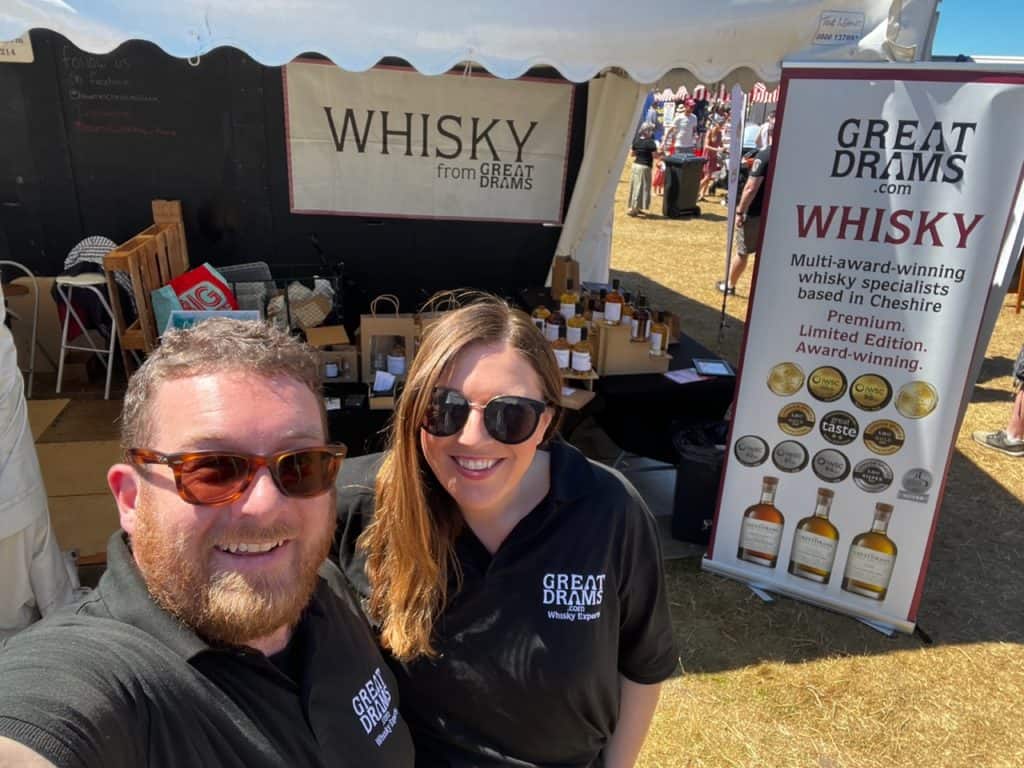 Horse racing
Royal Ascot, a staple in the sporting calendar for us, and the only time each year where Greg is able to wear his morning suit complete with top har and tweed waistcoat. This year was exceptionally hot – I think it got to 32ºc – and you are only allowed to take your top hat off in designated champagne bars, and jackets are not allowed to be taken off unless on one of the champagne lawns.
But whisky? Well, the bars in there are pretty good actually; Redbreast 12 Year Old, Chivas 18 Year Old and a couple of Japanese whisky options too, but sometimes you just have to have a hip flask on you, right? So it has been known that a solid hip flask should accompany any race day, but how to get it in… well that took a few years and a few trial and errors, but turns out that a full hipflask will sit neatly on top of your head, and under the top hat if you do your best not to make any sudden movements (or Wincanton if you are at another race meet like Longchamps or Aintree). Works every time and means you can enjoy your tipple of choice between the bottles of champagne and cocktails as the nags race past.
Any what to have in the hip flask for the races? My dram of choice is usually something sherry cask matured, or, shallowly, whatever bottle has the lowest fill level so that I can see something off and make space on the shelf whilst at the races.
Football
This is a tricky one as you're obviously not allowed to take alcohol into any football ground in the UK, and we would never advocate even attempting to do so, but you can instead enjoy a few drams watching the football at home – whilst watching the Euros or the World Cup, usually during the summer unless Blatter and his corrupt cronies have sent it to Qatar… so we would suggest pairing a lighter whisky like a fruity Speyside such as Glenfiddich or maybe a Glenburgie or lighter Arran single cask maybe.
Greg would typically pair gorgeous, high-end whiskies with what he calls 'forgettable lager' like a Bud Light or Coors Light as they are both refreshing and you don't need to think about them too much (if at all) so are the perfect compliment to a wonderful whisky as the flavour profiles do not get int he way of the good stuff.
The F1
Now Silverstone is the perfect place for a hip flask, or two per this year's high octane event where we pay a LOT of money for tickets to watch millionaires drive 200mph around the track 70 or so times. And we LOVE it.
Johnnie Walker used to be the principle sponsor of F1 so you could get decent whiskies in the Paddock Club or a refreshing highball at various bars around the track, but nowadays Johnnie Walker has moved on and only Heineken provide the drinks at Silverstone, meaning that there are no whiskies available to order and only Heineken to drink. Pretty poor eh? Although Heineken Silver, a new addition this year, was actually reasonable and an enjoyable pint, miles better than the regular stuff.
So, Greg always takes a rucksack into the track – usually filled with snacks and a change of clothes due to the likelihood of inclement and changeable weather, but within said rucksack there are panels where hip flasks can be squirrelled away. To caveat, you are allowed to take alcohol into Silverstone, they say you can take 'a reasonable amount for personal consumption', so we take a few non-alcoholic beers, a couple of gin in a tins and a couple of hip flasks for overall balance.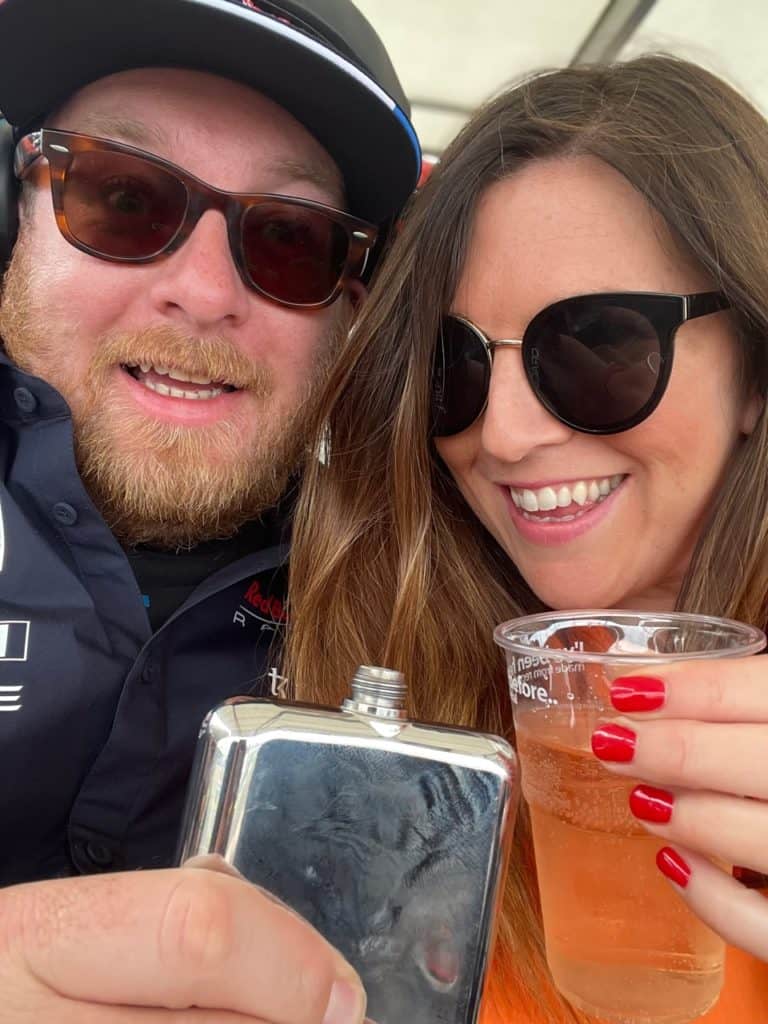 Food & Drink Festivals
We don't go to many food and drink festivals as punters, we typically have a stand at them with our GreatDrams whisky brand, which also requires a careful selection of whiskies for the weekend (again balanced with non-alc beers… for responsibility). We have a solid range, and fortunately we love every single release we have ever put out there so the odd cheeky sample from the sample bottles does happen from occasion, but we also bring the scraps of whatever bottles have low fill levels in the office or the house again to free up space and enjoy the last drops of some gems.
For punters though, this one is simple; if you see us, come over, try our range and if you love anything like we do then make sure you pick up a bottle (or two) for home. So easy.
On the balcony whilst on holiday
This, again is pretty easy (especially as I'm typing this up whilst on a plane to Spain on holiday with the family), we always bring with us our travelling whisky bar, which sounds loftier than it is… in essence it is a wooden box with miscellaneous whisky samples from other producers which we have wanted to try and to have an opinion on. This coupled with the all inclusive options mean that when the kids are eventually asleep you can have a cheeky dram or two whilst its still pretty warm out, preferably overlooking a beach, a pool or whatever really.
Hopefully this has given you a little insight into how we approach events we attend and have given you some vital tips on how to make sure you have the best possible whisky experiences wherever you are this and every summer.