Who hasn't had Kakubin at some point? It's a staple of every back bar and whisky cabinet, and has been in production since 1937.
The word Kakubin means square bottle in Japanese and actually doesn't appear at all on the label. Rather, the bottle is simple titled Suntory Whisky, on a bright yellow label. Hence the addition of Yellow Label to the Kakubin name. The blend is so popular that fans have dubbed it Kakubin, in reference to the bottle it comes in.
Having been in production in the 1930s, Kakubin is well known among whisky lovers and you're sure to have had in a cocktail or as a shot at some point in your life. For the equivalent Scotch or American whisky (naming no names), the quality probably isn't great, but with Kakubin, as with most Japanese whiskies, the quality is up there with the best.
It was developed by Shinjiro Torii, who founded Suntory and was their first Master Blender and the recipe has lasted the test of time. If you haven't had a Kakubin Highball, you need to reconsider your life choices right now.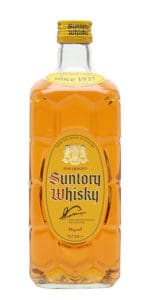 Tasting notes for Suntory Kakubin Yellow Label Blended Japanese Whisky
Bottle cost: £59.45

The nose begins with notes of caramel, honey and malted grains. There is a delicate complexity to it and you can sense how light the body will be from the aroma. It has a slightly warming note, with hints of cinnamon throughout.
The palate is smooth and mellow. Honey and orchard notes appears, with a light floral note. Charry blossom and oak wood are hinted at. There is a lovely citrus note as well, focussing on lemon and lime and giving it a fresh flavour. Apples, cinnamon and vanilla round it up well.
The finish is gentle and ends with honey and malted grains.
Kakubin is a legendary whisky that has built a dedicated fanbase that continues to but it. If it can last since 1937, Suntory must definitely be doing something right.
Are you a fan of Kakubin? When was the first time you tried it? Start the conversation in the coemments!