A celebration of the ocean and the woods, Umiki is a unique and intriguing new whisky.
Umiki, which can be broken down into "umi" meaning ocean and "ki" meaning tree, is one of the most recent Japanese whiskies to join the market. The Japanese whisky market was dominated for decades by Suntory and Nikka and it is only recently in the last 5-10 years that the category has really taken off.
Umiki, which is represented in the UK by distribution company Yoshino Spirits, is one of the newest Japanese whisky brands to join the market. With demand for Japanese whisky booming across the globe, it makes sense that new brands would pop up. Umiki is just one of those brands, with other such as Mars, Karo and Kamiki also appearing recently.
Umiki itself has a wonderfully unique selling point. As a celebration of the ocean that is derives at least part of its name from, it is made using desalinated ocean water as well as Japanese whiskies made by oceanside distilleries. It is also made up of grain whiskies that have been imported. This is not uncommon in Japan, as there is limited regulation on what you can call a Japanese whisky. In fact, you can import whisky and call it Japanese without any other explanation.
Umiki are open about their use of imported grain whiskies though and they are far from the only brand that do it. They do also include Japanese malts as well, which makes a big difference.
The finish off the whisky, they mature it in Japanese pine barrels, which is where the Ki part of their name comes from. Both the ocean and trees are very symbolic in Japanese culture, with both holding significance to life and the gods.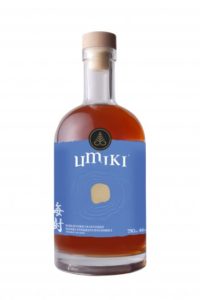 Tasting notes for Umiki Japanese Whisky
Bottle cost: £128
The nose begins with notes of sea salt and brine. Wooded flavours, with hints of malted grains and caramel also appear.
The palate is rich and salty, with lots more seaside notes and a wonderful floral flavour. Blossoms, caramel and more marine notes come through to make a well rounded body.
The finish is bold and full of seaside notes.
Umiki is a really very interesting malt and is a fresh take on Japanese whisky. It will be exciting to see what they do next.
Have you tried Umiki whisky? Let us know your thoughts in the comments!