Ireland has long been famous for its Whiskey, but where exactly does one find a good glass of fire water on the Emerald Isle?
There are lots of pubs up and down the island, and you are more than likely going to find a Bushmills and a Jameson in every single one. But where does one venture for more than that?
We've compiled a lost of the Top 10 Whiskey Bars in Ireland, so you know exactly where to stop off the next time you're looking for a good dram and a relaxing evening.
Based in Galway City centre, this is the perfect bar to get away from the usual urban hustle and bustle. That's not to say Garavan's isn't a very popular pub, but it is traditional and nostalgic, the perfect place to sit down and relax with a fine dram in hand. The award-winning bar is stocked with plenty of drams to choose from, including some pretty rare Irish expressions. Garavan's has a great atmosphere, where you can take in some incredibly interesting Whiskies and soak up the warm Irish welcome you will definitely receive.
Bittle's is a delightful little bar in Belfast City centre. It is popular with locals and the perfect place to discover a hidden gem of a Whiskey. There is plenty to choose from, and the bar staff will be more than willing to offer you advice if you're at a loss. This bar dates back to 1868 and used to be called the Shakespeare. It has seen a lot of history in that time and ever inch of it reflects this beautifully.
3. The Bang Bang Bar, Teeling Distillery
Called after an elderly man who would roam the streets of Dublin and pretend to shoot people while shouting "bang bang". That might not seem true, but it is, and the old man, named Tommy Dudley, became well known within the city. Today he is commemorated by Teeling, not only in their well stocked Whiskey bar, but also in the fact that they bought his old home in their efforts to revitalise Dublin as a centre for Whiskey distilling. The Bang Bang Bar is also part of this and is the perfect place to catch a damn fine dram and take a break. You are surrounded with reminders that Teeling is a working distillery and it only serves to make the experience all the better.
4. The Bar at Jameson Experience
The bar at Jameson Experience is amazing. This is a great place to enjoy some high quality Whiskey and learn more about the rich history behind it. This bar holds some of the rarest Irish Whiskies in existence and is right in the middle of the Jameson Distillery at Midleton. The bar staff have a deep and intricate knowledge of Irish Whiskey and are more than willing to answer your questions. This is a great place to enjoy a fine dram while at the same time indulging in some Whiskey history.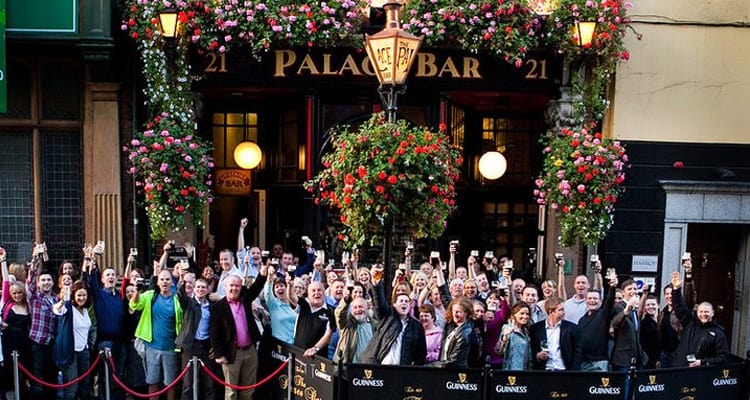 The Palace Bar on Fleet Street in Dublin remain unchanged since it was opened in 1823. It is packed with history and was once the favourite watering hole of some of Ireland's biggest journalists, especially since the offices of the Irish Times were just down the street. As well as being full of history, it is also full of Whiskey. The Palace Bar contains a wide collection of some amazing drams that will fuel your late night conversations. It is a remarkable place, not only for the traditional décor, but also for the warm and welcoming atmosphere you'll find here.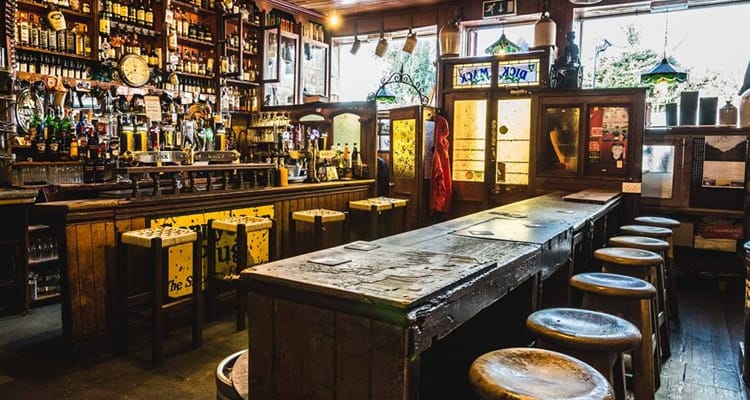 Found on the West coast of Ireland, in a lovely little town called Dingle, Dick Mack's is theperfect place for a night of traditional Irish drinking. It has been named the Best Bar in Ireland and is full of character. like many bars in Ireland, it is quaint and traditional, but jam packed with hundreds of Whiskies from all over the world. They specialise in Irish and Scotch, but also have collections from Japan and America, amongst others. And with an authentic Irish feel to it, this is the perfect bar to have a truly global Whiskey experience.
Found in County Clare, O'Loclainn's is a quintessential Irish pub, with lots of Whiskey behind the counter, and lots of character to go with it. It is surrounded by stunning scenery as well, so you can be sure to experience the true Ireland while you're here. inO'Loclainn's you can sit down and forget about the outside world, listening to the gentle hum of the locals and enjoying one of the fantastic Whiskies they have behind the bar.
8. Irish Whiskey Experience
The Irish Whiskey Experience is exactly as it says on the tin. It is the perfect way to learn more about both Whiskey in general and Irish Whiskey more specifically. Unlike mant of the bars on this list, it is very modern and offers you the chance take part in tastings as well. These include experiences such as The Whiskey Apprentice, if you're just starting out on the Whiskey journey and the Master Distiler, where you will get your nose into some premium Whiskies.  These are just a snapshot of what is on offer here and if you want to learn more about tasting and Irish Whiskey history, then this is definitely the place for you.
If its choice you're looking for then The Dylan Whiskey bar is perfect for you. They have an incredible and ever growing list of nearly 200 Whiskies, as well as 40 premium Gins and lots of craft beers. The bar staff are knowledgeable and enthusiastic, so should you get stuck on what to try next, they will definitely lend a hand. The atmosphere is alive, with lots going on in this Victorian era bar. There is something new on every night, with various local live artists and theme nights.
Back up to the north now with The Duke of York. This bar is packed with history, having once been blown up by an IRA bomb in 1973. It is based in the up and coming Cathedral Quarter of Belfast city and stocks only the best drams. The Duke of York is especially good if you're looking for something by Bushmills. They are experts in the distillery and its offerings and are more than happy to share their knowledge, and a glass, with anybody who comes through the door.