The fourth edition in the Classic Cut series, which explores different flavour profiles, this is yet another exceptional Macallan release.
Started in 2017, the Classic Cut range has been curated to, as The Macallan put it, "celebrate The Macallan's ongoing commitment to seek out the extraordinary and in doing so create whiskies of unique character".
That's a pretty tall order, considering how many whiskies are out there, as well as the variety of what's available.
But The Macallan being The Macallan, they pull it off spectacularly.
Each malt is bottled at cask strength and has a different maturation technique, to really push the limits on how well the Macallan malt performs. By not diluting it, we are given a proper glimpse at just how skilled the whisky makers at the Macallan are.
For the fourth in the series, the Classic Cut 202 Edition, Penny Logan, who is Whisky Maker at The Macallan was able to use ex-Bourbon casks for this first time. The other releases in the series have all focused on sherry casks and how these impact flavour.
This is a first for the series and allows consumers and the team at Macallan alike to appreciate the effect that a Bourbon cask can have.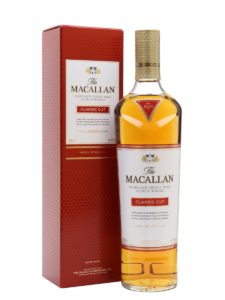 Tasting notes for The Macallan Classic Cut 2020 Edition Single Malt Highland Scotch Whisky
Bottle cost: £94.95
The nose starts off with a lovely earthy note. There is a hint of herbs and dried fruits, with candied orange peels and vanilla also coming through.
The palate is expertly smooth and sweet. Honey takes over and makes it feel luxurious and decadent. Combined with the orange peel, ginger and rich oak wood, this is certainly a luxury malt. The citrus notes are perfect with the slightly warming and sweet notes of the oak wood.
The finish lingers on herbal notes with a perfect final note of sweet caramel.
The Macallan have created yet another brilliant malt here. Their Classic Cut range as a whole is an exploration of what fine malts truly taste like and this edition is the cherry on the top.
Are you a fan of The Macallan's Classic Cuts range? Let us know in the comments!