The Dalmore is a legendary brand, and this expression captures their character perfectly.
The Dalmore has created some of the best and some of the most expensive Scotch around. It is not unheard of for some of the single malts to sell for well above £100,000.
You'll be pleased to hear The Dalmore 12 Year Old, part of their core range, is a lot cheaper than that.
They've been around since 1839, although apparently they have roots in the area going back to 1263. This is when local stories say Colin, Chief of the Mackenzie Clan, saved King Alexander III from a stag.
They might not have been making Whisky all that time, but the drams they turn out today are certainly legendary.
The distillery was bought from Sir Alexander Matheson by the Mackenzie brothers, Andrew, Alexander and Charles, in 1867. It has definitely been thriving ever since.
The Dalmore 12 Year Old Single Malt Scotch Whisky
This single malt is an excellent example of the quality that comes out of The Dalmore.
It is packed with flavour and a really outstanding malt. If you've never had a Dalmore dram before, then this is a good place to start. It has been matured in ex-Bourbon, American white oak casks before being finished in Oloroso Sherry casks.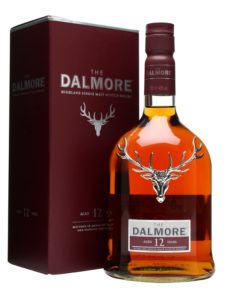 Tasting notes for The Dalmore 12 Year Single Malt Scotch Whisky
Bottle cost: £44.45
The nose begins with big bold notes of Sherry and vanilla, with some dried fruits, spices and chocolate.
A citrus tang appears, with a hint of oranges and satsumas. The flavours are zesty and lively, promising big things to come.
The palate is brimming with flavour. More oranges and a slight hint of burnt oak appear. These are warming and homely, offering a really easy going flavour.
More dried fruits, with a delicate nod towards cinnamon and nutmeg makes the palate really come alive. Sweet notes of vanilla and caramel come through, giving a bit of depth to the oak wood.
The finish is strong, with slight hints of dark chocolate and more vanilla.
This is a dram for your bucket list; it comes from one of the best brands around and is truly brilliant. The Dalmore is definitely a brand worth embracing.
What are your thoughts? Leave a comment below and let's have a chat!