A LEGEND SOON TO RETURN UNVEILS A COLLECTION OF THREE HISTORIC SINGLE MALT SCOTCH WHISKIES
Brora today revealed a one-off special release of three extremely rare Single Malt whiskies, each representing a distinct style of Brora's proud and storied heritage. From mid-May, upon the completion of the restoration of Brora distillery, the Brora Triptych will be available, in celebration of its return.
In 1983, a small Highlands distillery fell silent and the doors of the stillhouse locked. The distillery workers that had crafted spirit within it put down their tools and walked away, for what they thought would be for good. A distillery suspended in time for thirty-eight years, Brora will soon open its gates once again, after three years of meticulous brick by brick restoration.
Each collectible set of the Brora Triptych will be accompanied by a personal invitation from Brora's Master Distiller Stewart Bowman to visit and experience Brora first-hand. Born in the town of Brora and with a long family connection to the distillery, Bowman worked alongside a host of artisans, whisky-makers and archivists in the restoration of the distillery buildings and its whisky and will carefully oversee the creation of new Brora spirit upon its return.
He comments, 'The stories of Brora are woven into my own history and I am honoured to soon be able to share these stories with others. My father was an 'old hand' at the distillery, and I grew up in the village with the top of the distillery's bell-tower visible from our kitchen window. In the years after Brora's closure, I remember my father showing me the old cask ledgers and the records of those final casks distilled in 1983 and asking if Brora would return one day. It fills me with great pride that thirty-eight years after the doors of Brora closed, more casks will now be filled, and we will be able to welcome people once again to this special place. It is our commitment that we will do justice to the Brora of old and hope to welcome visitors to our restored home as soon as that is possible. In the Brora Triptych, we aimed to celebrate the great whisky styles of the past for which Brora is known.
'A three-piece whisky set, intended to be appreciated together, this Brora Triptych is a showcase of the distillery's most famous three styles. Master Blender Dr. Craig Wilson has selected the vintage Single Malt whiskies in the Triptych, and comments, 'These are some of our very last precious relics from a Brora of bygone age. Each one represents a moment in time at the distillery and tasting these superb whiskies is to be part of a special moment in history. When selecting the casks for these rare bottlings, we wanted to celebrate those distinct characteristics that define Brora, and those that we seek to uphold as we begin a new chapter in its story.'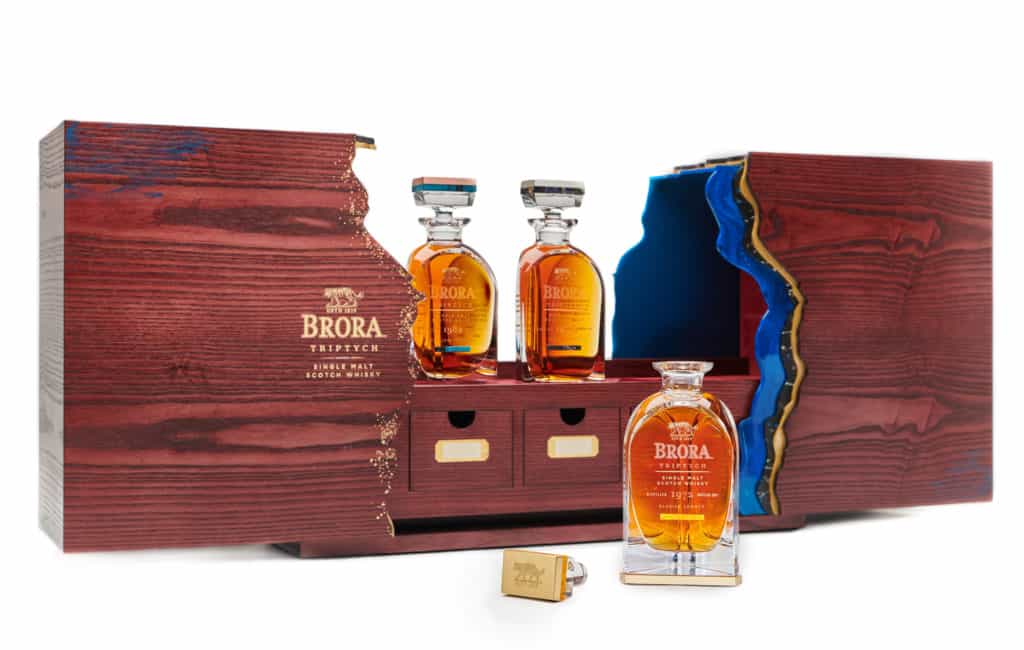 The first in the Brora Triptych, Elusive Legacy, is a 48-Year-Old and the oldest ever public release from the distillery. A very rare style from casks of 1972, this whisky represents an earthy expression of Brora, much sought after as it was only created in short periods throughout the distillery's history. Warm chestnut in colour, there is a delicate aroma which blends wood spice with hints of peach tarte tatin, amidst a powerful rich maltiness.
The second, Age of Peat, is a 43-Year-Old heavily peated expression drawn from casks of 1977. This is a classic Brora style from the late 70's, and one of the only examples of a highly-peated Highland whisky from that era. The few casks that were left from this phase matured remarkably well and the whisky is multi-layered and complex. Intensely deep and golden, this expression is elegant on the nose with creamy vanilla invigorated by freshly cut green apples and hints of beeswax, before a long, sweet finish of peat-fired smokiness.
Finally, Timeless Original, is a 38-Year-Old, from limited stocks of 1982 and represents the distinct waxiness that made Brora famous. This more modern and refined style returns to lower peating levels, reflective of Brora whisky before the Age of Peat. Glowing yellow gold in hue, sherberty lemon peel, and a touch of fresh green grass dance on the nose.
The three Single Malt whiskies are presented in one beautiful presentation case, inspired by Brora's surrounding coastlines. Each crystal bottle is completed with Glencairn crystal stoppers, and the cabinet, built from ash wood all sourced in the UK, was crafted by Master Cabinetmaker and Royal Warrant Holder N. E. J. Stevenson.
Never before have three styles of Brora been released in one collector's set and the Brora Triptych is an unparalleled capsule of the original and historic Brora stocks. Released at the same time as the distillery reopens, this once-in-a-generation collector's set will be available globally for purchase directly from the distillery, Brora.com and specialty retailers starting in mid-May 2021.