Shanghai might seem like a long way to go for a bar, but with our round up of the best bars in Shanghai if you ever find yourself in this Chinese city, you might just be booking your ticket tonight.
The city itself is famed for being a hub of business and finance. It is also well known for its waterfront promenande, the Bund, and the Yuyuan Gardens and bazaar.
We've picked the best bars in the city, where you'll be met with a warm welcome and a well stocked back bar.
Union isn't only the best of the bars in Shanghai, it's the best bar in the world. It was opened in 2014 by Yao Lu, well known for his cocktails, and Austin Hu, who is a chef by trade. The bar works so well because it is completely unassuming, yet offers innovative and exciting drinks. The feel with warm and welcoming and the bartender is charismatic and knowledgeable. You cannot go wrong on a night out here.
Constellation has grown from being known as a "hidden gem" to being a thriving and well attended nigh spot. Don't let its popularity put you off visiting. It has an extensive list of Whiskies and cocktails to offer and the atmosphere is like an old time speakeasy, easy going and buzzing. Both this and Union are born out of Shanghai's love of speakeasies, and these are definitely two of the best examples. Constellation has some of the best drinks as well as some of the best food. Definitely worth a visit.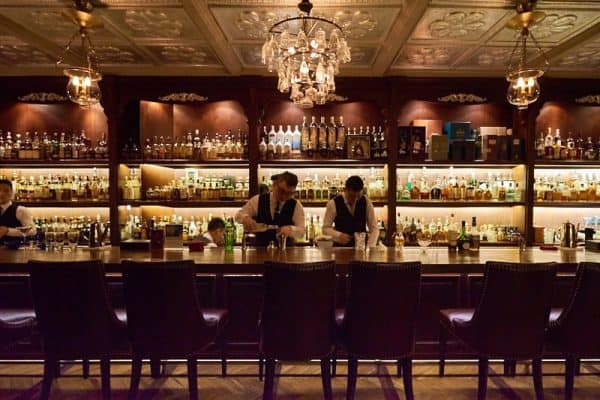 Based in the chic Sukhothai Hotel, ZUK Bar is exciting and fresh. The head mixologist here is Vicenzo Pagliara, who is well known for his work in The Connaught Bar in London. Pagliara relies on four elements in his cocktails, flora, water, rocks and oaks. Each category tells you a bit about the flavour profile of each drink, so it makes choosing a cocktail simple. The cocktails themselves are experiences alone, and ZUK is well worth a visit just for these. Definitely one of the best bars in Shanghai.
Based on a rooftop with wonderful views of the Yangtze River, this is another speakeasy themed bar with an intriguing cocktail list. The theme is nautical and modern, with a wonderful atmosphere and liveliness. It's fairly reasonably priced and you'll guaranteed to get some good food here as well. A visit to The Captain is worth it for the views alone.