They are an independent, family owned company that are seeking to bring life back to Irish Whiskey, and they have certainly done that with their Revival range.
Consisting of three Whiskies so far, the Revival range is a celebration of the growth and success that Irish Whiskey is once again seeing on the market. The establishment of Teeling is in itself a mark of revival, especially for Dublin, a city that used to have hundreds of distilleries.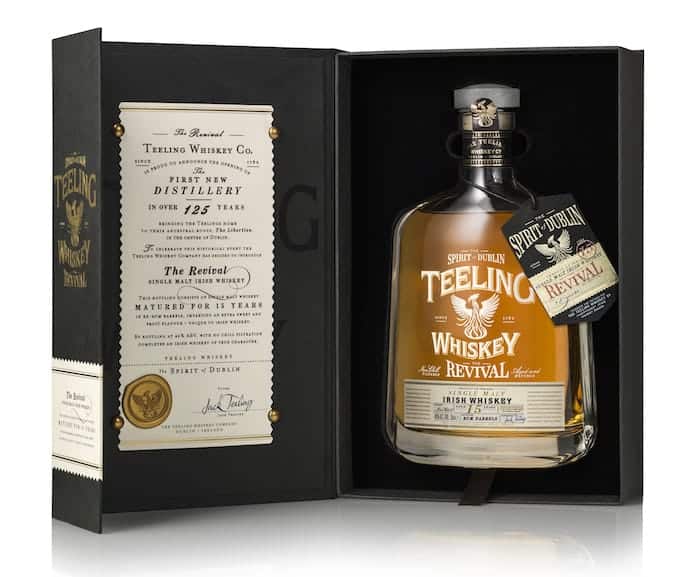 Revival Volume I: 15 Year Old
Bottle cost: £91.03
The first release from the Revival range was a 15 Year Old distilled in 1999 and matured entirely in Rum casks.
There were only 10,000 bottles released of the 15 Year Old, so if you get a chance to get your hands on one, it's a must.
The nose opens with lots of ripe tropical fruits such as banana and papayas, giving it a lovely sweetness. This is complemented with a slightly duller yet still flavoursome coconut note.
There is also a delicate oaky flavour that comes out in the undertone and bolsters the fruitiness.
On the palette the flavours become slightly richer and better developed, with lots of spice and heat coming through. The oak becomes a cinnamon and vanilla flavour, with a thick wooded note to it. This adds depth and complexity to a wonderful dram.
The fruit ripens and becomes sweeter yet, with candied pineapple and grapefruit appearing.
These continue into the finish, which ends in a flourish of toasted white sugar and oak wood, and of course a healthy dose of fruit.
Revival Volume II: 13 Year Old
Bottle cost: £83.29
After the 15 Year Old, Teeling released a slightly younger expression, a 13 Year Old that was distilled in 2002 and matured for 12 years in ex-Bourbon barrels before being finished for 12 months in Calvados casks.
Again, this expression was limited to 10,000 bottles, so snap it up if you can.
Similarly to the 15 Year Old, the 13 has a sweet flavour profile, except this time it is full of orchard fruits and pastry.
The nose is full of white sugar and caramel apples, with a slight tang of citrus peel. This makes it well rounded and full of character.
There is also a warming note of cinnamon that adds a nice spice.
On the palette the caramel apples become baked apple pie with a caramel drizzle and candied orange peels on the side.
The sweetness is sharp and lively, with lots of feeling to it. It is joined by a more subtle pastry flavour that is buttery and flakey, lending a smooth mouth feel.
The cinnamon warmth is dusted over all of this and takes on a slightly peppery and wooded note.
This continues into the finish, where it lingers alongside more apples and some pears, with the oak become fully realised.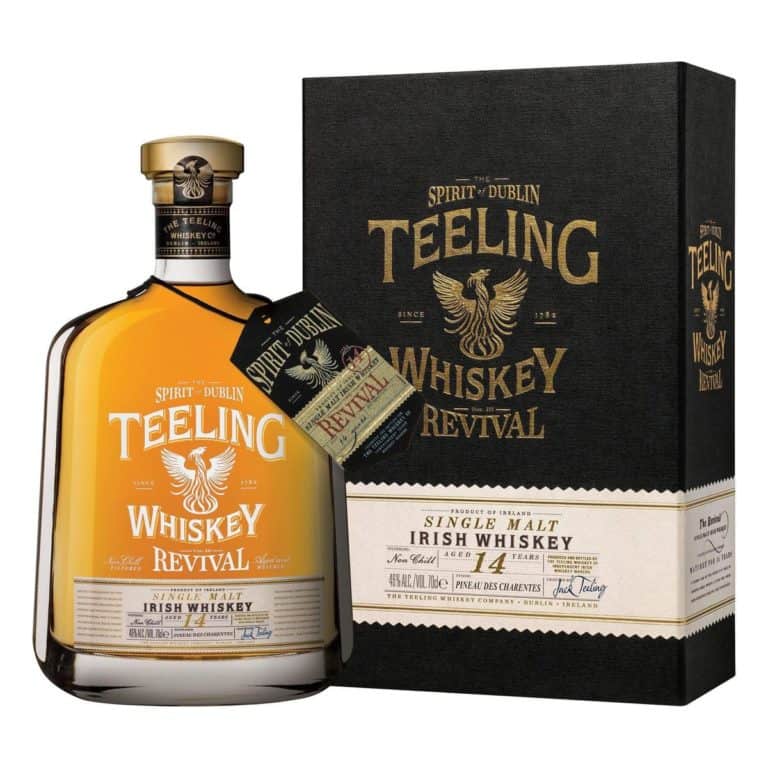 Revival Volume III: 14 Year Old
Bottle cost: £91.49
Revival Volume III: 14 Year OldThis release was followed up with a 14 Year Old, released earlier this year.
Like the 13 Year Old, it was distilled in 2002 and matured in ex-Bourbon casks. However, it was then finished in Pineau des Charentes casks.
This again is a deliciously sweet expression, bursting with fruits flavours and caramel notes throughout.
The nose has lots of pears and green apples, with a slightly grassy hint to it that is reminiscent of an orchard with fresh cut grass. There are also some sweeter fruits such as pineapples and apricots. The sweetness and the earthy, grass notes go perfectly together.
The palate is also spilling over with flavours, and the orchard wualities make themselves better known here.
The wood of the barrel comes through with a vanilla note to it and is complemented with some rich honey flavours. These give the whole thing a thick, soft mouth feel.
The fruits become slightly darker and riper, but are brilliantly saccharine, like they are glazed with sugar syrup.There is a lovely hint of coffee in the background that adds a little bit of depth.
This slightly bitter note makes itself known on the finish, where it lingers with the fresh green apples and orchard notes from the nose.
Now… Teeling Revival IV is set for release in December 2017, and we cannot wait to try it…