Fully finished in Pedro Ximénez Sherry casks, the Royal Salute 29 Year Old Pedro Ximénez Sherry Cask Finish Edition is a rare and exquisite addition to the Scotch whisky's exceptional collection.
The 'King of Whisky', Royal Salute, has unveiled an exquisite new blend: the Royal Salute 29 Year Old Pedro Ximénez Sherry Cask Finish Edition.
Expertly crafted by Sandy Hyslop, Royal Salute's Master Blender, and paying tribute to Royal Salute's royal heritage of being first created as a gift for the Coronation of Queen Elizabeth II, the whisky takes inspiration from the Queen's first official state visit to Spain in 1988. To celebrate this historic visit that ushered in a new era of friendship between the United Kingdom and Spain, Royal Salute has worked exclusively with Pedro Ximénez sherry casks, to ensure every drop of the blend is finished in these world-renowned casks.
A first for Royal Salute, it has resulted in a one-of-a-kind Scotch with a Spanish influence, capturing the sweetness of Pedro Ximénez sherry while keeping the unique Royal Salute signature style at the heart of the whisky. The 29 Year Old Pedro Ximénez Sherry Cask Finish Edition is a fully-rounded, lingeringly sweet blend, with aromatic notes of juicy oranges, liquorice and sandalwood on the nose, emerging flavours of honey syrup, ripe plum and treacle toffee, all intermingled in a long spicy finish. 
The limited edition whisky is housed in the iconic Royal Salute porcelain flagon in a bespoke dark red hue and a gift box that honours the colourful and poetic Andalusian architecture, with deep ruby red and burnt orange bringing to life the rich, warm palette of Spain.
Royal Salute Master Blender Sandy Hyslop said, "It is an honour to have the opportunity to create something so unique for Royal Salute. The 29 Year Old Pedro Ximénez Sherry Cask Finish Edition is made up of some of the most exceptional whiskies in our collection, and is a great tribute to our royal heritage.
It's the first time we have fully finished a Royal Salute blend in Pedro Ximénez sherry casks and it has been a really great experience to discover their characteristics – they amplify the complexities and delicate balance of the blend, which adds an incredible depth to the enjoyment of this Scotch whisky." 
Royal Salute Marketing Director, Mathieu Deslandes added, "In keeping with the essence of Queen Elizabeth II's trip to Spain, Master Blender, Sandy Hyslop, has beautifully blended the rich cultures of the United Kingdom and Spain. We are proud to pay tribute to the great friendship between the UK and Spain through this exceptional expression and to continue our celebration of British royalty and our strong heritage whilst pushing the boundaries of Scotch whisky innovation".
The all-new limited edition will be available globally in luxury retailers and Duty Free stores around the world from September 2019, at a RRP from $549 USD.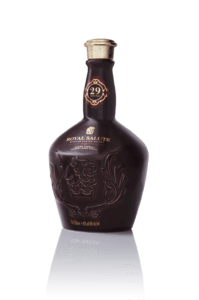 Nose: Aromatic and spicy on the nose with notes of juicy orange, liquorice, sandalwood and plump sultanas.
Taste: Full and sweet, perfectly complementing the nose with flavours of ripe plums in honey syrup intermingled with treacle toffees and luxurious chocolate coated almonds. 
Finish: Long, sweet and tantalisingly spicy